Mei architects and planners designed this new McDonald's pavilion on Coolsingel Rotterdam.
The former kiosk was once voted the ugliest building in Rotterdam and no longer reflected the wishes and ambitions of either McDonald's and the city of Rotterdam.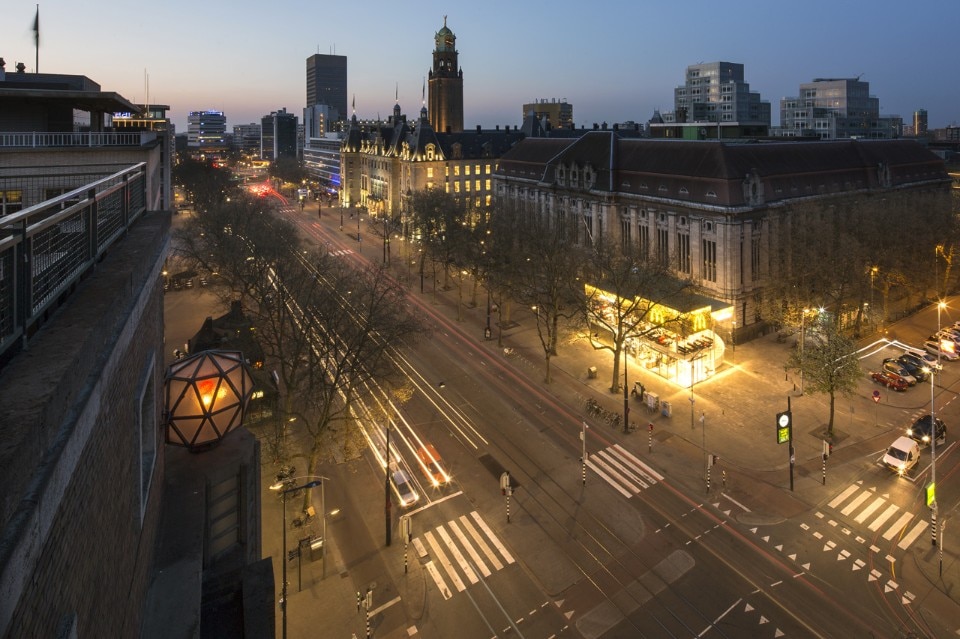 The new building volume has been carefully detailed and articulated by Mei to open up views of the monumental post office behind it. As a result, the pavilion has the most compact possible core, with glazed facades all around. A fully transparent lobby, with entrances on three sides, makes it seem as though the public space flows through the building.
To strengthen the connection between the pavilion and its surroundings, the outdoor terrace will feature the same furniture found in other public spaces in the city of Rotterdam.
Like the historical buildings in the area, the pavilion features a richly articulated facade, carried out in one single material: gold anodized aluminum. This warm and elegant-looking material is vandal-proof and enduring at the same time.
As McDonald's is open day and night (24/7), its appearance after dark is important. By day the building is inviting to shoppers, while in the evening it glows to attract the nightlife crowd. The skin is perforated with heart-shaped openings to form a 'veil' around the glazed building through which illumination shines. This skin is continued in the interior walls and ceilings. With the application of various degrees of perforation, the façade depicts a crowd of people on Coolsingel.

The various power boxes for utilities and traffic regulation systems, always an eyesore on the street, are integrated into the building. Moreover, the incorporation of illumination into the facade will enhance safety on the street.
Technical installations are integrated within the roof, which is designed as a fifth facade. Counter and kitchen are located on the ground floor. A one piece steel spiral staircase leads from the lobby to the seating area on the first floor. From here the visitors have a beautiful panorama view overlooking Coolsingel.

McDonald's, Rotterdam
Program: restaurant
Architects: Mei architects and planners
Contractor: BVR Groep
Structural engineer: Adviesbureau Roelen
MEP: Sweegers & de Bruijn
Facade: Glasimpex, VPT Versteeg
Stairs: WV trappen
Fire safety: Grontmij
Interior design: NivOO3
Completion: 2015