Luzinterruptus conceived for the Bienal Panorama, hosted near a beautiful lake in Parcs des Iris et de l'Ermitage in Lormont, near Bordeaux, an underwater world where luminous figures came in and out of the water, taking passersby by surprise.

A poetic way to pay tribute to old legends about mysterious lake dwellers but also to not so idyllic movie scenes of bodies that sank in tragic circumstances as they struggled to come out of the water.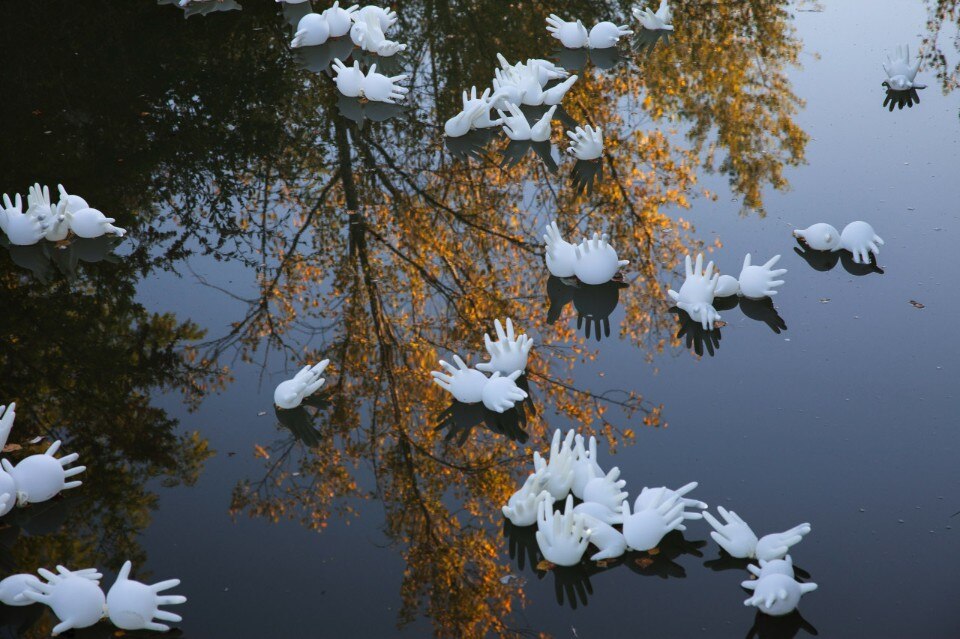 That was the original idea and it was to be called Baignade interdite. However, the lake's characteristics, located over a bed of calcareous rocks, gave the water a milky color that didn't allow us to see what happened underwater in spite of the light enveloping the bodies. So Luzinterruptus had to change the display on the go to adapt it to its real context.
Hence they had to improvise which is something quite common in our work method. So, helping themselves with some of the already purchased material, especially the latex gloves, they thought the idea over and turned it into a new display where the beings of light would be trying to come afloat or would be sinking (depending on one's life experience): ¿Saliendo a flote? ("Coming Afloat?").
1,400 latex gloves were pumped with air and filled with light and then paired to bring the bodies trapped in the water to life. Then they were released on the lake expecting each being to find its own space. Duck flocks, endemic inhabitants and soft currents help putting everything into place. The display stayed on the lake several days and then all the material was collected and recycled.

Luzinterruptus, ¿Saliendo a flote?, Lormont, France
Luzinterruptus, ¿Saliendo a flote?, Lormont, France
Luzinterruptus, ¿Saliendo a flote?, Lormont, France
Luzinterruptus, ¿Saliendo a flote?, Lormont, France
Luzinterruptus, ¿Saliendo a flote?, Lormont, France
Luzinterruptus, ¿Saliendo a flote?, Lormont, France

¿Saliendo a flote?, Parcs des Iris et de l'Ermitage, Lormont, France
Artists: Luzinterruptus