Brazilian architecture practice MACh Arquitetos, in collaboration with Mobio Arquitetura's Gabriel Castro, have recently completed the Emporium Nanak, a retail space with a small cafe in Belo Horizonte, Brazil.

Seeking to encourage a healthy, balanced lifestyle, the project combines exposure and concealment of products on sale. A fixed, oblique permits full vision of the products for incoming visitors, concealing them when viewed from the opposite angle. "This feature guarantees a certain tranquility and silence, making the space more enjoyable for those who want to have a tea in the centre table", state the architects.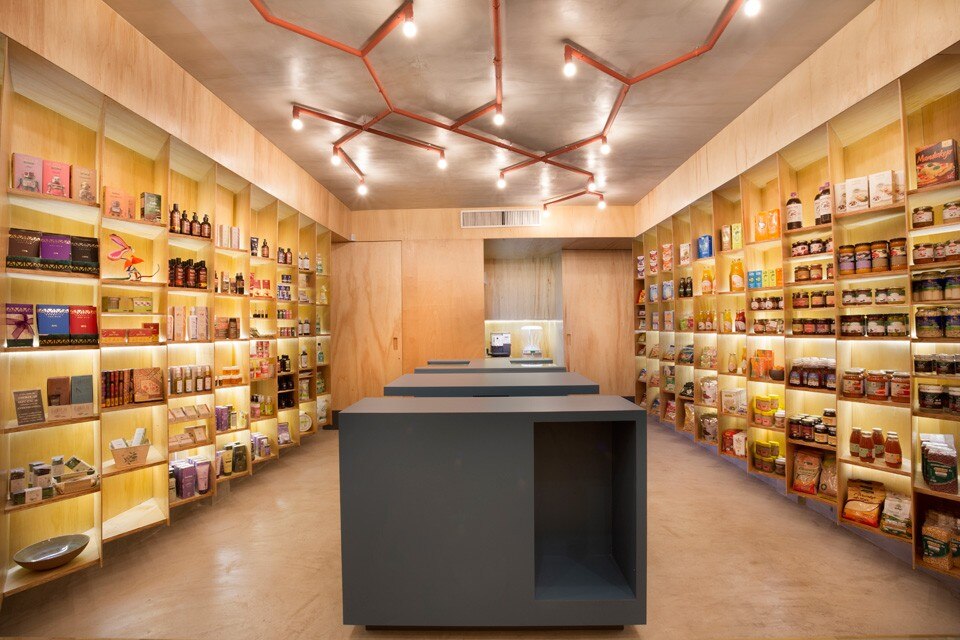 The products display grid allows for flexibility of use and adaptability: horizontal supports can be added at all times, subdividing pre-existing modules. This solution provides unity to a varied range of products on sale.
The panels that clad the walls reference Nanak Emporium's logo, which in turn references in the iconography present at the Golden Temple in Amritsar, a shrine of Sikhism — the space was named after Guru Nanak Dev, a reference among practitioners of Sikhism.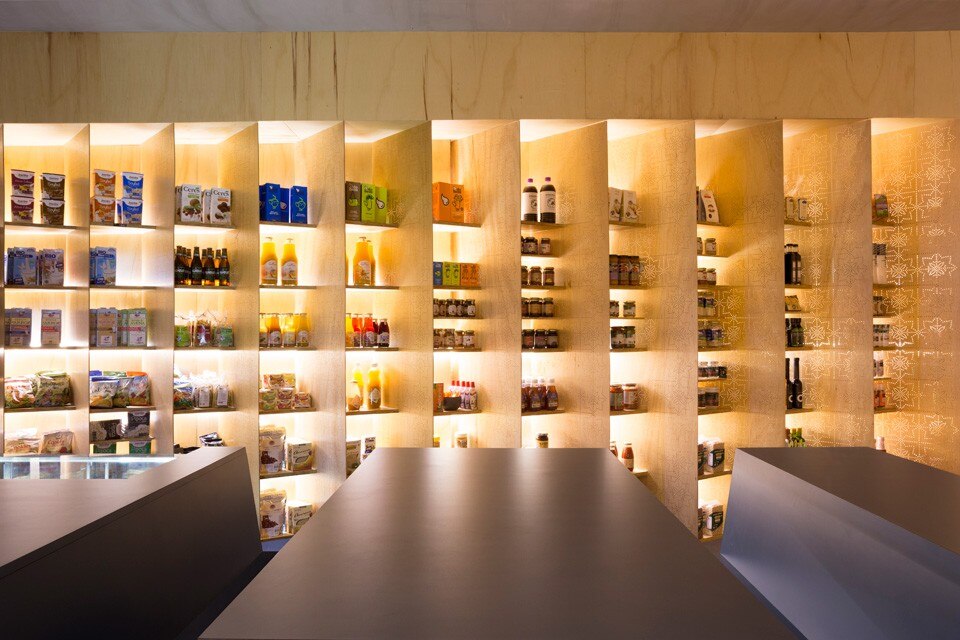 Raw materials are prioritised throughout the space: concrete floor and ceiling, wood paneling on shelves, doors and walls. The yellow-hued wood takes on a golden glow, and seeks to act as a common background to all products. A simple LED system highlights the walls, contributing to product visualisation. General lighting is provided by a metal tube and light bulb.

MACh Arquitetos: Empório Nanak
Location: Avenida Bandeirantes, Belo Horizonte, Brazil
Architects: MACh Arquitetos – Fernando Maculan and Mariza Machado Coelho
Associate architect: Gabriel Castro (Mobio Arquitetura)
Graphics: Designlândia
Contractor: Armtec
Carpentry and joinery: Marcenaria Londrina
Completion: 2012
Area: 40 square metres