Australian practice ITN Architects have built the the Indlovu Centre, the first civic building in Monwabisi Park, Cape Town, South Africa. The architects were approached by the South African Shaster Foundation and the Australian association Architects Without Frontiers for this pro-bono commission.

Monwabisi Park is an informal settlement in the outskirts of Cape Town, South Africa, densely populated with a total of approximately 15,000 residents. Here, infrastructure such as water and electricity is minimal. The building's commission required a volume that would be fire- and bullet-proof, providing grassroots educational, skill and health facilities.

The brief called for the reconstruction of a two storey building, to replace facilities that had been destroyed by fire. The original space was increased to include a community hall, medical clinic, soup kitchen, youth centre, adult learning centre, neighbourhood lookout, permaculture vegetable gardens and administration facilities.

The commission also required the involvement of the local community, who participated in the construction in collaboration with a local builder, Ecobeam. The local sandbag wall construction technique was effected using sand and sewn bags, in combination with a low-tech truss system developed by Ecobeam.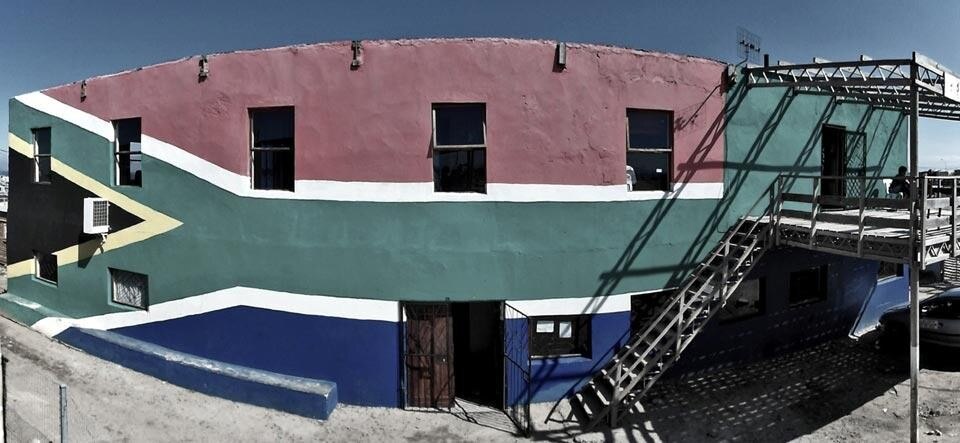 ITN Architects: Indlovu Centre, civi centre
Architects: Lani Fender & Zvi Belling (ITN Architects)
Promoters: Architects Without Borders (Australia), Shaster Foundation (South Africa)
Program: cicic centre with social, educative, administrative and sanitary spaces
Materials: sandbags, truss beams
Builder: Ecobeam and the residents of Monwabisi Park
Location: Monwabisi Park, Cape Town