Portuguese architect Paulo Tormenta Pinto has recently completed the renovation of a house in Montijo, Portugal, as part of a set of small scale operations performed in the urban center of the city. These interventions are aimed at investment that will stimulate urban renewal in a more social directive. The construction of the Vasco da Gama bridge for the 1998 Universal Exhibition in Lisbon introduced major changes to the urban future of the city of Montijo. This transformation involves an intense building development in peripheral areas of the city with new vehicular transportation routes. The urban center has not always found ways to resist the sprawl of the periphery's speculative growth.

Paulo Tormenta Pinto's intervention took into account the urban environment's surrounding morphology, where narrow courtyards penetrate the blocks allowing access to small housing plots. The aim of the project is to create lighting and ventilation in the domestic space and thus, a longitudinal courtyard was designed that structures the entrance inside the house. This elongated void is characterized by the use of local cork, which guarantees thermal efficiency of both the rehabilitated house, as well as the neighboring house. The home's interior is characterized by a loose assemblage of architectural elements that shape and define spaces: the fireplace, the kitchen counter, ladder, and the mezzanine.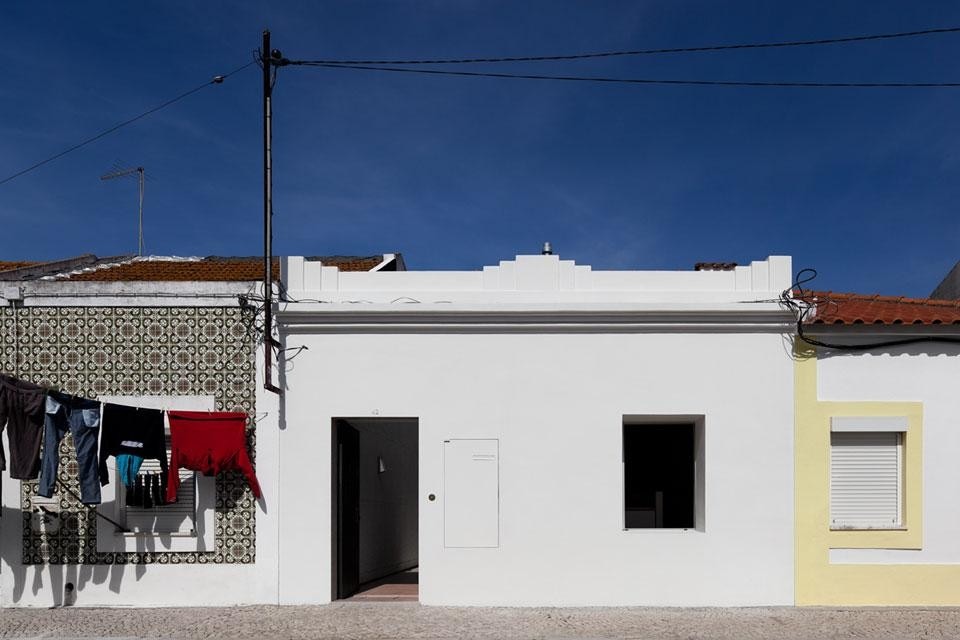 Taking advantage of the available volume, the core of the existing house was replaced by a new open, fluid organization. The introduction of cork was intended to give more comfort to the patio as well as more thermal efficiency to the home. The main façade has been cleared of ornament, leaving evidence of the Art Deco expression that is featured in the building's capstone. The intent of this decision was to call for creative, economical, humane and environment-friendly building, all key standards for a sustainable urban regeneration.
Paulo Tormenta Pinto: Rehabilitated House on Rua Humberto
Architect: Paulo Tormenta Pinto
Collaborators: Rosa Maria Bastos, with Ivone Gonçalves and Pedro Baptista Coelho
Specialties and Construction: Valdarrosa Ltd