Artist Tomás Saraceno's Cloud City, a large constellation of 16 interconnected modules, has just opened to the public on the rooftop of The Metropolitan Museum of Art in New York. This site specific work — 16 metres long, 8 metres wide and 8 metres high — is inspired by multiple phenomena and structures such as clouds, bubbles, bacteria, foam, universes, and social and neural communication networks. Set against Central Park, Manhattan's skyline, and the expanse of space above and beyond, Cloud City suggests a model for living, interaction, and social exchange.

Incorporating transparent and reflective materials, the installation can be visited through 4 November. Visitors may enter and walk through these habitat-like, modular structures grouped in a nonlinear configuration. "Upside down, Central Park is a flying garden embedded in a cumulus cloud, mirrored buildings and skies appear under your feet, gravity seems to reorient itself, and people are multiplied in patchworks of cloudscape, forming unexpected interconnected networks…" says Saraceno. "Cloud City is an invitation to perceive simultaneously a multiplicity of realities, making overlapping and multireflective connections between things, affecting and challenging our perceptions. Cloud City is a vehicle for our imagination, ready to transport us beyond social, political, and geographical states of mind."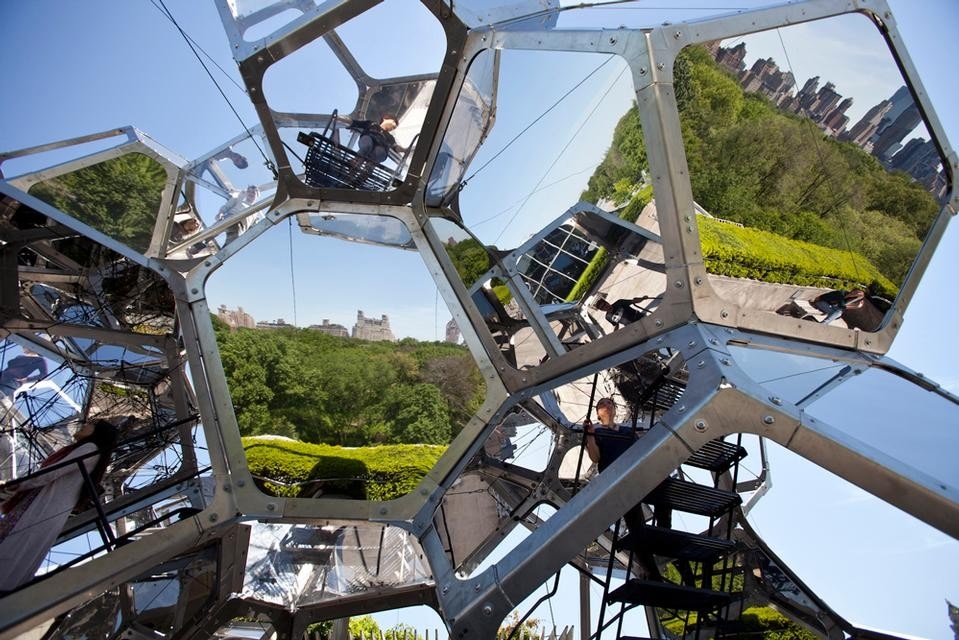 Saraceno's projects construct interdependent spaces that emphasize the ecological character of natural environments and social spaces. Inspired by an interest in changing the way we live and experience reality, each work is an invitation to conceive of alternative ways of understanding and interacting with others. Concurrently, the artist appeals to the creative faculty of his viewers, involving them in situations and actions that demand their ingenuity, participation, and responsibility.

Over the past decade, Saraceno has established a practice of constructing habitable networks based upon complex geometries and interconnectivity that merge art, architecture, and science. The multidisciplinary project "Cloud Cities/Air Port City" is rooted in the artist's investigation of expanding the ways in which we inhabit and experience our environment.