John McAslan & Partner's recently unveiled transformation of King's Cross Station for Network Rail involves three very different styles of architecture: re-use, restoration and new build. The train shed and range buildings have been adapted and re-used while the station's previously obscured Grade I listed façade is being precisely restored with the new Western Concourse existing as the focal point. The project's 14 year process intends for King's Cross to become "a new, iconic architectural gateway to the city, ready for the 2012 London Olympics" providing striking new facilities that will accommodate the 50 million passengers passing through the station each year.

John McAslan & Partners began work on the project in 1998 and established the overall masterplan for the development in 2005. The ambitious transformation of the station strives to create an interesting dialogue between Lewis Cubitt's original station and contemporary architecture — a shift in strategic infrastructure design in the UK. This relationship between old and new creates a modern transport super-hub at King's Cross, whilst revitalising and unveiling one of the great railway monuments of Britain.

Much of the attention that the £547m redevelopment will draw is down to the new vaulted, semi-circular concourse to the west of the existing station. The concourse rises some 20m and spans the full 150m-length of the existing Grade I Listed Western Range, creating a new entrance to the station through the south end of the structure and at mezzanine level to the northern end of the Western Concourse. This 7,500 square-metre concourse has become Europe's largest single-span station structure, comprising of 16 steel tree form columns that radiate from an expressive, tapered central funnel. The circularity of the concourse echoes the form of the neighbouring Great Northern Hotel, with the ground floor of the hotel providing access to the concourse.
The Western Concourse sits adjacent to the façade of the Western Range, resulting in the clear revealing of the restored brickwork and masonry of the original station. From this focal interior space, passengers access the platforms either through the ground level gate-lines in the Ticket Hall via the Western Range building, or by using the mezzanine level gate-line, which leads onto the new cross–platform footbridge.

The concourse is set to become an architectural gateway to the King's Cross Central mixed-use developments, a key approach to the eastern entrance of St Pancras International. It will also act as an extension to King's Cross Square, a new plaza that will be formed between the station's southern façade and Euston Road.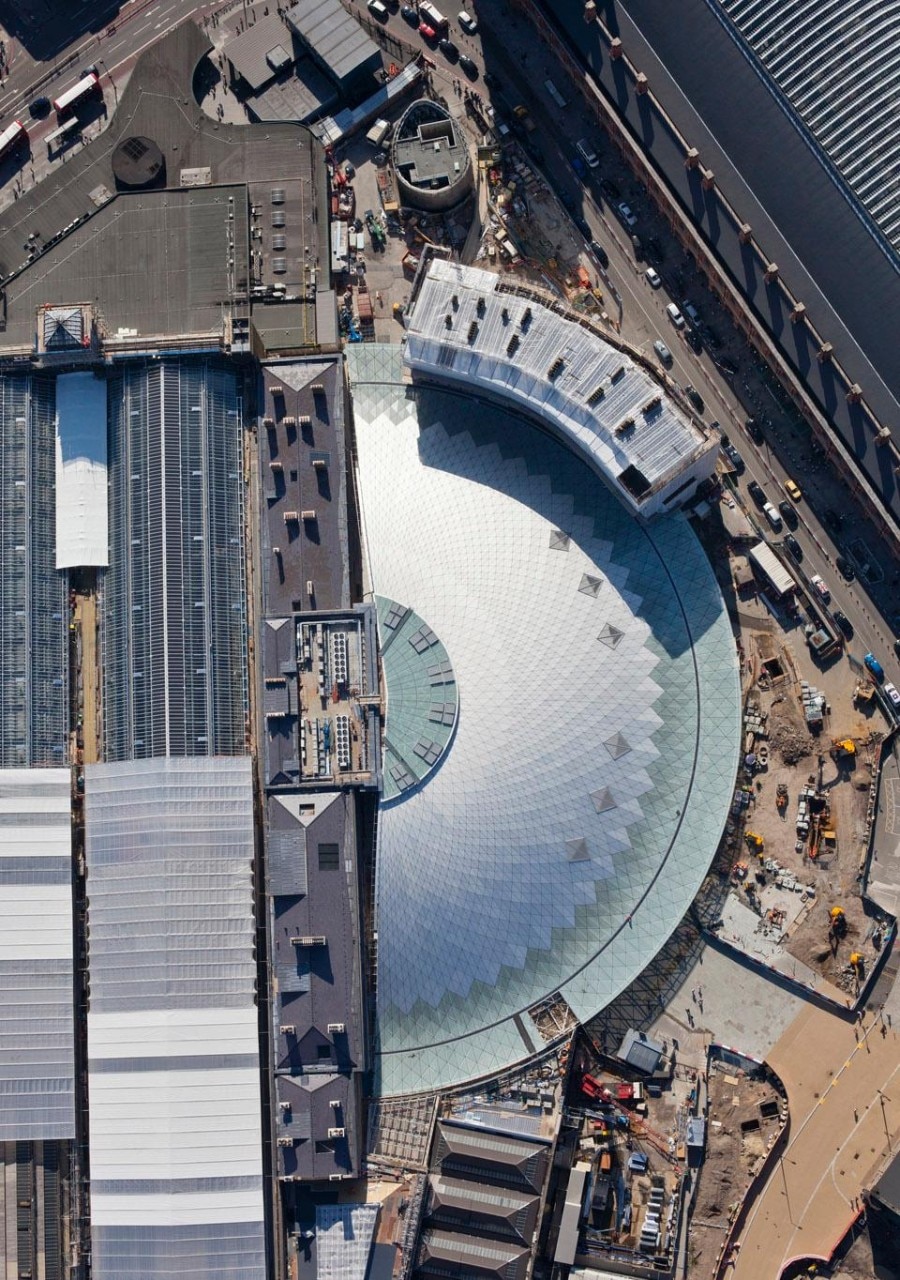 King's Cross Station renovation
Architect and masterplanner for King's Cross station and public realm: John McAslan & Partners
Client: Network Rail
Engineer for roof and platform refurbishment/ footbridge to station: Tata Steel Projects
Engineer for western range and new concourse: Arup
Architect for King's Cross Square: Stanton Williams