In an honest and bold testament to the fabric of the city, Hotel The Exchange, restaurant Stock and shop OPTIONS! opened in Amsterdam on the 3rd of December. Void of any of the prescriptive conventions of hotel concepts and experiences, Hotel The Exchange – an initiative of Otto Nan and Suzanne Oxenaar – weaves together fashion and architecture. True to the spirit of past projects by the pair – the Lloyd Hotel & Cultural Embassy and the Llove Hotel in Tokyo – their perspective on creating a hotel is entirely different. The new hotel concept centres on rooms dressed as models and rests on a partnership forged by Nan and Oxenaar with the Amsterdam Fashion Institute (AMFI).

Selected students and postgraduates are responsible for the interior decoration of the 61 one to five-star rooms. The rooms are 'dressed' as if they were catwalk models. Since 2010, eight young fashion designers (Malu Gehner, Denise de Geijter, Paul Hanraets, Iris Kloppenburg, Juanita Koerts, Sofie Sleumer, Roos Soutekouw and Anne Wolters, supervised by Matthijs van Cruijsen and Ingrid Horsselenberg) have used the hotel space as their studio and now they see their room designs being realised. The cross-over between fashion and architecture has verily led to a fusion of fashion and interior design. In some instances the rooms literally wear a sweater with a slinky little skirt. The designs are being implemented in cooperation with artisanal textile producers from the Netherlands.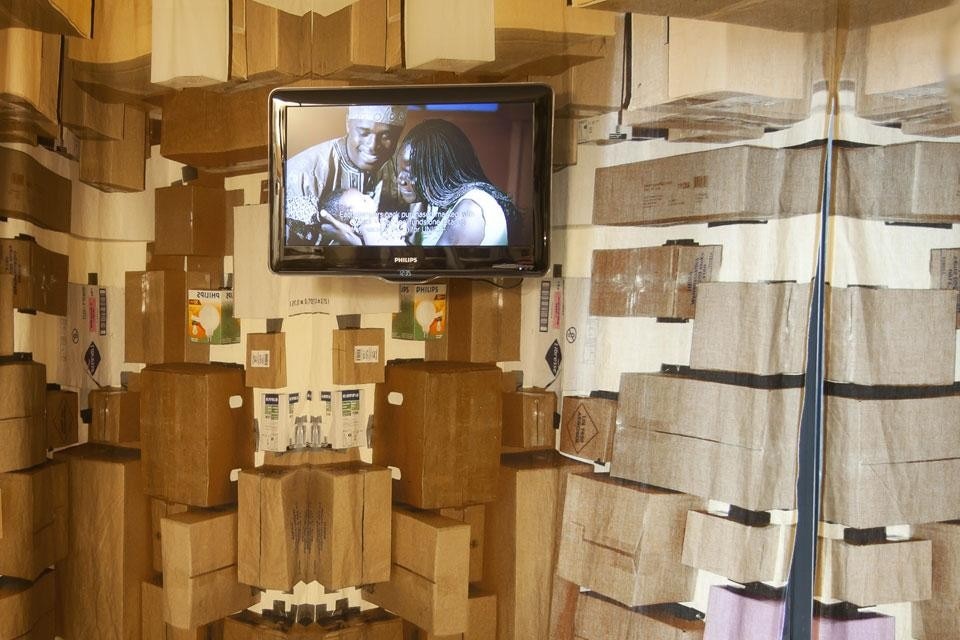 In between a street-level shawarma take out and French-fries stand lies the unassuming narrow alleyway entrance to the hotel, an innovative amalgamation of three historic buildings. Hotel The Exchange veers away from being pigeonholed as a "fashion hotel." It embraces the existing neighbourhood energy of the Damrak, a pedestrian artery running from Amsterdam Central Station to the Dam Square. Under the auspices of an urban rejuvenation project titled 'The Red Carpet' in zipcode area 1012 NV Stadsgoed embraced Nan and Oxenaar's valuable contribution, entrepreneurship and creativity.
Nan and Oxenaar's concept of a 'hotel with rooms dressed as models', allows each room to be treated with the same independence as a human model. Through this lens the street pavement becomes a catwalk, lights and tables are no longer ornaments but body accessories, creases and pleats aren't fabric features but structural form, paint colour hints at human flesh not matching palettes. Rooms "dressed as models" can take the shape of Rembrandt-style collars or Marie Antoinette's panniers – paying homage to these 17th century icons. Other rooms draw inspiration from denim jackets, wallflowers and Frida Khalo's wardrobe.
In between a street-level shawarma take out and French-fries stand lies the unassuming narrow alleyway entrance to the hotel, an innovative amalgamation of three historic buildings
In collaboration with AMFI, eight students and alumni were selected to drive the vision of the hotel rooms. They created designs using fashion metaphors. Before "dressing up" began, fabric designs took form under the tutelage of Dutch Studio INA MATT in cooperation with the Dutch Textile Museum. Abiding by a largely organic process, students drew inspiration from objects like abandoned mattresses, forgotten cardboard boxes and building facades to create unique fabrics to dress the rooms and waiting areas.
INA MATT treated the building as a 'naked' hotel and started by giving it a skin treatment of specially designed tiles developed in collaboration with the Dutch firm Royal MOSA BV. 1/2 Different areas of the hotel were accessorized with luxurious items like a 20-meter-long illuminating necklace, cosy elevator coats, a fancy reception dressed as a bag and endless striped socks throughout the hallways. Architects ONSWERK added a sense of open playfulness by creating transparent panels to allow hotel visitors to peer between floors, retail and restaurant spaces. The firm amalgamated three buildings, from different periods, into one hotel using the 17th century structure as a focal point. True to its unconventional spirit, Hotel The Exchange offers guests a choice of rooms ranging from one to five stars.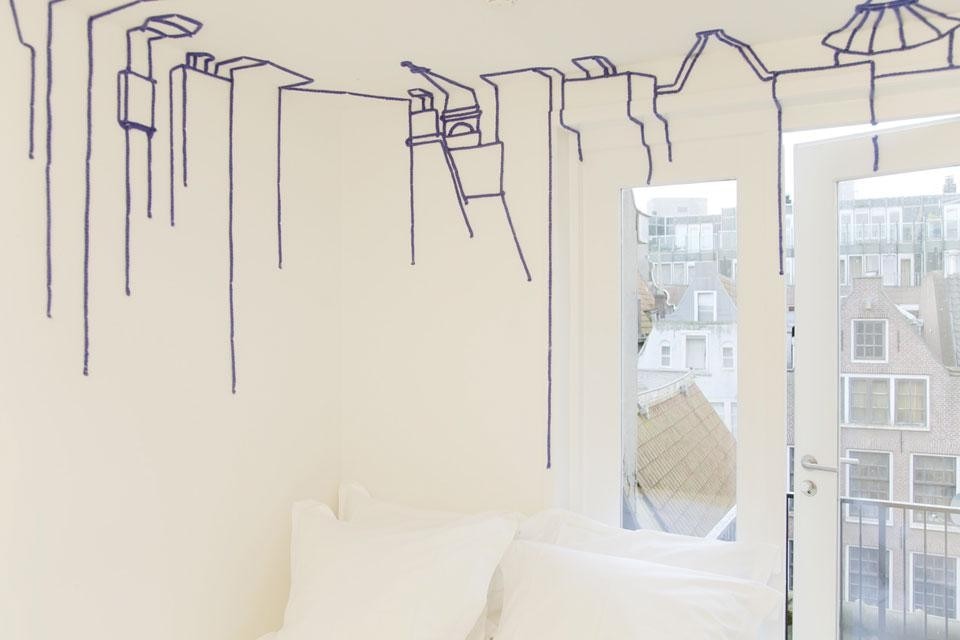 Options! is a 230m² contemporary department store where shoppers can find a special mix of products; exciting designs from foreign countries to collaborations with local producers. In a spacious outlet Dutch and international designers alongside AMFI students share pride of place on the biggest Flat Table, designed by architect Jo Nagasaka (a past collaborator on the LLove Hotel). Florianne Eshuis was commissioned to source an extensive range of products from Dutch ceramics to Peruvian Alpaca wool garments, hand-printed notebooks from Berlin and products developed uniquely for OPTIONS! A selection of fabrics and small furniture items exclusively designed for the hotel rooms will also be on sale.
Stock caters to the paradox of fast living and slow food. The restaurant quietly acknowledges the vibrant nightlife of the city with an indulgent all-day breakfast as well as a hit-and-run menu of soups and sandwiches. The restaurant's mission is locally made and healthy produce. True to the collaborative approach of the hotel, various food producers were especially selected to supply the restaurant. Local foodies crafted Stock's offerings including a bespoke Miss Marmalade range titled "prêt a porter", pear ice tea, Bocca coffee, locally brewed beer, Frozen Dutch ice cream and freshly baked bread by local baker Menno 't Hoen. The bold and playful graphic identity of INA MATT culminates on the ground floor where they invited all participants of the project to tattoo their personal fashion bird on the wall.
Studio Ina-Matt in cooperation with The Textielmuseum and Royal Mosa
Designers studio Ina-Matt is responsible for the interior and styling of Hotel The Exchange, Stock and Options! and for the special tiles. In cooperation with Royal Mosa two new tiles are developed; the 'veegtegel' and the 'tosti-tegel'. The tosti-tegel shows the back of an exsisting Mosa-tile, comparable to the lining of a jacket, like Louis Vuitton always put its initials on the lining. The Textielmuseum is known for their lab-function and the length they go to enable designers to do textile research. Together with them, fabrics are being developed after designs by the AMFI students. As yet, this has resulted in the production of a massive bobbin with one kilometre of yarn.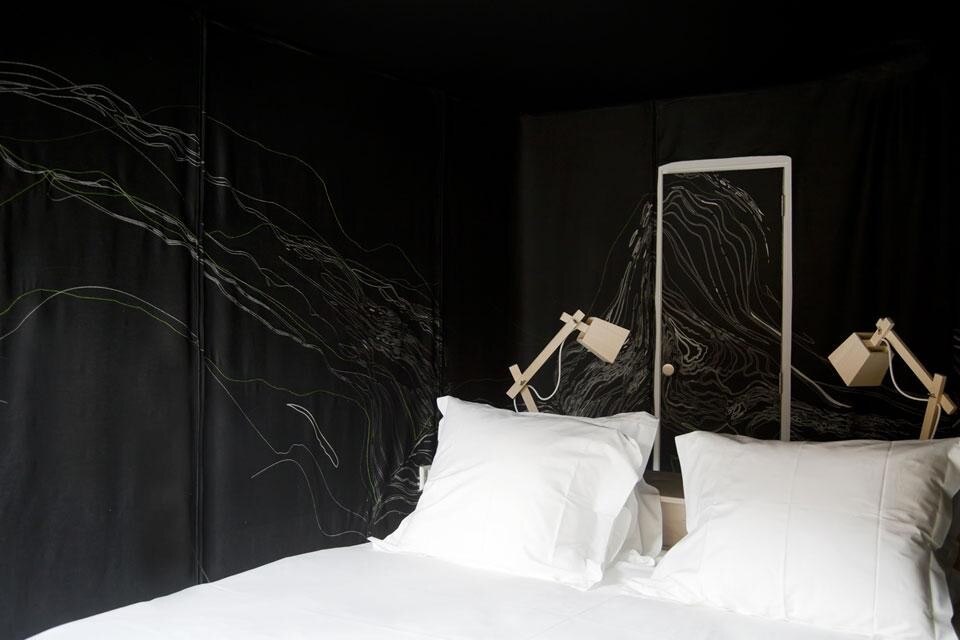 Concept: Otto Nan en Suzanne Oxenaar
Realisation: in cooperation with Amsterdam Fashion Institute (AMFI)
Design/Dressing of the rooms by students of AMFI:
Malu Gehner, Denise de Geijter, Paul Hanraets, Iris Kloppenburg, Juanita Koerts, Sofie Sleumer, Roos Soetekouw, Anne Wolters
Other spaces: designed by INA MATT
Public spaces/ some of the rooms of Hotel The Exchange, restaurant Stock and contemporary department store Options!
Realisation process: during one year, students of the AMFI worked in our Motex studio.
Assisted by Ingrid Horsselenberg creative manager/producer and Studio INA MATT
Executed by ROC students, that follow the tailor course at the Regional Training Centre.
Architects: ONSWERK
Graphic Design: INA MATT
Owner of the building: Stadsgoed NV
Restauration: OPUS
Installation electricity/water: Van Zijtveld
Interior construction: KP
61 rooms from 1 to 5 stars