aA SHELTER by SYSTEMarchitects is a 2,000 square-foot space on the ground floor of an existing church building in New York City. The church was originally established in Seneca Village over 180 years ago to help meet the needs of the city's poor and homeless. This mission continues today in this interior space.

The existing building was designed by Henry J. Hardenbergh and there remain quality elements throughout the site. The design for aA SHELTER is a contemporary version of the wood-paneled space using the limited means available to the shelter.

The installation process included professional labor as well as resident-volunteers from the shelter community. Its geometry emphasizes movement and journey by using topography as a response to the program. The space has very limited access to daylight, and no direct sunlight. The design fills the space with fluorescent light, uses the existing surfaces of the room as a reflector by painting them white, then suspends a laser-cut perforated ceiling below the light source that has the effect of changing the light quality as one moves around the space. The new ceiling, floor and wall are a honey/butter color that warms the light quality of the space.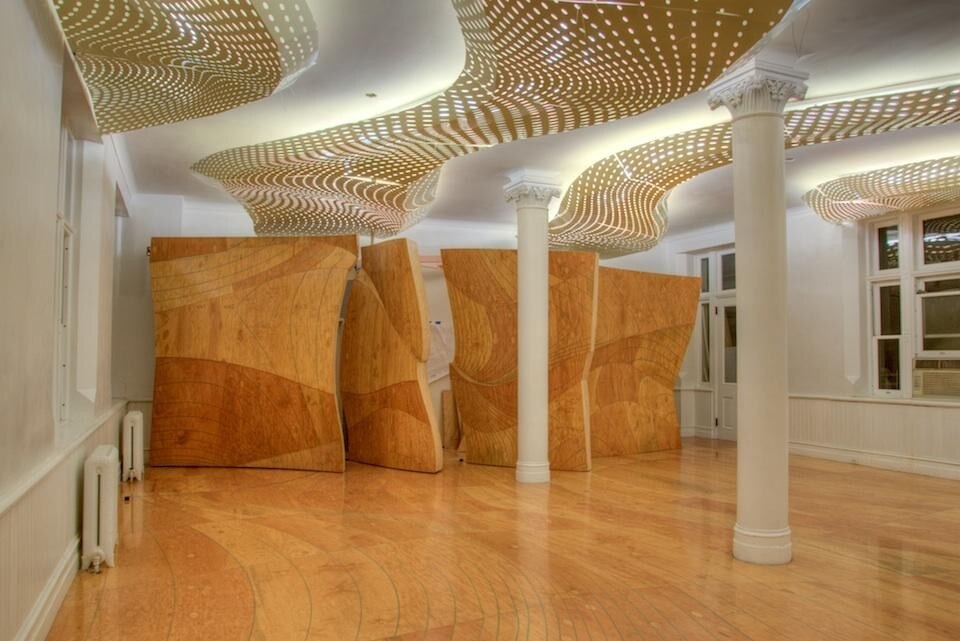 The space is used for sit-down meals of up to 80 people, sleeping, social, medical and psychiatric services. The new back wall is required for the storage of the tables and chairs, and it is contoured to accommodate these, while keeping the western window in the room, and relaxing the vertical of the wall so that one might lean up against it sit on it, and move around it.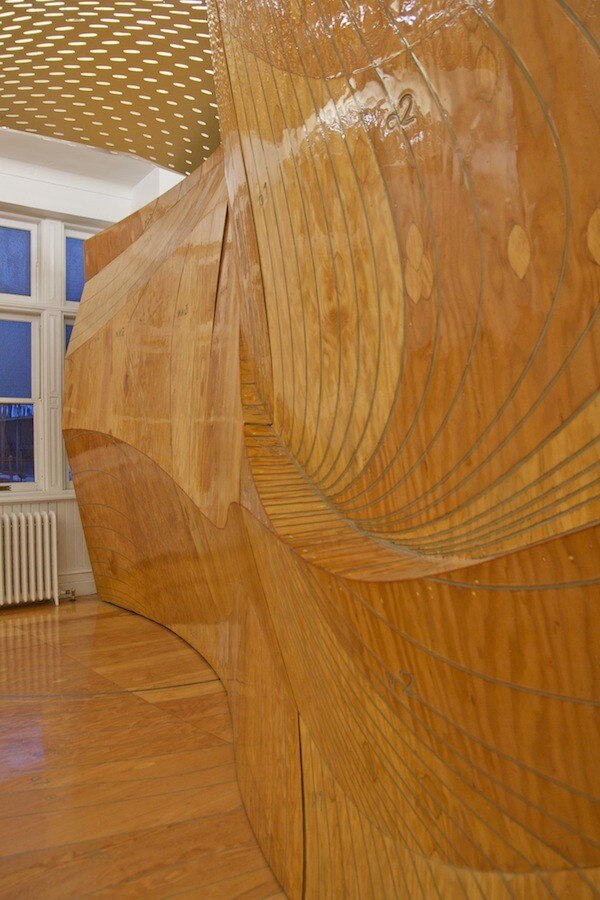 A pattern of lines articulates the changing geometry on the wall, and these reverberate through the ceiling and floor until they meet the entry wall at 90 degrees. The floor and wall are from CNC-milled construction plywood, each piece is a specific and different shape, and they are numbered so the volunteers can assemble them as they would a puzzle.

The design for aA SHELTER is a contemporary version of the wood-paneled space using the limited means available to the shelter.
The design used scripting and digital modeling to generate the forms, patterns and lines. Each piece of the floor wall and ceiling was modeled for fabrication and drawn for the assembly documents. All the fabrication files and assembly drawings were generated by the architect. The fabricators were able to donate part of their time, and volunteers were able to assist in the assembly. The design enabled the creation of a community of workers ranging from high-end technologically sophisticated fabricators to the New York City homeless community.


SYSTEMarchitects is an innovative practice cofounded by principal Jeremy Edmiston in 1998. The practice is a simultaneous engagement with and reflection on contemporary culture. Participating in this culture necessitates a focus on spaces that are multi-layered, overlapping, and intertwining—systems consisting of varying constituencies, economies and environments—systems both concrete and intangible.