Located in Islington, London, a historic house has been renovated by Unagru Architecture Urbanism to host a cellist. Built in the Victorian era, the house is distributed on three levels and characterised by typical brick facades: the intervention allowed for an extension at the rear, the transformation of the first and second levels and the addition of a roof-terrace, while at the same time shaping bright and flexible interiors suitable for the rehearsals of an entire quartet.
The ground floor houses the space for recreation and work and is equipped with a round skylight that allows natural light to enter and emphasise the house in a scenographic manner. An environment in which various geometric figures take shape: a cube of wood and glass houses the kitchen, a triangular wooden wedge the staircase and services, while a cylinder moulds the skylight on the roof.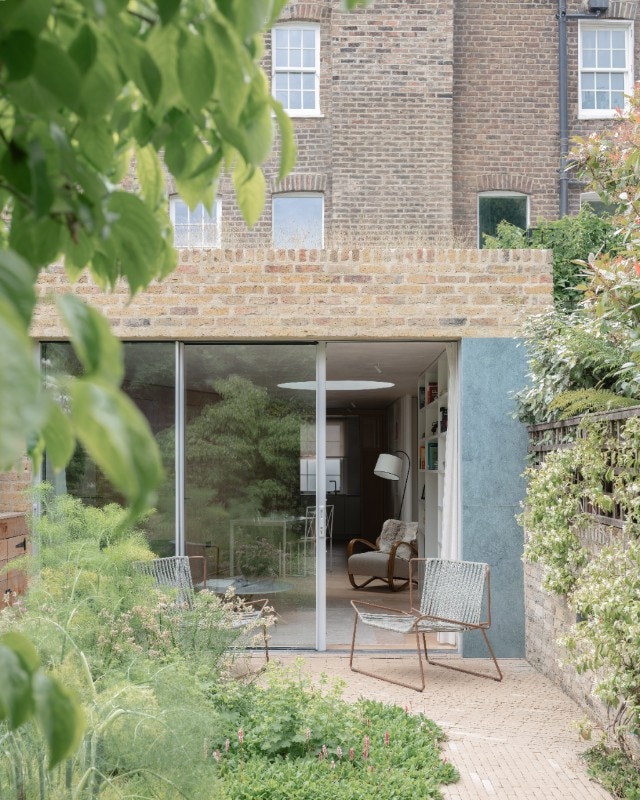 There are no doors, corridors or partitions in the room: instead, a single space emerges in which all functions converge, thus investigating the relationship between place and inhabitants. The design is a reflection on home living and focuses on flexibility and versatility – perfectly expressed in the dining table which, being mobile, can provide a large space for rehearsing with instruments. 
The house is calm and distraction-free, complemented by a discreet palette of colours and materials such as stone, green marble, wood on the floor and for the furniture. The extension is completed by a roof-garden that retains rainwater, designed to meet high thermal insulation requirements, while the underfloor heating aims at sustainability. 
Project :

House for a Cellist

Location :

Islington, London, UK

Program :

Private residence

Architects :

Unagru Architecture Urbanism

Contractor :

Rimi Renovations

Structural engineer :

Constant SD

Joinery :

Progetto 172

Landscape designer :

Emma Griffin Garden Design

Completion :

2021