This article was originally published on Domus 1065, February 2022.

A study in forms and space of great impact and effect, based on the combination of colours and guided by measured boldness, which is able to harmoniously integrate with classical volumes. These are the distinctive features of Manuelle Gautrand.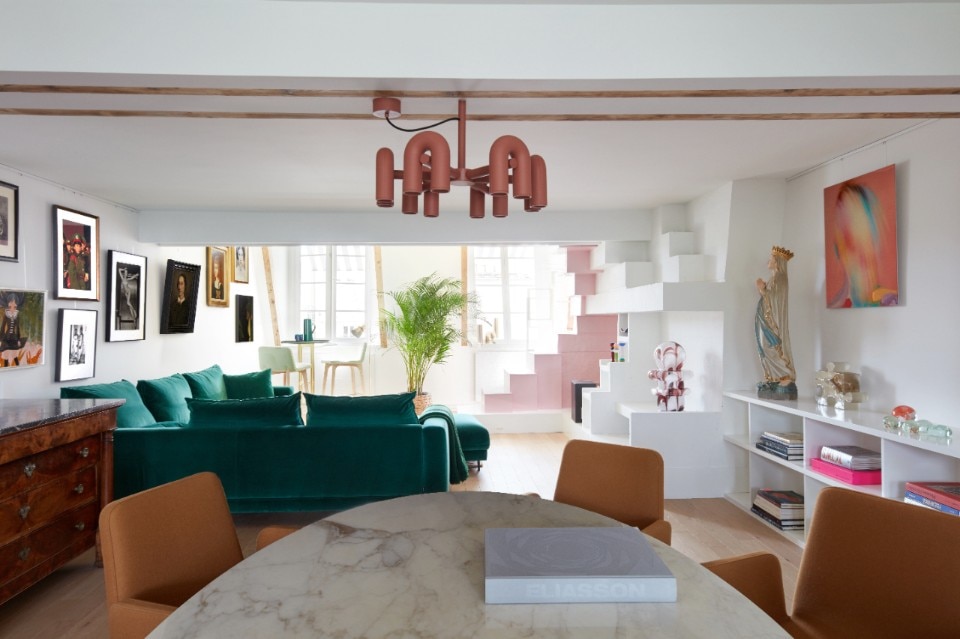 One example is the design that gave her international exposure in 2007: the Citroën showroom at 42 Champs-Élysées with its see-through modules that "put on the road" a totem of eight vehicles stacked on rotating circular platforms, inserted into the rigour of the 19th-century buildings. These ingredients lie at the heart of her two-level apartment refurbishment in a 17th-century building in the Marais, Paris, which was her first interior design for a private client.
Gautrand sculpted 115 m2 of inhabitable surface area guided by the willingness to make the most of the sunlight from the full-height windows on the east and west fronts. She created a single open space on the fourth floor for a day area and a windowed hallway on the roof on the floor above, where the night area is found, totally reconfiguring the space with new structural elements and a bold use of colours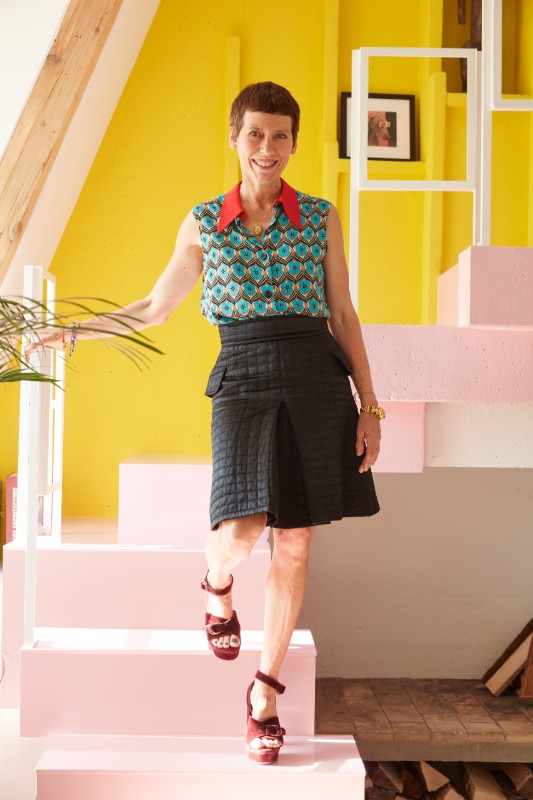 "As someone who was raised in Marseille, I'm very attached to the qualities of colour and natural light," she says. Each floor has its own material personality, and they are connected by a spectacular pink staircase. The entrance clad in dark wooden panels and inspired by historical cabinets leads into the kitchen, illuminated by double height windows, which then opens on to the dining area and then the living room with a small fireplace in brick – all spaces in stark white broken up by boldly coloured furnishing elements: ochre chairs, rust coloured and blue lamps, green sofas. Opposite the kitchen, the sunlight accentuates the pink concrete staircase leading to the night area, flanked by a Pollock yellow wall that Gautrand chose because it guarantees the quality of the light.
Experimenting with different ceiling heights creates an alternation of intimacy and exposure, which ends in the minimal white rooms with wooden beams, divided by a bathroom clad in brown and white marble. Refined furniture and details round off this characterful design.