Among buildings from the 1930s in Prague's Libeň district, the attic of a terraced house had been converted into a detached apartment a couple of decades ago. Here, Komon architekti architects took care of the house's renovation by using the significant height in the construction of a new attic. Initially, the 80-square-meter floor plan was divided into too many rooms, leaving no room to enjoy the view. Therefore, the first compositional decision was to open a large living room on the first level, creating a double-height area accentuated by a high bookcase on one of the walls.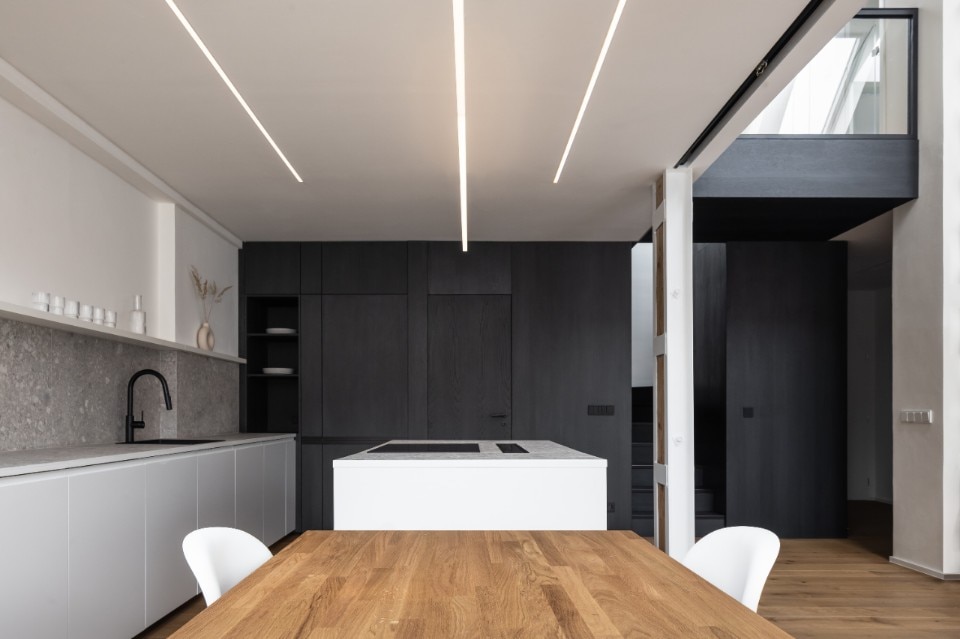 At the center of the plan, we find instead a black wooden box, which functions as a sculptural object and hides inside it the service spaces and stairs that connect with the second level of the attic. Here, a black wooden walkway above the living room connects the bedroom with a second bathroom. The terrace can be reached from the bedroom through a french door.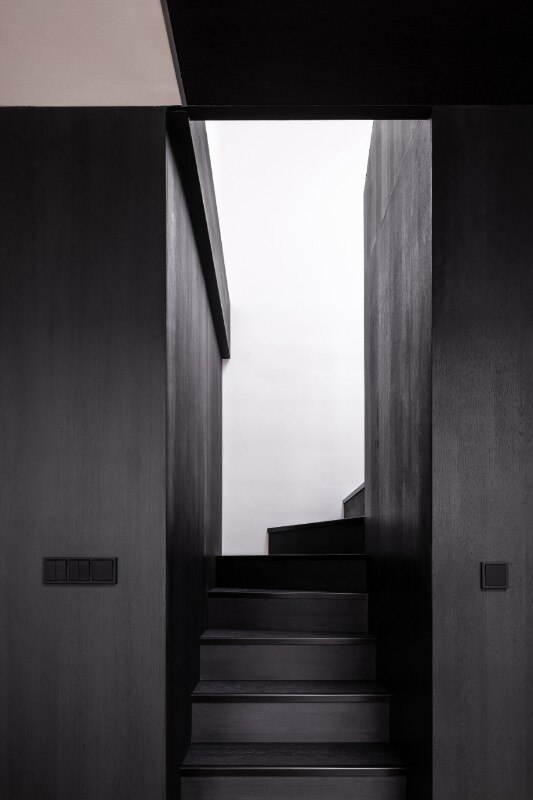 The material palette is succinctly reduced to oil-treated veneer for the black box, oak flooring, and terrazzo stone for the kitchen countertops. White tones are preferred for the rest of the furniture, as well as for the walls. Instead, the exposed elements of the roof truss and the steel posts in the living room are left bare. The raw character is further emphasized by simple, linear lighting, creating a juxtaposition with two elegant glass chandeliers in the living room.
Project:

Attic Apartment with a Black Box

Architecture studio:

Komon architekti

Architect in charge:

Martin Gaberle

Design team:

Bořek Peška, Lucie Roubalová, Jana Drtinová

Location:

Prague, Czech Republic

Project year:

2019

Completion year:

2021

Built-up Area:

141 sqm

Gross Floor Area:

109 sqm

Usable Floor Area:

84 sqm