Inside the largest Parisian co-ownership of the 1970s, located in Le Marais, a former data centre changes its vocation. Led by Ubalt Architectes, Le Grand Marais, a flat of 250 sqm, calls up the 70s between experiments in matter and light.
Located on the ground floor, the apartment seems to seek no connection with the outside, isolating itself in a dimension of its own. The buffer space entrance leads to an immersive and contradictory space. Despite the fairly absence of natural light, the apartment welcomes its occupants with dazzling light.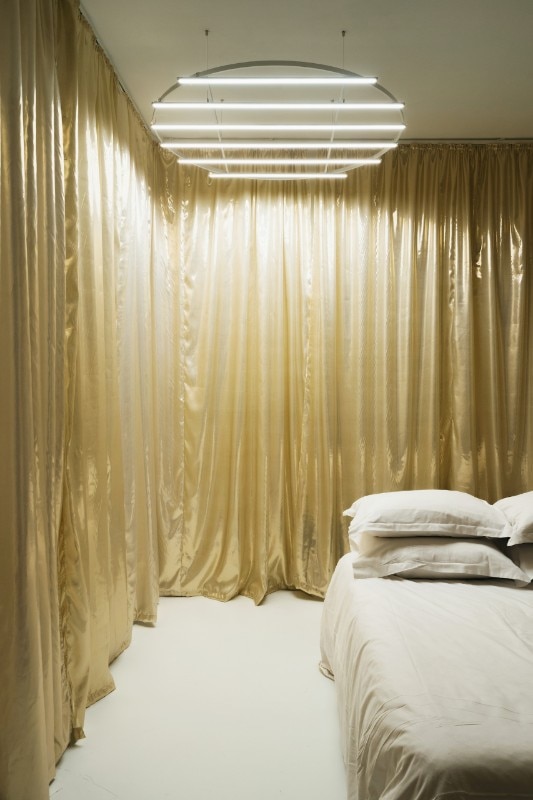 The living room becomes the centrepiece of the apartment plan, evoking an internal patio. It is a versatile and connected open space that changes and takes on new functions according to the vocation, from the living room to the workspace. Furthermore, in this area, it is possible to observe the only glimpse of natural light. Four skydomes illuminate the planted jardiniere, which encloses one part of the living area.
Versatility affects the other spaces of the building too, such as the bedrooms. They are flexible and convertible private spaces that integrate with the rest of the lot. These rooms turn out to be the flat's blind spots. Nevertheless, their privacy doesn't preclude their identity and they become catalysts within the experimental environment.
The protagonists are materials like plexiglass, metal frames, iridescent curtains. These, together with the punctual use of vibrant colours, maximize the light inside the blind apartment and define its space.
Project:

Le Grand Marais

Architects:

Ubalt Architectes

Lighting design:

Frantz & Fritz

Client:

Artisan Loft

Area:

250 smq

Where:

Paris, France

Completion:

2020