Looking back and seeing a never-ending catalogue, with pieces that in the rush to bring out more and more new products deserved to be rediscovered. This is what prompted Ferruccio Laviani to organise an original and entertaining presentation for he 2018 Fuorisalone focussing on the excellence produced together with Emmemobili. It is a courageous collaboration that has redefined not only woodworking techniques but also the decorative possibilities of two fundamental items of furniture: the table and the cupboard. Transformed into sculptural pieces with a highly theatrical impact. And above all tactile. A characteristic of sensuality that prompted the designer to place them in a delightfully retro burlesque set as described in this informal chat.
How and when did you first come into contact with Emmemobili?
It all started in 1987. They were noted as the only Italian manufacturer that in the 1950s and 60s used a technology for curved plywood. And as such a key supplier for important names, from Cassina to Herman Miller. I had the opportunity to meet them when some prototypes were being made for a piece with some curved parts by Nathalie du Pasquier. It was the time of Memphis and as an assistant to Michele De Lucchi I had gone to their joinery workshops to check them. We then became friends when I asked them to make some furniture that I had designed for a legal studio for a family-friend in Brera. As well as being specialised in curved ply they also produced small ranges. The design for the studio never went ahead but as in the meantime I had set up on my own, every time I needed small joinery jobs doing I went to them.
Was the furniture produced under the name of Emmemobili?
No, the company that made the curved ply was called, and is still called, Tagliabue Daniele. The name Emmemobili derived from a company that over time they had taken over and for which they had been a supplier for a long time. Initially they didn't know what to do with it, then I was asked to get involved in the original catalogue and think about what to keep and what to change. For the sake of practice we started to modernise a number of pieces and introduce others using curved ply. In 1993 I presented the first pieces designed by me. The first was the Rio bed with a very clean, curved structure that together with other designs started to sell. The real turning point though was the Ufo table in 1997.
It was an immediate success and still today is a best seller for them. It is the piece that really started the Emmemobili adventure. With well-thought out collections and presentations each year to the public.
Was it difficult to coordinate this transition of ideas and production?
The strategy was discussed a great deal. Their original idea was to carry on with curved ply and adapt it in an attractive way to the trends of the time. Mine was to place emphasis on a number of specific furniture items: the table and the cupboard. And make them the most beautiful around. Without abandoning the specialisation in joinery. And that's what was done. With a whole series of pieces that soon transformed the company into an important name in quality design. Starting from nothing. Not forgetting some significant incursions also into soft furnishings such as the Dune sofa - that I used for 13 years in the concept for the Dolce&Gabbana shops.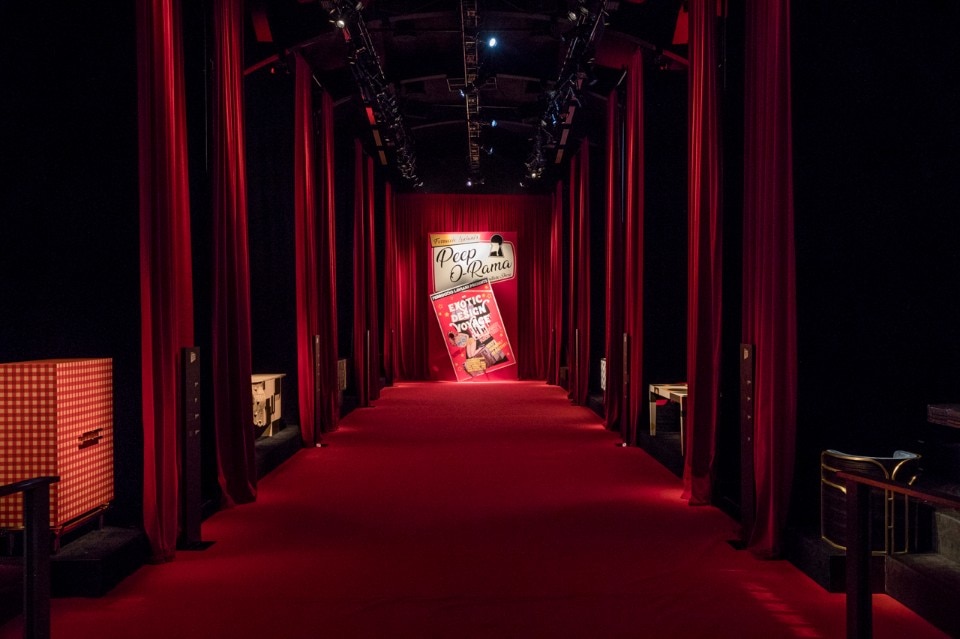 So how many pieces have you designed in total?
I worked out about 90 pieces since 1994. A lot. And that's why this idea came about to present a selection at the Fuorisalone. It is true that the Portico has recently been on the cover of a lot of magazines, everyone remembers the Ufo, as well as the Evolution, but there is a whole range of products that the public and professionals have forgotten about. And they deserved their own show.
So a retrospective, a celebration, a one-man-show?
I called it "Peep O-Rama The Furniture Show". In other words a selection of around 40 pieces to spy through a keyhole. Apart from anything it was unthinkable to fill the Metropol in viale Piave with everything I had designed. The thinking behind it though wasn't based on either a nostalgic or commercial approach, it was just the desire to demonstrate the enormous, the gigantic strength, of a unique and stratified production. And particularly today when the attention of brands is all focussed on new products. Unlike once upon a time when pieces were presented in fairs also in subsequent years.
For the sake of practice we started to modernise a number of pieces and introduce others using curved ply. In 1993 I presented the first pieces designed by me.
It was also a decision taken quickly, is that right?
I started to develop the idea of a special event in January, during the presentation of the new proposals inside the company. And it was really because I wanted to give importance to past products. After that, a conversation with Domenico Dolce to whom I had expressed the desire to set up this project gave rise to the possibility of using the Metropol as a location. A place that I designed and that for me felt a bit like home. Maybe not that quickly but then again not all that slowly.
How did you structure the space in terms of the set design?
First of all it has to be said that these items of furniture are all very sensual, very intriguing. Also because I always tried to work on the physical and sensual qualities of the wood: at times working with inlays and at times with colours, other times with sanding. This carnal characteristic that I saw when looking at them all was the line along which I started to think about the set design. That I translated taking inspiration from peep shows, erotic shows in which moving a curtain you look at the forbidden. It wasn't exactly the same but the curtains used for the set were the classic theatre ones, red on a black background.
To match this world I then retrieved old graphics, old-fashioned posters and pinups that we enlarged to create an ironic and cheeky retro feel. Right up to the classic cut-outs where you put your head through, in a nineteenth century style. Substantially it was a very simple installation that also made the neutral base for all the languages I had used over the course of twenty years. That had been many and varied. The first pieces are clearly a legacy of the minimalism of John Pawson and Claudio Silvestrin. The next ones a tribute to the glamour of the 1970s; from 2000 the baroque influence of Dolce&Gabbana starts to appear, when I began to work with them. Then there was the structure of colour with Arlequin. While with the arched structure of Portico I played with the idea that we have today of decoration, something linked to postmodern aesthetics. All this without the slightest intention of making it self-celebrating but rather a light-hearted narrative that represented an amusing break from the routes around the Fuorisalone.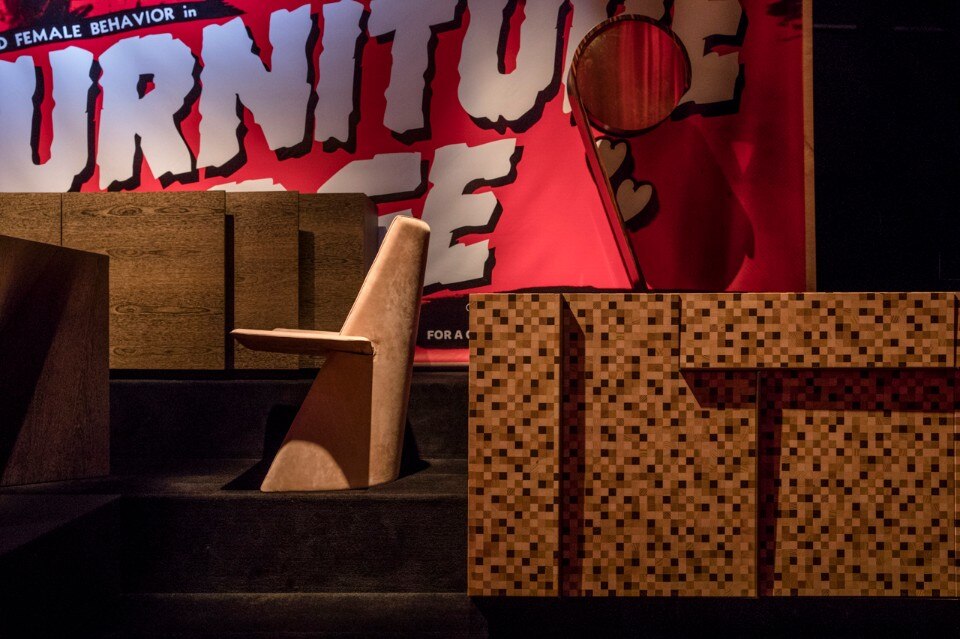 All this process of looking back seems quite therapeutic. Was it like this?
Yes, perhaps it was rather. There was a kind of analysis and without denying anything or any source of inspiration. From Memphis that in the 1980s had set in a certain idea of colour and decoration up to the baroque experience mixed with gold with Dolce&Gabbana. That I would never have thought would enter in to become part of my language.
Do you have a favourite piece?
When it came to suddenly choosing all the models you like its hard to be clear. Modular for example is a piece that I always use and always have in my houses. Also the Jazz and Birignao tables are favourites. One I love is Capri, a table made with a very thin sheet of ceramic. Arlequin is definitely an important piece because it was the moment in which I felt a new need to go back to colour. Then, you know, out of ninety it's hard to choose just one, or a handful. There were years in which I designed up to ten products. Without counting that many of them are articulated in families that include different elements in different sizes.
I started to develop the idea of a special event in January, during the presentation of the new proposals inside the company. And it was really because I wanted to give importance to past products.
Could we say that Emmemobili has been your testing ground?
For me the research work done with them has always been important. They have a different pace from the other companies I work for. Less rapid. On the other hand, wood is an archetypal material that is substantially unchangeable in its nature, the same as it was five hundred years ago. The challenge has always been to recount it in an unprecedented way, trying to leave Emmemobili the task of finding a way to push the technique beyond the obvious and the everyday. The new Dolly piece, for example, is inspired by eighteenth-century studded safes. But the way these have been interpreted makes it an extraordinary piece. Like every other piece by Emmemobili. That by not being commercial products are the result of great industrial and artisanal courage.
Quite rightly you're very proud to be a part of it, aren't you?
Yes, when I see them come out of the paint shop it is a moment of great satisfaction. Also designing for Emmemobili is a process that I keep constantly active, collecting a yearly folder of various inspirations. When I get to Christmas I start to firm up a general concept that then I discuss with them to understand feasibility in terms of production and finishes. What however remains always surprising about this small company, half way between a large artisan setup and a small industrial one, is the peculiar characteristic of always being a trailblazer. That has proposed languages and decorative solutions at least four years ahead with respect to the market. Because they are strongly specialised and able to maintain total control of the production. Even more so since some years ago the painting was brought in-house.