Assab One's enormous and variegated space, in itself, seems to have a lot to say, with its courtyard inundated by sunlight; the many plants, now in the explosive form of early spring, scattered all around; and vast former industrial spaces, where books were once printed. In 2002 Elena Quarestani reconverted her family's former business headquarters into a project to support contemporary art; starting last year, together with Marco Sammicheli who functions as curator, she started 1+1+1: an exhibition that calls for inviting an architect, an artist and a designer to react to the identity of Assab One's unique space, a true reference point for the city. The artists chosen for this second edition are Johanna Grawunder, Christoph Hefti and Antoni Malinowski. During the month of May their works will dialogue with two dancers, Yong Min Cho and Sarah Taylor (May 6), the cellist Mario Brunello (May 18) and the soprano Olivia Salvadori with the electronic musician and DJ Coby Sey (May 28). We spoke about it with curator Marco Sammicheli.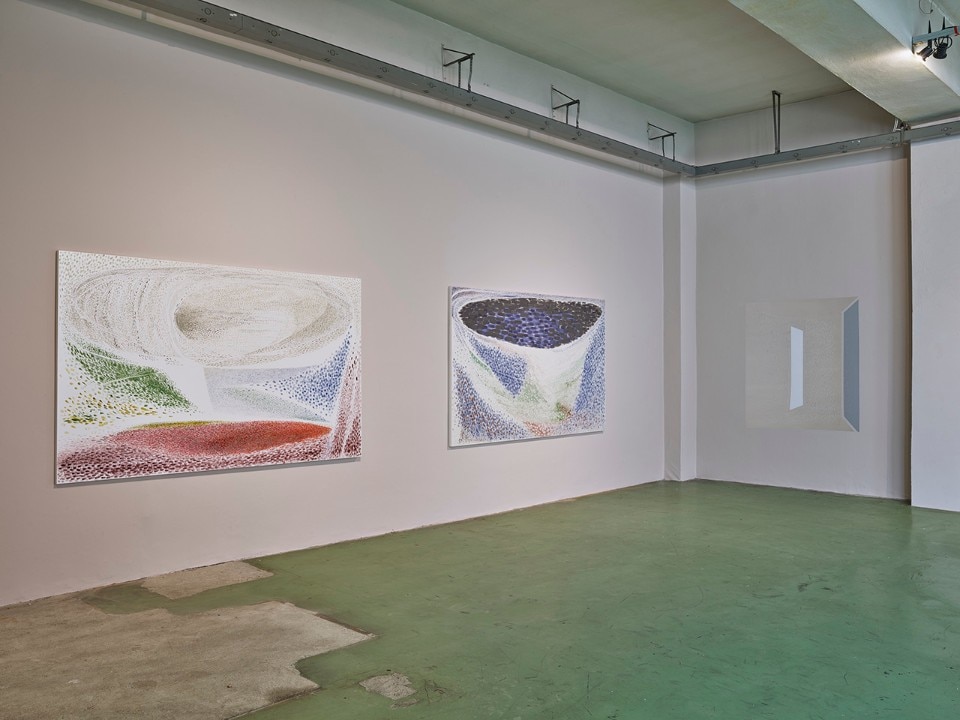 Who are the artists chosen for 1+1+1?
Christoph Hefti has a great deal of experience in the field of textiles, for years he worked with Dries Van Noten. Over the years he has distanced himself from the world of fashion and his investigation has focused on furnishings. Johanna Grawunder is an American architect who completed her training in Italy, first with Superstudio, Cristiano Toraldo di Francia and Gianni Pettena and, later with Ettore Sottsass. Antoni Malinowski is an artist of Polish descent, who lives in London and works at the Architectural Association School of Architecture, where he teaches how to use colour, not just to give quality to surfaces but rather to construct space.
Tell us about the works on view, walk us through the show's itinerary.
"That horse, slamming doors" presents some Nepalese hand-knotted carpets, produced by the Maniera Gallery of Brussels. As in the tradition of 1+1+1, Christoph Hefti was invited to work in the space with something completely new, and so he began a series of pastel or ballpoint pen drawings from which these creatures, in keeping with his imagination, have emerged. This is how the ceramic pieces were born, masks of stock characters or animal carcasses. Built as a kind of encampment, this exhibition also incorporates sound and a large tent, produced by the French company Bucol and sewn by a Milanese cooperative right in the exhibition space. The idea is that, when there are no visitors about, the space is inhabited by a horse. Indeed there's even some hay included in the installation.
With "Almost seen", Antoni Malinowski has re-appropriated the space by using the room's perimeter. His paintings change according to the point of view and to the refraction of light. If you spend time in front of the works and you move around them you will realise that their colours change and layers emerge. Malinowski believes that, through colour one can derive and shape another supra-architectural space. In this case he didn't use artificial illumination because he realised that, here, natural light overpowers the rest, so nothing more is needed. Johanna Grawunder's two large-scale light installations titled "Alone Together" consist of two full volumes with a functional empty space in the middle. Here visitors experience a labyrinth to be walked through and two mandalas (one very big one and one rather small one) around which a dance can be performed.
We ask the chosen artists not only to present an artwork but also to come and stay here, to live this experience alongside us.
How does the 1+1+1 formula work?
The artists are invited between autumn and early winter. We ask the chosen artists not only to present an artwork but also to come and stay here, to live this experience alongside us. We eat together, we work together. This important feature, of almost undergraduate companionship, completes the curation of the project.
What criteria do you use for selecting artists?
We choose artists, designers and architects with experience, professionals with long careers and important investigations underway. As a curator it's great to work with people who have an acute awareness and curiosity that is later given back with generosity. It's a truly wonderful exchange.
What is Assab One's role?
Whenever I say 1+1+1, I am always thinking that there is still another implicit +1, which is this place itself: a very strong presence, charged with memory. The projects we are working on right now include Studio Mumbai's new installation, opening soon, and then another two locations will be assigned. Assab One continues to be, more and more, the headquarters of a community.