This article was originally published on Domus 1075, January 2023.
The Raffles sofa by Vico Magistretti is one of those pieces of furniture that evokes memories of places and atmospheres. Relaxing in its classic, soft yet supporting forms and sinking into its deep and inviting embrace is like entering an English club after a day of golf (one of Magistretti's great passions), smoking a fine cigar and reading the newspaper while sipping some smoky aged whiskey.
The Milanese architect designed Raffles in the late 1980s, at a time when he was tied to the Anglo-Saxon world (he was teaching at the Royal College of Art), of which he appreciated an inherent elegance of forms and the value of never being vulgar. The design bolstered his collaboration with Maddalena De Padova, a sensitive and acclaimed furniture entrepreneur (she won the Compasso d'Oro Career Award in 2004) with whom Magistretti forged a long-lasting bond, designing a series of furnishings that emphasised his distance from excessive decoration and postmodern caprice.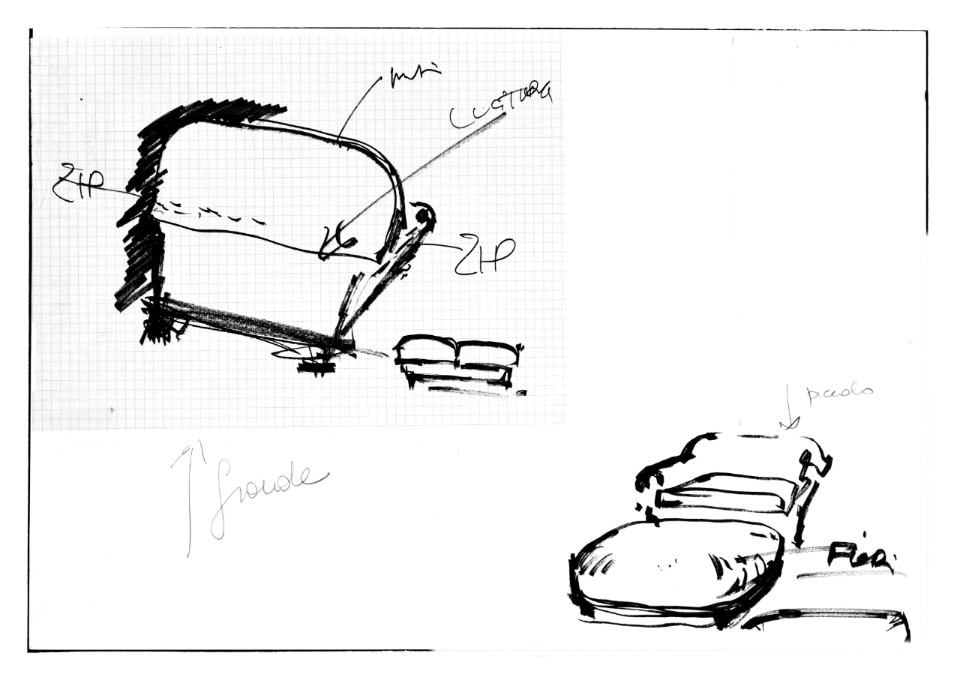 For the new sofa, he envisaged a solid wood frame with inner padding in expanded polyurethane, covered in Dacron – a robust synthetic fibre also used for curtains, carpets and fishing nets – and upholstered in cotton canvas. The cushions, meanwhile, were filled with goose down. The sofa took on a distinctive kind of modernity thanks to its discrete and refined details: the seemingly classic wooden feet had swivel castors, while the slim lower back cushions made the couch even comfier. Above all, Magistretti considered the need for practical maintenance. As can be seen in an archive drawing, thanks to a zipper behind the backrest, the entire sofa cover could be easily removed to facilitate cleaning.
Today De Padova, in collaboration with its research division, has updated the transversal elegance of Raffles and is offering various finishes to customise the comfort of the seat cushions. They are available in goose down, memory foam or with the addition of polyurethane foam, to guarantee softness and support but also a more functional upkeep without the need for plumping up the cushions. 
Moreover, the company has enriched its colour palette and range of textiles, thanks to a collaboration with Society Limonta. Amber, forest green, pumpkin, quartz grey or striped tweed – like the first Raffles in 1988 – are the new shades and patterns that enliven and confirm the timelessness of Magistretti's design, a refined evergreen. In addition to the twoor three-seater versions, the series also comes with an armchair and a pouf, for relaxing in company, maybe after a game of golf.