This article was originally published on Domus 1073, November 2022.
"More sculptures than objects, more games than lamps." With these words, in July 1972 Domus presented the new products for the home seen at Eurodomus, the modern fair that promoted a dialogue between design and art, with stands that were true designer installations. This is where the Nitia lamp designed by Rodolfo Bonetto (1929-1991) for iGuzzini made its debut. In methacrylate and stainless steel, austere and with few elements, it was something out of a mechanic's shop.
Bonetto – with eight Compassi d'Oro awards and a parallel career as a jazz drummer – was a passionate designer of cars and engines who applied his knowledge of technology and production processes to small-scale objects that still today lack deserved attention for the design of their forms: engines, appliances, alarm clocks, telephones and, naturally, lamps.
Nitia appeared in Domus alongside its "peers" of the time: the Papera by Cini Boeri in polyester resin, and the Cammino by Angelo Mangiarotti in opaline glass with a chrome-plated base. These lamps illustrated the direction designers were headed in, bending sheet metal, colouring resins and salvaging industrial discards in search of new materials with which to create practical objects at affordable prices. The result was a design with simple, evocative, geometric and almost sculptural forms.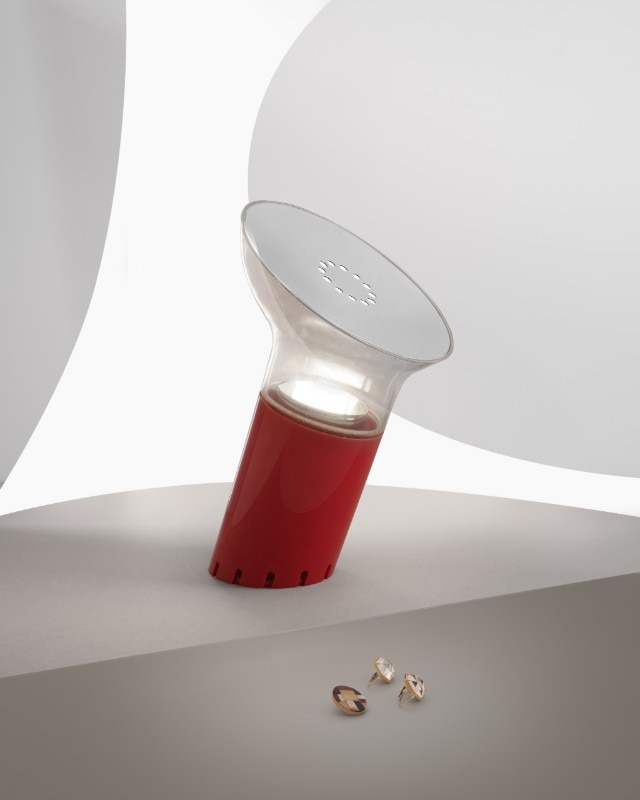 Bonetto's lamp, as can be seen from the archive drawings, is made by overlapping pure volumes. The cylinder that hosts the light source also holds a second curved element, closed by a disc that creates an ambient light. During initial research, the designer was undecided between a pointed form, like a flame burning on a base, or a sphere. He then decided to cut the sphere and use only a part of it.

Thus Nitia was born, described by Domus as a "bedside table" lamp that creates soft lighting and does not overheat, thanks to the holes forming a circle on the glass, like the ones used in automobiles.

After 50 years, the Marches-based company iGuzzini has dusted off the lamp from its archive, updating the materials and light source to embrace sustainable production cycles with limited energy consumption, and including it in the new collection Italian Echoes. Along with the lamps Polsino by Gio Ponti (1968), Zurigo by Luigi Massoni (1966) and Sorella (1972), manufactured by Harvey (the original name of iGuzzini), Nitia will enrich the company's story, headed towards an "ethical and aesthetic renaissance" where the past becomes a tool to define the future.