This article was originally published on Domus 1070, July-August 2022.
"Good rest" is written at the bottom of the fine watercolour depicting a curvy sofa. Its creator was the Danish architect and designer Finn Juhl (1912-1989), who interpreted a language of organic forms, which he also experimented with in the United States when, starting in the 1950s, he embarked on an international phase of his career, thanks to a prestigious commission from the United Nations in New York. Here he consolidated his sculptural and refined style, attentive to the body in all its dynamism.
His contact with America was further strengthened by a collaboration with Baker Furniture, Inc., in Grand Rapids, Michigan, for which Juhl designed a series of furnishings that would define the company's modern style, presented in the showroom he also designed. Thus the Baker line was born.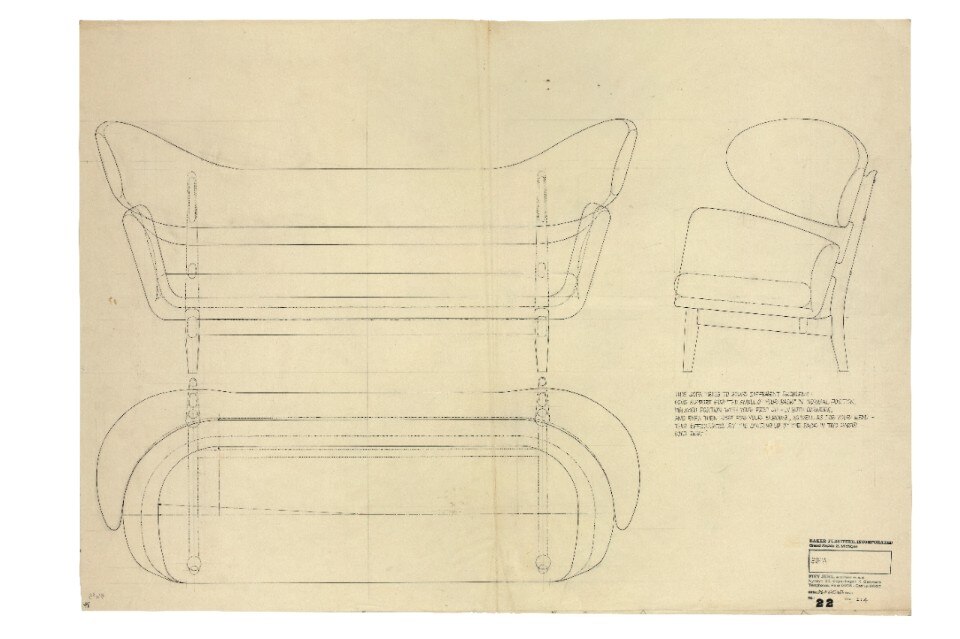 As can be read on the archive sketch, Baker is a sofa that "tries to solve different problems", and was conceived to offer "proper support for the lower back", supporting the body in different ways: "In normal position, relaxed and laying down with feet raised," where the elbows and head are also comfortable, thanks to the backrest divided into two sections. The padded frame rests on a light wooden structure and is interrupted at the centre, leaving an empty space that guarantees excellent ergonomics and visual lightness, contributing to the sculptural effect.
Juhl normally entrusted the final presentation of his works to watercolours. Like modern renderings, they were the most effective way to visualise the volumes, colour nuances and textures. He would begin with a sketch in pen on a small piece of paper, where he would identify key concepts, then move on to the definitive work on larger sheets, complete with structural details and finished with colours that enhanced shading and brightness. This means of presentation, fine-tuned thanks to the talent of his collaborator Marianne Riis-Carstensen, also responded to the artistic interests of Juhl, who had been passionate about figurative art since he was a boy.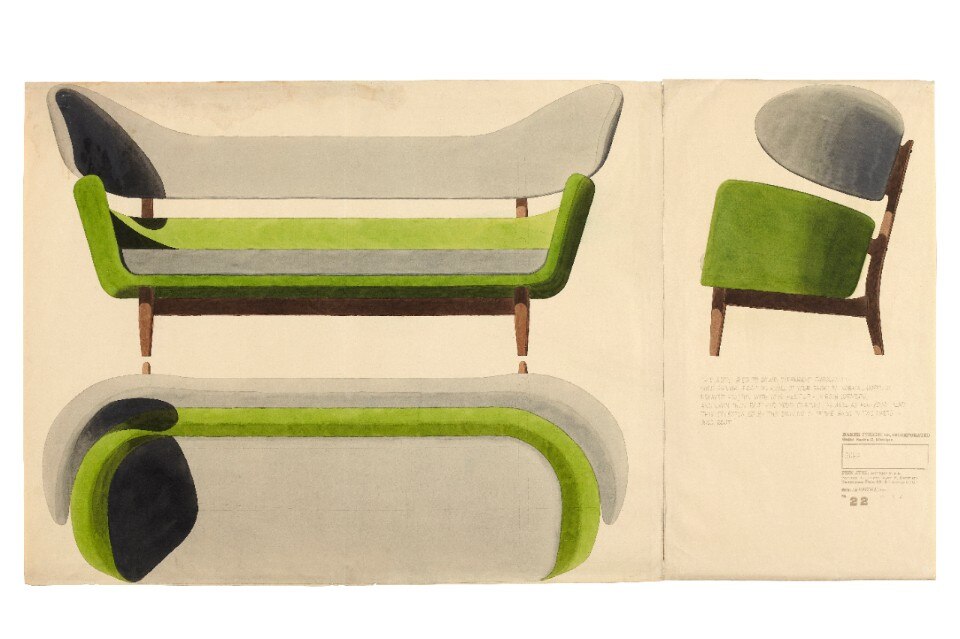 It's no coincidence that the balanced forms of his soft and fluid design allude to the abstract informal art of Alexander Calder, Hans Arp and Erik Thommesen, beloved and collected in his home outside Copenhagen, which this year reopens to the public.
For over 20 years, Onecollection, with the House of Finn Juhl brand, has owned the exclusive rights to his designs, which it manufactures with top production and artisan techniques. Today, the Baker sofa comes with an oak or walnut frame. The upholstery, in leather or fabric, is entirely sewn by hand.