This article was originally published on Domus 1069, June 2022.

Conceived as a self-standing unit, Modello 823 is a small, wooden, swivel bookcase that can be customised thanks to slender mobile panels. It was designed in 1963 by Gianfranco Frattini (1926-2004), an architect active in Milan during the era of Gio Ponti, and a trailblazer in the prolific season of Italian design at the time.
The bookcase extends vertically and interpreted the living needs of those years: reduced spaces and condensed elements. Frattini shared the idea concerning the "mobility of furnishings" that Joe Colombo described in Domus (March 1965): "More than about furniture", designers had to start "thinking about the house as a space to be organised and equipped", a flexible container that would allow its "contents" to move dynamically. 
With this premise in mind, Frattini came up with the small bookcase, documented in an archive drawing on tracing paper. The design featured a rotating swivel tower on three levels, intended to hold books and objects while also acting as a side table. Accessible from every side, it helped to establish new spaces in the home and enable personalised use. It was published for the first time in Domus in April 1964, as part of the feature titled Per chi deve scegliere mobili di serie ("For people who have to choose mass-produced furnishings"). It consisted of the frame, a squareshaped load-bearing pillar, and three shelves with tracks that held slender partitions, which were also in wood, where users could create different combinations of solids and voids. There was an emphasais on the originality of the round top insert, which was "fixed so that bottles or ashtrays resting on it won't turn".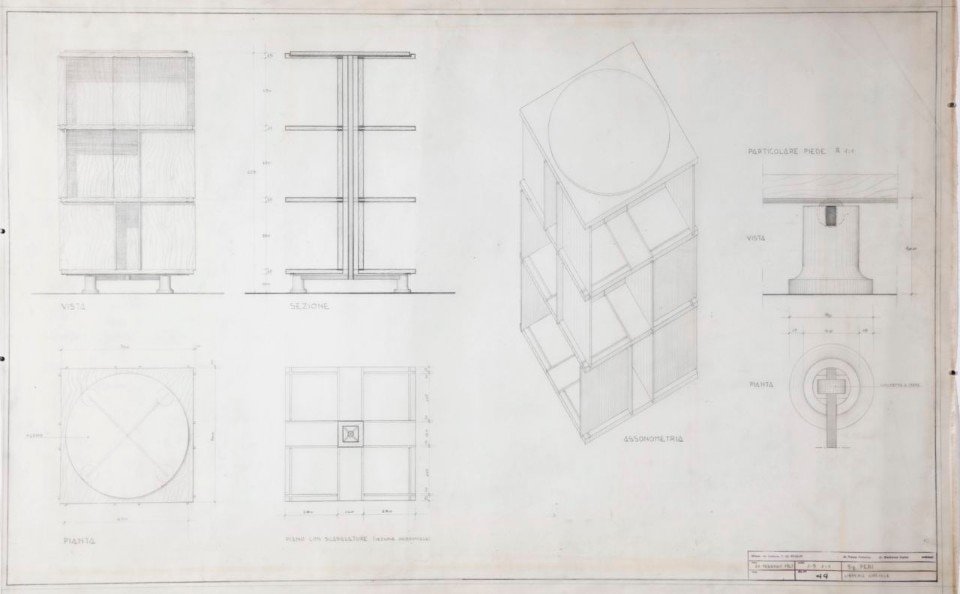 The object was initially made in Rio rosewood by Bernini, a historic artisan brand that at the time was trying to make its way into the industrial market by engaging architects such as Ico Parisi, Angelo Mangiarotti, Edoardo Gellner and Frattini, without forgoing attention to detail and the quality of finished products. Today, Poltrona Frau is offering a reedition with a new name: Turner. The solid legs have been replaced by a circular pedestal and the intermediate shelves are in black walnut, customisable with 21 panels, to arrange at will. The slender disc at the top is available in leather or hide. Even now the design satisfies the needs of fluid and convertible spaces. It organises domestic spaces, hosting many small compartments while creating a functional and elegant tabletop.