To celebrate its 110th anniversary, Poltrona Frau has teamed up with Argentinian-Spanish artist Felipe Pantone, presenting a special edition of the Archibald armchair – one of the most iconic objects in the brand's catalogue, created by designer Jean Marie Massaud. Based in Spain, Pantone's work investigates the technological age and interrogates the mysteries devoured and divulged through the Internet, ranging from frescoes and murals to contemporary paintings and sculptures.
"I had the opportunity to visit the Poltrona Frau factory to see the museum, the entire collection and learn about the brand's history, which is extensive and evocative," says the artist. "I ended up choosing Archibald because of its minimalist structure and unique features such as the armrests and backrest details. My idea was to use the minimal, iconic design of the chair and juxtapose it with my graphics, which are louder and more dynamic."

Pantone used Poltrona Frau's ColorSphere as inspiration, recreating a grid pattern on the leather surface of the armchair, choosing a colour palette similar to the cold and warm temperatures on a heat map. The chair's base and thin metal legs - finished in Multicolor Natural Chrome - leave an iridescent blue-violet finish that shimmers under the light. The Archibald Anniversary Limited Edition also uses Poltrona Frau's new "Impact Less" leather, a chrome-free material that requires less water and less chemical consumption.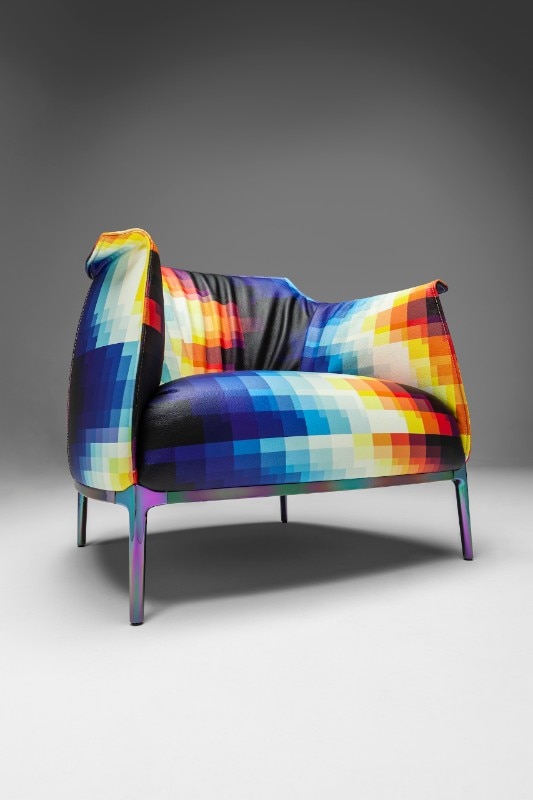 For Poltrona Frau fans, a handmade miniature model of the armchair will also be available. According to the brand, the Limited Edition armchair and project can be explored online in April and during the week of the Milan 2022 Furniture Fair, June 7-12, at Poltrona Frau's showroom on Via Manzoni, where there will be a physical installation showcasing the brand's entire True Evolution 2022 collection, as well as a dedicated digital installation featuring the work of Felipe Pantone.