This article was originally published on Domus 1046, May issue.
t what point in the cultural development of the world did the sophistication of ordinary things begin? Different opinions may be offered since historical records are scarce, but the forces of change appear to have come about through the various channels of artistic experiment, aesthetic understanding, industrial developments and plain "making do" in times of need.
Without a doubt, a significant contribution on the artistic front came from Marcel Duchamp and his elevation of the everyday to the initially disputed status of art. Brancusi, whose roughly carved wooden sculptures threw away all pretence of refinement in search of raw form cut from available wood, also played a part. Before them there were, among others: Adolf Loos's rejection of ornament (1910) and Michael Thonet's No.14 Chair combining technology and mass production techniques to create the world's first "ordinary" chair (1859). Ordinary in the sense that it was widely available and affordable to most people, though it is anything but ordinary in terms of design quality. Industrialisation itself and in particular Brunel's and Eiffel's modernisation of infrastructure would have been remarkable for the scale and degree of change that resulted.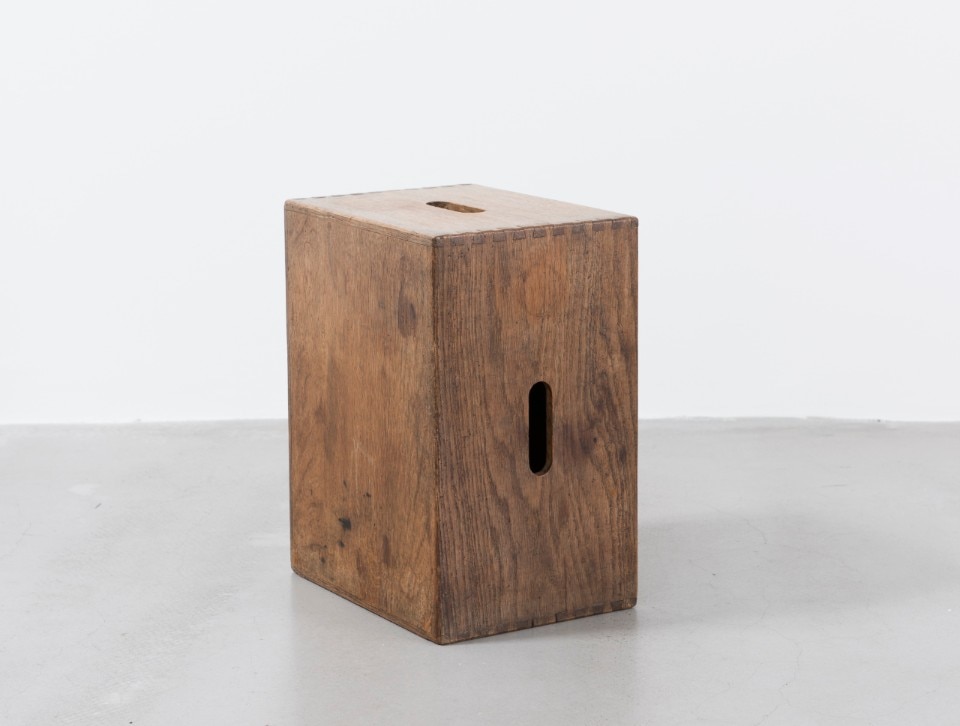 In 1934 Gerrit Rietveld, responding to the economic conditions of the Great Depression, assembled a chair out of simple planks of pine, connecting them with screws. His Crate furniture was widely criticised at the time for lacking craftsmanship. Rietveld's response was to point out that expensive furniture was transported in wooden crates which were clearly stronger than the furniture inside them. His goal was nonetheless a different one: to provide cheaper furniture in a time of great need. In 1940, having escaped wartime Europe, his compatriot Piet Mondrian arrived in New York from London, and while painting his last and greatest works he found time to make furniture out of fruit crates. He added strips of wood to strengthen them and painted them white, making simple stools and side tables. These two in turn may have influenced Donald Judd, whose furniture, initially conceived for his own home and simply made of square-cut plywood, shared space with a Rietveld armchair.
Duchamp's Bicycle Wheel (1913) initially followed the same pattern of innocent, intuitive gestures against the prevailing taste for styled form without much concept. He had mounted a bicycle wheel with its front fork on a wooden stool to amuse himself, spinning it to have something to watch, as one watches the flames of a fire. But it was not until 1951, when it was first publicly shown, with an added touch of irony in the context of placing the playful sculpture in the Museum of Modern Art, New York, that the work changed the nature of what could be considered art and simultaneously sophisticated the everyday object. Andy Warhol followed in the early 1960s with his Soup Cans, Dollar Bills and Brillo Boxes.
Images of New York's 1913 "Armory Show" reveal old-world sculptures lifted from the ground on wooden boxes which more normally served as drawing studio devices on which to arrange still lifes and naked forms. Le Corbusier and Ozenfant's Purist compositions of commonplace, everyday things understood (even created) the new beauty of the ordinary, opening eyes to simplified form and the mysterious quality of industrial production.
Le Corbusier, an early appreciator of the machine age, was also able to appreciate the enduring modernity of bentwood chairs and used them to great effect in his early projects. Their simple lines and lack of ornament were symbols of a new way of living, free of drapes and tassels, and advantageously presented no obstruction to a clear view of the architecture.

Le Corbusier was later to adapt the humble studio box as a stool for his Mediterranean Cabanon (1951), just as he had adapted the atmosphere of the artist's studio to his interiors.

Enzo Mari's Autoprogettazione project also drew on the construction of crates for its basic structural system. In 1974 he created plans for all manner of pieces of furniture, a cupboard, a bookcase, various tables, beds, several chairs and a bench. For the price of the postage Mari would send enthusiasts a set of plans to make whichever item they needed. Mari's purpose, apart from an altruistic one, was to make people aware of the real essence of design through the exercise of building something by themselves.
My own small moment of crateness came about in Paris in 2005. I'd moved into a new apartment and lacking furniture I found an open wine crate the builders had used to carry bathroom tiles, and without thinking I started using it as a bedside table. I started using the lower part to keep books, which gave it more stability.
After using it for a year I realised it was accidentally a good design. The more I thought about it the more I realised it had qualities that other bedside tables didn't have. A small footprint, a good height with enough area to keep what's needed beside the bed, and an easy way to store books for reading in bed. When the British design company Established & Sons asked me for a project it was the first thing that came to mind.
What is it that draws designers and artists alike to this most basic and effective means of constructing containers? The temptation and the pleasure of providing an alternative to the usual bourgeois options? A raised finger to the usual narrow constrictions of acceptable taste and commercial correctness?
Both of these, but at the core the quality of atmosphere created by a wooden box and the appeal of something so essential and devoid of superfluousness.
Piet Mondrian, Crate furniture
The Dutch artist Piet Mondrian is known for his seemingly austere abstract work, which is liked by many and disliked by probably even more. From the 1920s onwards, Mondrian's studio also became a well-known site in avant-garde circles. He stacked coloured rectangles to the wall, making his studio into a three-dimensional work of neoplastic art. It was only in New York that Mondrian also started making his own furniture. Before this he would buy cheap chairs and tables at the flea market that he painted white, black or in a primary colour. In New York he designed his own tables, a cabinet for his paint supplies and also stools. Mondrian used orange crates as the basis for the stools and cabinet, which he reinforced with some horizontal strips of wood and painted white. These simple but effective designs are somewhat reminiscent of the work of Gerrit Rietveld, his contemporary and fellow member of the important Dutch avant-garde magazine De Stijl (1917-1931). Mondrian's furniture from the 1940s in turn seems to have influenced the American artist Donald Judd, whose furniture design from the 1970s to 1980s shows the same straight lines and simple elegance.
Text Wietse Coppes, curator @rkdnl