This article was originally published on Domus 1058, June 2021.
"Well done Nanda!," Ludovico Acerbis wrote to the Milanese designer in April 1994, pleased with the success her pillar of drawers had at the Salone del Mobile. Acerbis, a company based outside Bergamo with a longstanding tradition in cabinet making, had just entrusted a few designers with a personal interpretation of furniture and accessories for the bedroom area: Acerbis was looking for something original and unique, "for those demanding clients who are never satisfied with standard solutions or stereotypes". Thus the "Bed Side – nei dintorni del letto" collection was born, and included wardrobes, beds and night tables. 
Nanda Vigo (1936-2020), an artist and designer interested in studying light and the new notion of domestic spaces, designed Storet, a cabinet for bedrooms in cherry wood, simple in its vertical structure but dynamic and transgressive in the rounded form of its ten drawers, finished in glossy lacquer to match the colours of the bedroom: soft and original, from light green to peony pink. The result is a stunning pillar of drawers, characterised by a refined exchange between emptiness and fullness, light and shadow. 
Vigo thus consolidated her collaboration with Acerbis, with whom she had begun to work in the 1960s, designing the Blok table series. The designer had built a reputation thanks to her irreverent interior designs, which challenged the classicism of Milanese apartments with a new style – with continuous forms, no embellishment, and made of light and volume. 
It's a young woman who revives the 'Milanese taste', wiping the slate clean.
"It's a young woman – while the men get bogged down with intricate designs of old and new forms – who revives the 'Milanese taste', wiping the slate clean," according to Domus (415, June 1964). While studying the Acerbis archive, the art directors Francesco Meda and David Lopez Quincoces, who for a year now have worked on reissuing updated versions by grand design masters, were deeply impressed with the pillar, "so striking on an aesthetic level, with much focus on technique inside and great functionality".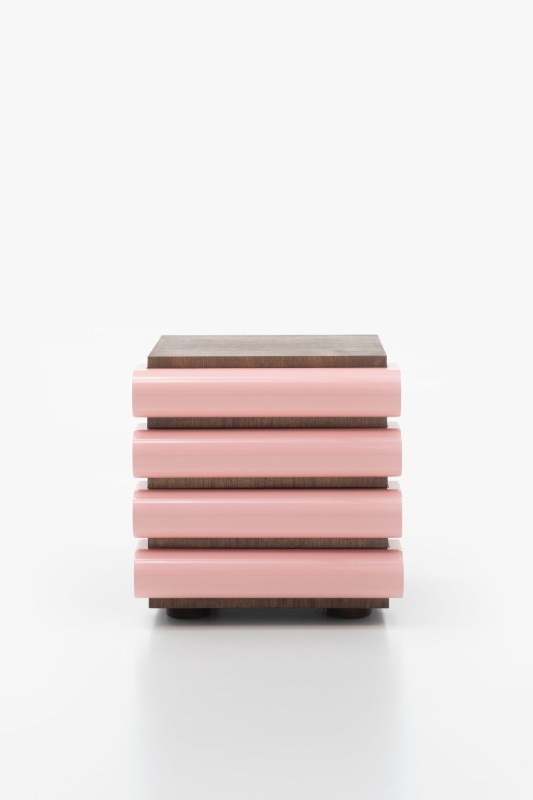 So they decided to also make a more compact version, a nightstand with four drawers, which Vigo had already contemplated as a more affordable alternative but which was never actually put into production. Storet is now adapted in its finish and size, to satisfy today's needs and sustainable production cycles; the pillar and nightstand are today made in ash wood or walnut and are available with a glossy lacquer finish in the original colours, like dark green, mustard yellow, or peony pink – the one Nanda suggested.