The Fondazione Musica per Roma and the IMF Foundation are currently presenting DOS — Disegnare Oggetti Sonori ["Designing Sound Objects"] — an exhibition focusing on the relationship between design and sound. The project, curated by Domitilla Dardi and Elisabetta Pisu, consists of a musical journey with objects, products, installations and performances by top names from the international world of design such as Marco Zanuso, Ron Arad, Philippe Starck, Alessandro Mendini, Ross Lovegrove (with the launch in Italy of the wildly expensive KEF Muon speakers), Ilaria Marelli, Matteo Ragni, Paul Cocksedge, Richard Sapper with his melodic kettle for Alessi, the Air Piano by Omer Yosha and young designers such as Austrian duo mischer'traxler. An original idea that describes another side of design, the sensorial, where the protagonist is the user with a new way of interacting with objects that speak and express their own language. One particularly interesting design is Colour Chaser by Japanese sound designer Yuri Suzuki. Inside the Rome auditorium there is also a one-man show by Swiss sound artist Zimoun, curated by Anna Cestelli Guidi. Domitilla Dardi talks to Domus about the project.

Maria Cristina Didero: Why an exhibition on sound and design and what was the starting point for the curators?
Domitilla Dardi: Design is all too often associated primarily with sight, in other words, with useful objects that above all are nice to look at. When this is combined with another sensory data, like sound, a kind of perceptive synesthesia is generated, one's attention is raised and the user becomes more aware. There are many designers who have been exploring this possibility doing sensory research and experimentation who are not originally sound designers, and in fact come from different fields. Hearing is also a more primordial sense, it can evoke instinctive and deep memories: academics say that sight is the sense of the alphabetical culture, able to bring our attention on the world in a centrifugal direction; hearing, touch (as well as taste and smell) do the opposite, bringing the world into us and it is no coincidence that our senses are rediscovered and empowered by the present culture of the digital product — think of touch screen interfaces for example.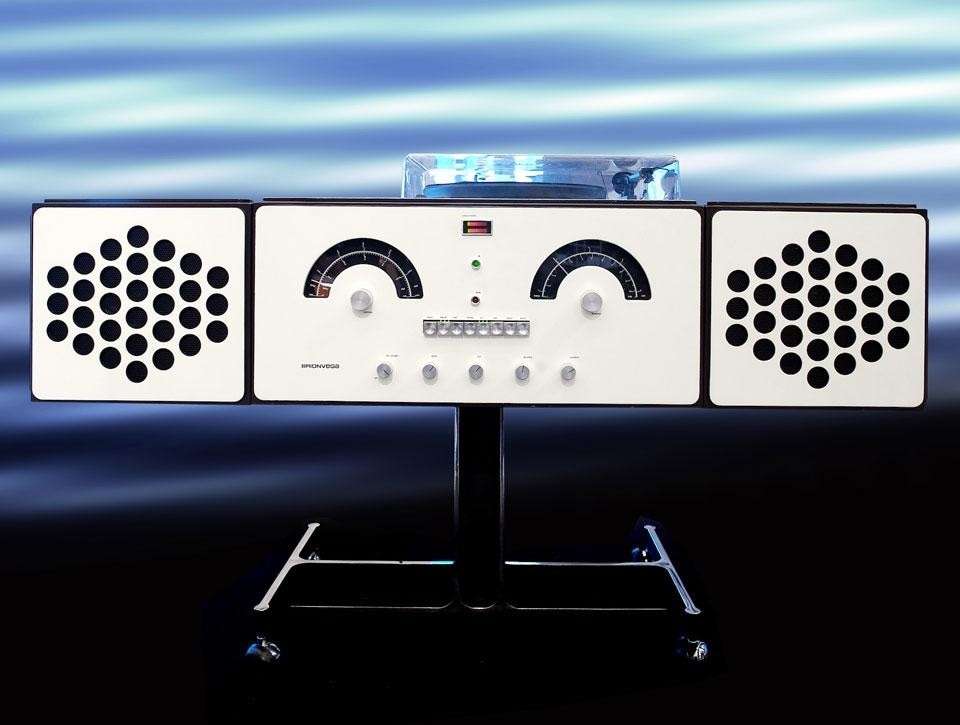 In your opinion, how many categories can you apply the word design to?
I think that design doesn't regard as much typological categories, but rather a process and a way of doing things. From this point of view everything that involves an articulated design rationale, taking into consideration reasoning and effect, is design.
Many works have been conceived especially for this exhibition: which ones and why?
On one hand, the exhibition presents a series of known objects, and seeks to highlight production process through prototypes and components, while on the other has inspired new projects from various designers. For example, mischer'traxler have come up with an installation made of wine glasses with a small, mechanical fly trapped in them producing an almost musical buzzing; Tobia Repossi has created pistols with a laser pointer: visitors can say a word whose vibration is "shot" onto the wall creating an irregular form that is a sound imprint of the word made visible.
Sound is designed by sound designers but is also a phenomenon that guides many designers' thinking
Can sound also be design? If so, how?
Sound is designed by sound designers but is also a phenomenon that guides many designers' thinking. In the exhibition we have set up three approaches to sound design: that of Listening, through means conceived to transmit sound in absolute purity; Music, with instruments chosen for their experimentation with new ways of playing based on ergonomics, gestures and entertainment; and Sound Objects, everyday objects that associate a practical-utilitarian function, like an alert, background, or inspiration from the world of music.
In this case one could say that there is maximum interaction between user and design object. What do you think?
Absolutely, the presence of sound provokes interaction and raises awareness of actions that the objects are instruments in. Whether it be a musical note, an alarm, a warning signal, a voice or a slight vibration, the sound element does not let the user be passive and "forces" them to behave in a different way, often putting them in a good mood.
What other events are taking place to extend the project?
There will be a calendar of performances and a chance to interact with different works. The Quiet Ensemble with Natura Morta present a "concert for fruit and vegetables" that is based on the electromagnetic properties of elements that are usually considered inanimate. Luca Ruzza will create a special Sound Island, a space inside of which a whole group of visitors will together be transformed into a musical instrument, composing music through movement. And many others will take place.
Can you tell me about the Yuri Suzuki workshops?
Yuri Suzuki is a talented interaction designer who has often focussed on sound as an element in his experimental research. As part of DOS he will present a workshop entitled Colour Chaser, which is particularly appealing to children (although there will certainly be no shortage of adults). It is an electronic device that reads colours translating them into sounds. Participants can design with special pens on a sheet, and a small robot will read the marks and colours following the lines of the drawing, emitting high or low sounds depending on the colour tonality it encounters. It's no coincidence that we use the word "tone" for both colour and sound. It seems that this project has come about because Suzuki is dyslexic and was looking for an alternative to the classic stave for reading music. The result is a more playful and highly engaging way to understand tones, as well as rhythm and musical tempo.
Through 24 February 2012
DOS — Disegnare Oggetti Sonori ["Designing Sound Objects"]
Fondazione Musica per Roma
Viale Pietro De Coubertin 30, Rome