There used to be the habit of repairing things when they stopped working. In the midst of our busy modern lives, that habit got lost. Simultaneously, the life expectancy of a new product is getting shorter and it's normally cheaper to buy a new one than to get it fixed. But there is a counter current movement of fixers rising, composed of people who want to become more aware as consumers and gain some repair skills.

The new fixers movement doesn't oppose consumerism in itself, but how it got connected with a throwaway mentality. For them, repairing is a way to raise awareness on how we consume things today, particularly on how a planned obsolescence determines that most of the products sent to the market today are designed to only last a certain amount of years. To repair is also to empower people with the tools and skills to fix their own possessions, to avoid getting caught in this vicious cycle.

A strong presence in the flourishing fixers movement is the Repair Café Foundation, a Dutch non-profit organization that provides free repair meeting places throughout the Netherlands. The story of the Repair Cafés starts with the 2008 Repair Manifesto by Platform21, a design collective based in Amsterdam (now extinct). "The team's love for imperfection, of which repaired objects were part of, is what made us write the manifesto," recalls Platform21's Joanna van der Zanden. With the motto Stop recycling, start repairing, the manifesto opposed the green movements that completely disregarded the notion of repairing. There was an immediate wave of supporters, and in the following months Platform21 organized an exhibition, lectures and workshops, all related to the theme of repairing.

Martine Postma, the founder of the Repair Café Foundation, stumbled upon one of this events and it struck her that repairing should be brought up again. "We used to repair. Why aren't we doing it anymore?" she recalls. From there, the former journalist started to make contacts, and the first fixers meeting happened in 2010. The Repair Café Foundation was later started with financial help from the Dutch Government and other institutions. The foundation offers a guide for people interested in starting their own repair meetings, with basic guidelines and some counseling if necessary. Since it began, almost 40 different locations spread over many cities in the Netherlands are hosting repair meetings.
The Repair Café gatherings happen two to four times a month in most cases, and are usually held in community centers. The meetings only counts on volunteers to help out with their expertise or to make sure everybody gets a cup of coffee. The meeting places have all kinds of tools and materials, and also specialized volunteers are present in every meeting — it's very important to have electricians to help fix small household appliances, for example. These platforms bring together not only sustainable but also social concerns, as they bring people together, allowing them to exchange ideas. Some of the attendants are unemployed and find in these gatherings a way to regain pride in a specific skill that can be useful for others. "The idea is to repair together", says Postma. The aim of transfer of knowledge comes across in all conversations: "knowledge transfer interconnected with an environmental concern", as defined by Annette Posthumus, from a repair café in Rotterdam.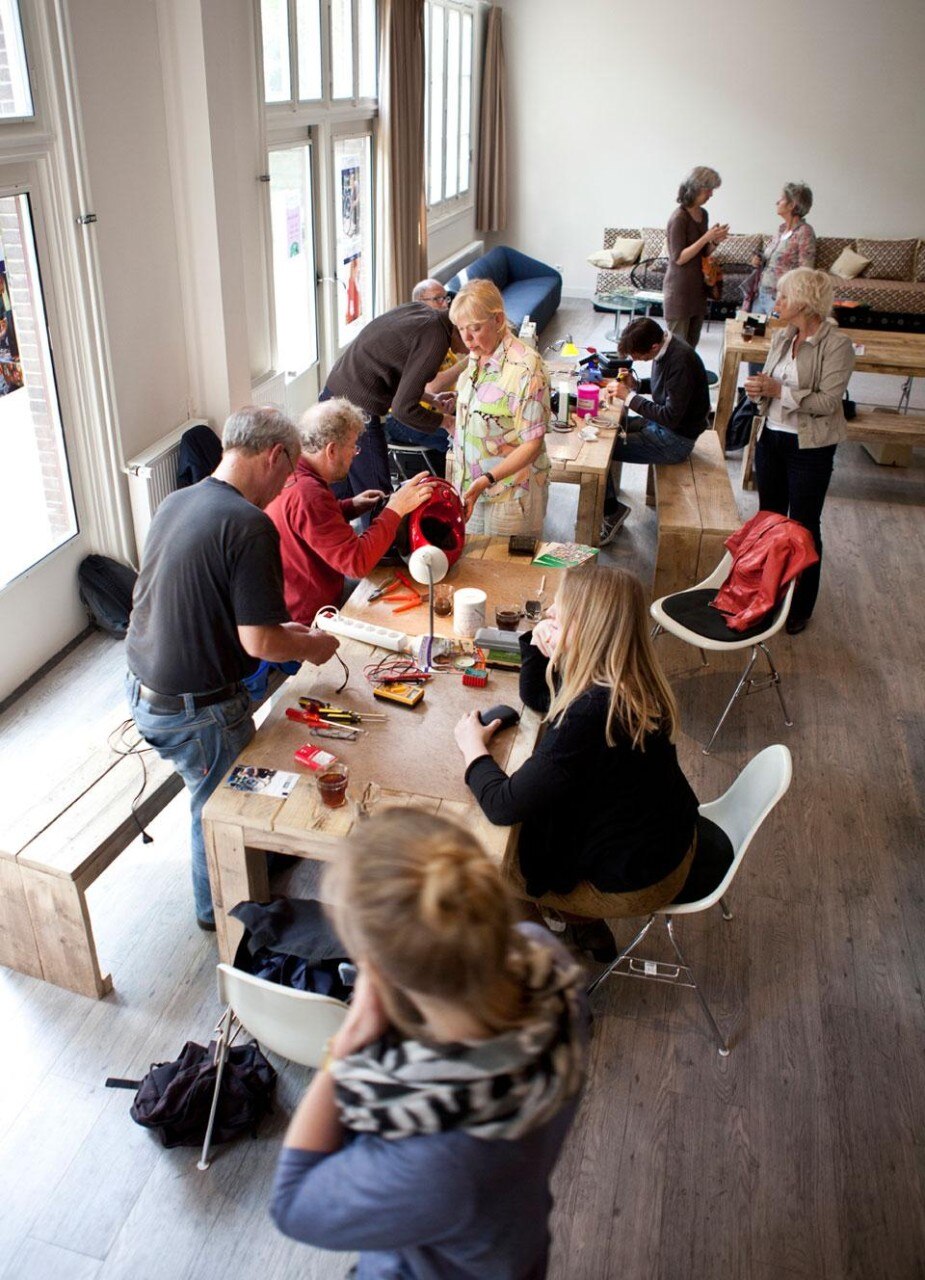 The foundation is getting a lot of media attention — just on the day I met Postma in a repair meeting in Amsterdam, a national television and a German newspaper were booked for an interview — and is opening the way for what started as a Dutch institution to spread to all over the world."This can work anywhere", says Postma. The foundation already translated all their materials into English, and international contacts from people that want to start these kinds of meetings in other points of the globe started to pour.

One of these cases is the repair meetings that just began to take place in the city of Santos, Brazil. "From what we know, we are the first in Brazil and in the whole of South America", says Tássia Tostes from Andes, the non-profit association that is holding the first café conserto reunions. More than fifty people attended the last one. "It's the happiness of having something fixed with no added cost, and also enjoying a nice afternoon, while meeting people and working together. These are economical, social and environmental concerns," Tostes adds.
The fixers movement shows no sign of slowing down and continues gathering supporters who want to change the way they relate to objects. By repairing an object, you enhance your relationship and add something to it, creating a story between you and the object. It's also a learning process, and a way to gain a little control over technology, just by having the power to fix something yourself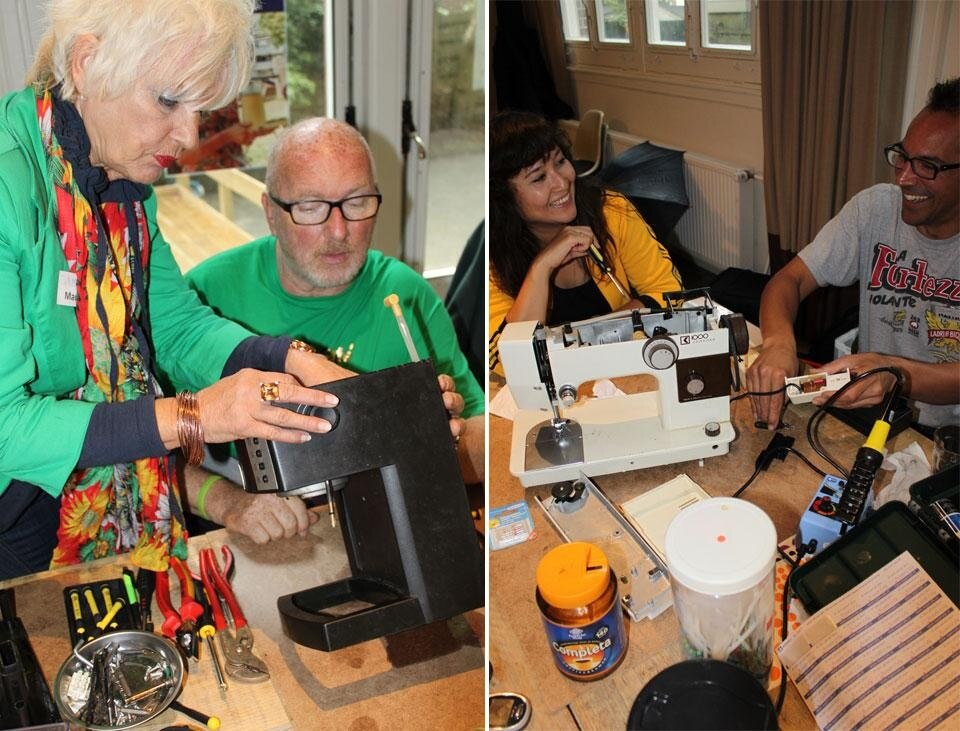 Other groups are also hosting similar repair meetings that are not within the Repair Café network, such as the Fixers Collective in New York City. The collective was started in 2008, and meet regularly to fix together. Also in the United States, other fixers groups are becoming active. The online presence of the fixer movement has some outlets for people who want to engage with it from home. Websites such as howstuffworks.com or ifixit.com offer detailed guides on how to repair specific things, while providing worldwide platforms for discussion and exchange of information on the subject.
The fixers movement shows no sign of slowing down and continues gathering supporters who want to change the way they relate to objects. By repairing an object, you enhance your relationship and add something to it, creating a story between you and the object. It's also a learning process, and a way to gain a little control over technology, just by having the power to fix something yourself. The legacy of Platform21's manifesto will surely be continued by Joanna van der Zandem. This summer, she has taught a workshop in Domaine de Boisbuchet titled Repair is an act of resistance, and is planning a new exhibition and a book on the subject. And pointing out point number two on the repair manifesto, a message goes out directly to designers: "make your products repairable. Share clear, understandable information about DIY repairs". Inês Revés