This article was originally published in Domus 961 / September 2012

Domus: Famous designers know you very well, but you are unknown to the general public. So how would you introduce yourself?
Marino Mansutti: My name is Mansutti Marino, born in 1941. I went to work when I was 11 and a half, straight after elementary school. Not even a month's holiday and there I was, with my sister Diana and Agostino Moroso. At that time they weren't yet married, just going out with each other. Like all kids, I wanted to be a mechanic. But then you have to adapt. I was the fourth of five children and my mum said, "You must stay with your sister, look after her and stay close."

Then you grew attached to your craft.
Yes! In the beginning, when I was a young lad, they used to put a piece of wood under my feet as I wasn't tall enough to reach the workbench. It was tough, because all the workers were jealous of their work and they didn't teach me. If I wanted to learn, I had to do it by myself. So I worked at night taking things to bits and putting them back together again so they wouldn't realise I knew how to do it. I saw my first architect in 1958. He was a very nice Swedish bloke. We spent three days working. He ate bread rolls and drank beer. I didn't eat much as I was small and thin. Another big firm called Walker had also been looking for me. Agostino had worked there, too. There were already 80 people there, with specialised workers from all over North Italy making their luxury leather sofas. Agostino had just left there to set up on his own. I decided to stick with him. I became factory foreman at 18… And I didn't want to go abroad. I told myself, "I have got to do Friuli here in Friuli, not overseas ." There were 110 lads of my age at Tricesimo, but in the end there were only 12 or 13 left. The rest went off to Argentina, Venezuela, Australia…
What was working in a factory like in those days, and how was it different from today?
It was all done by hand, with nails in your mouth. Scissors and hammer. Rich and smartly dressed gentlemen came from Pirelli. They sold us foam rubber, which we cut into small pieces. They taught us how to cut it into thin strips to create convexity. Unimaginable today! Of course back then workers cost nothing… But you still have to make armchairs by hand. They haven't found any other way of doing it, apart from creating the moulds. But then you still have to create the first one by hand, like a sculpture, and then move onto the foams… Recently I worked with Martino Gamper for the Milan show. He felt at home because he saw immediately that I knew my stuff. He trusted me and said, "You do it; you know how." He's very friendly and it was like going back in time. He's a chap who knows what he's doing. Whereas a lot of architects, if you tell them to do things in a certain way, they say it can't be done. Instead, Gamper learnt from Ron Arad. After a day and a half, Arad knew exactly what to do, and after that he left me the task of carrying on. Arad lets you express yourself, whereas many architects are fussy, supervising every millimetre. Usually architects want things as thin as possible, like butterflies, but you can only go so far because then they break.
As a rule how does it work? How does the process of inventing a new piece and the transition from prototype to industrialisation develop?
The designer arrives with a certain number of more or less precise drawings. They vary a lot. Some of them take off straight away, and others dither and wait for you to tell them what to do. Or else they come up with things that won't stand up, or can't be made, or you have to explain how things must have the right price. Customers buy a sofa if they feel like it; it's not like a fridge that you've got to buy anyway. It's easy to see, but difficult to do. You need a bit of imagination to make stuff. It's a mixture of experience, determination, ability and imagination. You can't knock off at five o'clock. You've got to stay on and keep at it, because when you get an idea it has to be carried through until it's finished. Like artists do. But I don't want to be an artist; I want to be a good worker, one who tries to industrialise. Because in a company like ours, the struggle is always to arrive at a product with reasonable costs, cutting down on waste as far as possible. Every designer has their own ideas. There are the good ones who know their craft, who understand in a flash, and there are others who want to do super-stuff that's impossible to produce and perhaps even ugly too. And there's certainly plenty of that around. I like strong lines. To make a sofa or a chair, you don't have to be an architect. As Ron Arad used to say, "Just pick up a stone or a piece of wood and that's it. Why the hell should I bother to invent something myself." It's got to look good and be usable. At home you need to be in love with the piece. If you're not in love with it when you make it, people won't buy it. Once I said to Sottsass, "Mr Sottsass, it's not all that comfy sitting on this chair" (it had been made by Iosa Ghini with Studio Sottsass). And he said, "My dear lad, you don't have to sleep on the chair. When you've drunk a glass of something or a coffee, get up! What matters is that it's beautiful." Now it's Patrizia who decides. She sees if an object, a thing or a person may be of interest to the business, and then she calls me and asks if it can be done. It depends very much on the architect. There are some who turn up with a clear idea so it doesn't take long. With others it can take ages. Instead, it's better to get to work at once and not drag your heels. If a product is going to work, it must work straight off. I put two or three days into an object. A rough outline to sit on. It depends if there's a body-core to be done like the ones on show. In that case I do the negative mould, then I go and see the man who does the fibreglass and he does it for me in a day. Then I add the feet. I have a round of people who lend a hand quickly. Otherwise I work on the wood and the iron, with someone else to do the welding, as the only thing I can't do is weld. For the fibreglass I make the mould by hand or with polystyrene. I mix them together, as if it were a sculpture, and I make the imprint. Then there's a chap who makes the copy from the imprint, who does odd jobs here in the area. These kind of people never say no; the weirder the task the happier they are.
Usually architects want things as thin as possible, like butterflies, but sooner or later these things break.
What do you work with? And how does the prototype change in the production phase?
I still use the tools I was using 20 years ago: shears for cutting, a saw and a grindstone, nothing else. I take the piece of wood, cut and chisel it like Mauro Corona does in the woods of Friuli. Then of course you industrialise. But the first piece has to be carved by hand. You have to experiment and work on it. Industrialising a prototype means transforming the piece into something that everybody can do. It means understanding above all what materials can be used: fabrics, leathers and seals in the case of iron.
Are there some young people? Is it difficult to find people to do craftwork?
Not many are young. Young people use their computers to do their calculations. I work on the piece. I sit down, look to see if it's done well or badly, scratch it, file it and turn it around and say, "Done!" With the computer it's very difficult. An exception was Tokujin who didn't put a foot wrong. He did the final piece, an armchair, straight off. Sitting-room furniture is a bit trickier, because you have to sit on it. It has to be done so it's right and comfortable. It's something that has to please the eye and yourself, and then you have to feel comfortable. Then you've got computerised machinery that turns out moulds, maybe be five or six, at a million each… In any case, prototypes cost less to make nowadays. But they have to be right. Machines can do it, but you have to know how to use them and be familiar with them. When I work, I've already got a clear idea how the prototype has to be made. After a night, or a morning, I put it into the computer inside my head, get to the workshop and do it there. I don't invent it on the spot; I have to have it in my head first.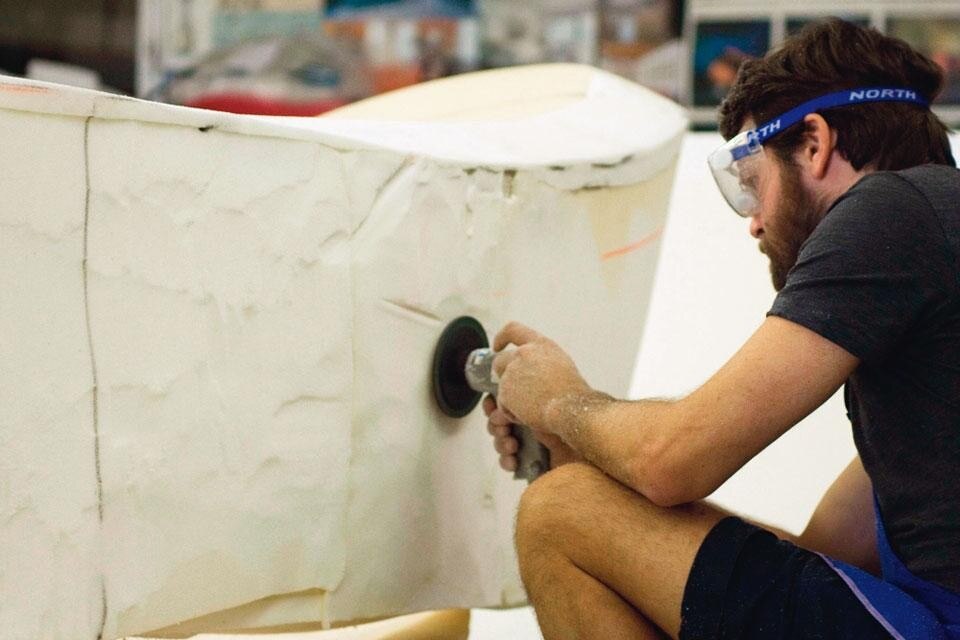 Haven't you ever thought of doing things yourself? What is your dream furniture?
Yes, I do have ideas. There is still something to be invented. Like coming home and sitting on a lawn, for example. When you go into a wood for a picnic and look for somewhere to sit, you look for a hollow, or something flat, or a boulder to rest your head on. Life at home is different today. You eat on a chair or maybe even on the sofa, watching TV, and you have to sit where you feel comfortable, where you can even lie down. We should make a sofa where you can put your computer, your beer or your coffee. I made a prototype with Massimo Iosa Ghini. It was a beauty, but it stopped there. It was too far ahead for certain people, perhaps even for the market, because not everybody sees things like me. I see ahead. The world changes and we need to move with it. But going back to square sitting-room furniture feels like returning to prehistory. In Friuli there were manufacturers of sitting-room and kitchen furnishings and chairs. There were furniture factories like Patriarca, Cumini, Snaidero, Fantoni and Burelli, which worked with the architect Panelli from Udine. I really liked him as he was clever. He started Danda, the first natural wood kitchen doors. People like D'Olivo and Valle are gone. They left their mark on the architectural world. People said they were nuts. But the world is built by crazy people, otherwise it doesn't go forward. It's wonderful being with them.