If nothing else, The Fashion World of Jean Paul Gaultier: From the Sidewalk to the Catwalk — the first ever exhibition devoted to the French designer, now on view at the de Young Museum in San Francisco through 19 August — is one for the water cooler and office Nespresso machine. Just a half hour deep into the show, I overhear one woman tell another, and not without condescension: "Tis is art to look at, it isn't clothing to wear."

Of course, I'm here with an open Moleskine and an open mind. Surely I should meet this woman's scorn with scorn. Lady, I don't think you get the joke. Then again, maybe there's no joke being made, and I'm laughing too hard. Two young men walk by. Says one to the other: "That corset wouldn't even fit on my head." And to my right, stand three mannequins in head to toe Gaultier from — yes — the Chic Rabbis collection, the designer's early-'90s, fall/winter riff on traditional garments worn by Hasidic Jews. Sparkle yarmulke? Indeed. Unlike my fellow museum visitors, I, for one, am at a loss for clever retort. I turn instead to the words of Gaultier himself, which are offered generously on the walls throughout this large exhibit. Gaultier has the following to offer:

"The catalyst for the Chic Rabbis collection was a trip to New York in the early 1990s. I saw a group of rabbis leaving the New York Public Library on Fifth Avenue. I found them very beautiful, very elegant, with their hats and their huge coats flapping in the wind. It was a fantastic scene. I was afraid that the collection would be poorly received. I knew reactions might be mixed, that some might feel offended and find my approach ridiculous. But the fashion press was very enthusiastic."
"However, some of the pictures were not well regarded by Hasidic Jews and others, who believed that the models were "playing dress-up." People were also offended that rabbis' clothes were worn by women… [but] what I wanted to convey with this collection was the feeling these traditional costumes gave me, to pay tribute to their beauty."

And on like this. Elsewhere, a Gaultier quotation reads: "The first fetish I did was the corset. That was because of my grandmother." Provocation is at the heart of the show. And inside the show's cheek? The tongue, of course. What prevails is an exhilarating and mischievous air of "getting away with it," or even "asking for it." This exhibition, like the designer it puts on display, is unafraid to throw words like "ridiculous" within the viewing public's reach. I wonder what's more daring — that, or the black, beaded crotch I saw in the room before this one? Self-awareness, even slight self-deprecation, at times, makes for an over-the-top show that is inhabitable, even relatable.
Yes, with 140 ensembles on view, this is a fashion show, and it has elements of that same questionable gravitas that permeates the fashion world (and parodies of the fashion world) — hence the Catwalk end of the bargain. But this exhibition lives up to its promise of bringing something in From the Sidewalk, as well. As much as it is about bondage couture and signature striped sailor shirts, The Fashion World of Jean Paul Gaultier is unquestionably about society, cultural taboo, and collective reaction — whether it's recognition and applause, or eye-rolling and snide remarks to the nearest available wit. At its best moments, this exhibition is an anthropological and even urban study; it's as much a fantasy as it is a sincere and worthwhile reflection of people in a certain time and place.
As much as it is about bondage couture and signature striped sailor shirts, The Fashion World of Jean Paul Gaultier is unquestionably about society, cultural taboo, and collective reaction
Organized by "themes," the exhibition includes headings like "Urban Jungle," "Punk Cancan," and "Metropolis." Because Gaultier's work can sometimes be quite literal (see Chic Rabbis above, or for that matter, his Constructivist collection), it invites "reading" and analysis, it eggs on "judging the book by its cover"… why "Constructivist" inspired zip-trimmed leather dresses and why a sweater west with Cyrillic lettering in 1986, exactly? Why London and Punk in the 1970s? Why Madonna, when Kurt Cobain, and under what context Cindy Sherman? This is not just a show about latex and leather and cone bras — though it would rightfully attract just as big a crowd if it were. No, it's about the civic context — in all of its non-fictive anti-glamour — in which such visual cues can exist, in which they are "allowed" to exist, to titillate, aggravate, or make anxious. This is a show that introduces Gaultier's work from the 1980s in the language of documentary, of reportage, not of catalog: i.e. "Through each collection, Gaultier delved into the sexual climate of the era, when the twin forces of the sexual revolution and the advent of AIDS heightened awareness of human sexuality in its diverse forms and broke down traditional gender delineations."
Importantly, The Fashion World is not an "anonymous," cold or quiet show. Even the mannequins have personality, with animated faces and audible voices — at times, they speak to the viewers, other times they speak to the air or to themselves in a mirror; they speak in English, in French, they wink, they look away, or shoot a look instead. One also feels the strong presence of recognizable films, performance pieces, and pop personalities — all part of Gaultier's varied portfolio of projects and people. Oddly, these artifacts give the viewer an overwhelming sense of familiarity. Chances are, most coming to this exhibition will realize that the iconic photographs of Madonna in a Gaultier corset have long been branded into their brains (nothing new, here!)… only now, the corset jumps out of the photograph as if it were the pay-off of staring at a Magic Eye for the past three decades. Framed by this well-developed context, "sense," "meaning," and "relevance" become three-dimensional. And so too, does the portrait of a designer. Take, for example, how The Fashion World introduces us to Gaultier's first model: a childhood teddy bear named Nana. Nana, ladies and gentlemen, is wearing "cobbled-together, conical-shaped falsies made from newspaper print." She is "a touching witness to the designer's creative beginnings."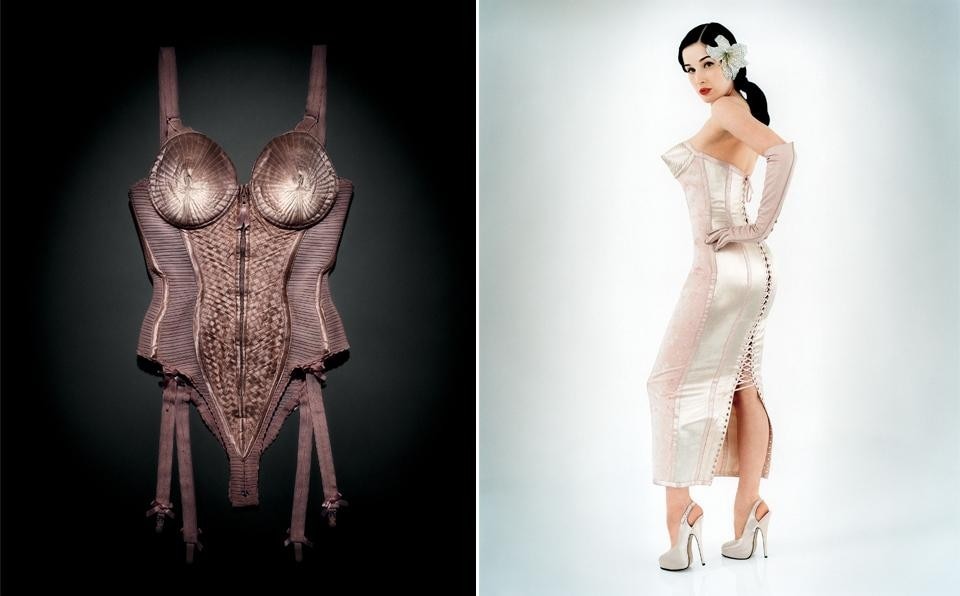 Through 19 August
The Fashion World of Jean Paul Gaultier: From the Sidewalk to the Catwalk
de Young Museum
San Francisco