Patricia Urquiola Hidalgo was born in Oviedo, in the Spanish Asturias, 1961, from a family of Basque origins. The visual, figurative and material culture of her homeland would have a relevant role in her work; but it's in Italy that its main feature would take their actual shape, starting from Urquiola's education years. She started Architecture studies at the Universidad Politécnica de Madrid, then she moved to Politecnico di Milano, where she graduated under the direction of Achille Castiglioni in 1989. Castiglioni was the one to orientate her choice to move from the strictly architectural field towards product design, and Urquiola declares that she inherited his approach to design by analogy, in a process where one object evocates another one, one object is created from the interpretation of another one.
Castiglioni taught me the value of design back when I still believed that architecture was a superior art – as well as the pleasure of envisioning an object. The irony, the fun, not taking yourself so seriously, even when you take what you're doing very seriously.
The career of the Spanish designer has developed on the Italian scene, at first as an assistant to Castiglioni and Eugenio Bottinelli in Milan and Paris (1990-92), then at the product development division of De Padova with Vico Magistretti — another fundamental experience to her, as she got exposed to the approach of the Milanese master valorizing all the different steps of creative process, and all the levels in the conception and realization of an object.
Since 1996, she was in the Lissoni Associati design group with Magistretti, to then establish her own practice in 2001. It currently operates in different fields: core of the activities is product design, still interior design and architecture are gaining an increasingly relevant role within the catalogue of its realizations.
In the product field, home is the scene Urquiola mostly addresses with her design, where those principles of design by analogy, and attention to traditional techniques, knowledges and materials in the frame of innovative reinterpretation, are experimented.
I believe curiosity goes hand in hand with the desire for things and the desire must be "friendly": you must want to touch an object; you have to preserve a mood that is never cold.
Urquiola deals with the most different materials, typologies and brands: from glass she employed in her Baccarat vases (Variations, 2012) and in the Shimmer coffee table for Glas Italia (2014), to terracotta for Mutina — in a long-dating cooperation which has generated the iconic Azulej collection in 2012, and the modular bas-relief elements of the Tierras (2014); from textile to plastics; from doorknobs, bathroom accessories and tableware up to her most famous production of chairs and sofas. In this field, her research opens up to a further multiplicity of approaches, encompassing the Comback chair for Kartell (2010), the Antibodi chaise longue for Moroso (2006) with its signature reversed upholstery work, the revisited weaving of straw and canvas in the Objets Nomades for Louis Vuitton (2018) or the Anatra collection for Janus et cie. (2019), up to the sofas for B&B Italia conceived as clustered combinations of cushions as in the case of Tufty Time from 2005, or the Bend Sofa from 2010. One of Urquiola's most relevant collaboration has then developed with the Italian brand Cassina, that has appointed her as Art Director in 2015. Urquiola's client list includes several leading brands such as Alessi, Axor-Hansgrohe, Boffi, Driade, Flos, Gan, Kettal, Kvadrat, Molteni, Rosenthal.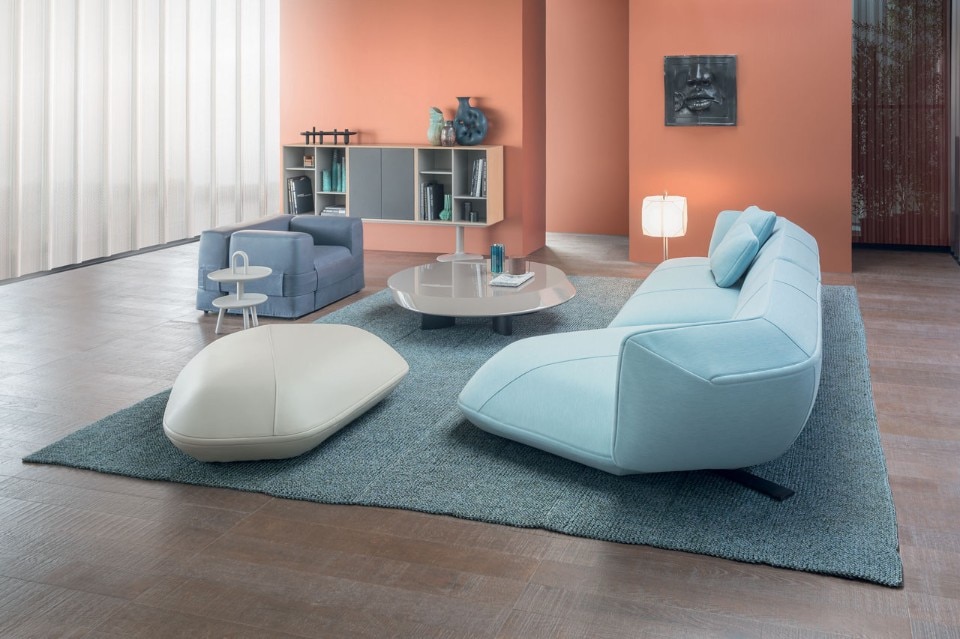 I believe that we have to "digest" all the elements that are inherent in our origins to be able to recreate a new personal language.
Many of her products are exposed in permanent collections worldwide: the Museum of Modern Art in New York, the Musée des Arts Décoratifs in Paris, the Zurich Design Museum, Vitra Design Museum in Basel, Victoria & Albert Museum in London, Stedelijk in Amsterdam and the Triennale museum in Milan.
As Urquiola's activity has kept growing, it has got her several recognitions and awards, including the Medalla de Oro al Mérito en las Bellas Artes and the Order of Isabel la Católica in Spain (2011), as well as many teaching and lecturing experiences at Domus Academy, Harvard University e Politecnico di Milano.
Through a gradual re-expansion of the field of action of her design, Urquiola has included architecture in her practice back again, through different levels of research. She has been conceiving room-scale furniture systems (such as the Salinas kitchen for Boffi, 2015) and she has been often extending the design process from the singles object to entire living spaces, as in the case of the studies in bathroom design she realized for Axor –Hansgrohe since 2008. Another place-of-in-between Urquiola has been exploring through the years is exhibition and set design, with both  retail or curatorial realizations for several brands ( in fairs and events such as the Milan Design Weeks) and projects of exhibition design such as  Ferrari: Under the Skin at the Design Museum in London, for the 70th birthday of Maranello car manufacturing company, or the exhibition dedicated to her teacher Achille Castiglioni at the Triennale Di Milano (A Castiglioni, 2018).
The signature principles of the Asturian designer can be evidently noticed in her practice at the architectural scale. In the field of interior design, she has been working in the retail field, realizing several showrooms including the ones for Molteni in Milan (installations in 2009) and Tokyo (2015), as well as for Moroso and Flos in London (2009). She has also been dedicating a relevant attention to a receptive dimension of living spaces that integrates — and sometimes instead alternates — local knowledges and cultures with material innovation research (as in her recent Eneko restaurant in Bilbao, 2018, or again the Molteni showroom in Tokyo); the reinterpretation of domestic dimension or valorization of per-existing spatial features with a richness in details aiming to provide a unique experience of space (as in the several hospitality projects she has developed: the Room Mate hotel Giulia in Milan (2014) as well as the Mandarin Oriental in Barcelona (2010); the sauna for the Four Seasons in Milan from 2011 and the Das Stue hotel in Berlin from 2012 as well as Il Sereno Hotel on the Lake of Como, 2016).