The exhibition "KUSAMA: Cosmic Nature", curated by Mika Yoshitake, opened on 10 April in the beautiful setting of The New York Botanical Garden, and will run until 31 October 2021. It was postponed in 2020 due to the Covid-19 emergency.
Founded in 1891, The New York Botanical Garden is the most diverse botanical garden in the world, and an integral part of the cultural fabric of New York City and the Bronx. Alongside four new installations by the acclaimed Japanese artist, the exhibition brings new life to iconic works by Kusama. The stainless steel spheres of "Narcissus Gardens" (1966-2021) shine again on the surface of the water; The unique "polka-dots" stand out among the extravagant shapes and patterns in "Ascension of Polka Dots on the Trees" (2002/2021), with majestic trees covered in red and white pois along the Garden Way, and in "My Soul Blooms Forever" (2019), colossal polka-dotted flowers made of stainless steel on view inside the dome of the Palms of the World Gallery.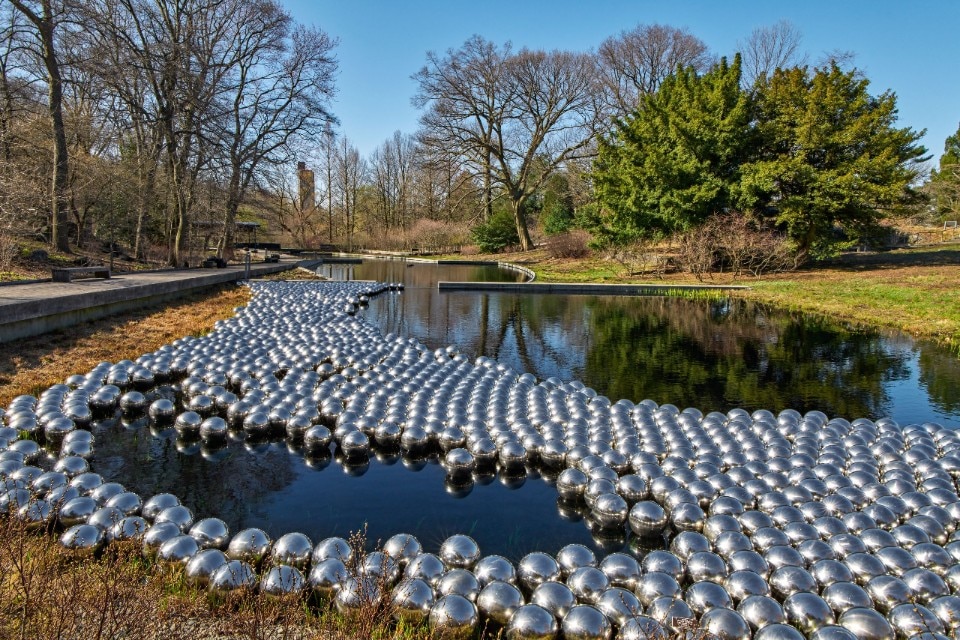 The exhibition is accompanied by an extensive programme and a publication. The entire project represents a journey into Kusama's profound fascination with the natural world, its shapes, colours and extravagance, a distinctive feature of her career. A passion that is rooted in the summers spent among the greenhouses and fields of her family's nursery in Matsumoto, Japan, during her childhood.

The works are exhibited in and around the Enid A. Haupt Conservatory, and in the LuEsther T. Mertz Library building. On display at the Library is also a sketchbook by Kusama (1945) dedicated to the flowering cycle of peonies. New installations include "Flower Obsession" (2017/2021), which invites visitors to cover a room with flowers, "Dancing Pumpkin" (2020), a monumental sculpture installed on the Conservatory Lawn, "I Want to Fly to the Universe" (2020), an impressive 13-foot-high biomorphic form, and "Infinity Mirrored Room-Illusion Inside the Heart" (2020), which requires a separate ticket and advanced booking.
A 250-acre landscape animated by installations, floral displays and seasonal cultures brings to life an exhibition that will change over time. Inspired by Kusama's painting "Alone, Buried in a Flower Garden" (2014), the botanical garden's horticulturists have designed a living work of art with plants and flowers, a tribute to nature and its cyclical vitality: spring tulips and irises will give way to dahlias and sunflowers during the summer, until pumpkins ripen in autumn.
Title:

KUSAMA: COSMIC NATURE

Where:

The New York Botanical Garden

When:

10 aprile - 31 ottobre 2021

Curated by:

Mika Yoshitake