Olafur Eliasson: In real life comes to the Tate Modern 16 years after his seminal The Weather Project took over the Turbine Hall, bathing the vast space in sunny yellow light. Those returning for a similarly emersive experience will not be disappointed with an installation of the artist's Din blinde passager (Your blind passenger), 2010 – a 39-metre-long corridor that envelops visitors in a fog so dense that fellow visitors disappear into a yellow-orange light. In an exhibition so popular there are bottlenecks to view works, it is a moment of relief, alone with a purely sensorial experience. 
The exhibition includes dozens of installations, photographic works and sculptures, among which are newly created pieces including Your planetary window, 2019, a keyhole-like cut through the gallery's outer wall to create a kalaesdecopic view of the surroundings. Next to it In real life, 2019, a hanging sphere of coloured glass, casts geometric patches of pink, yellow and green across the walls – a popular spot, alongside a huge moss-covered wall, for selfie-taking.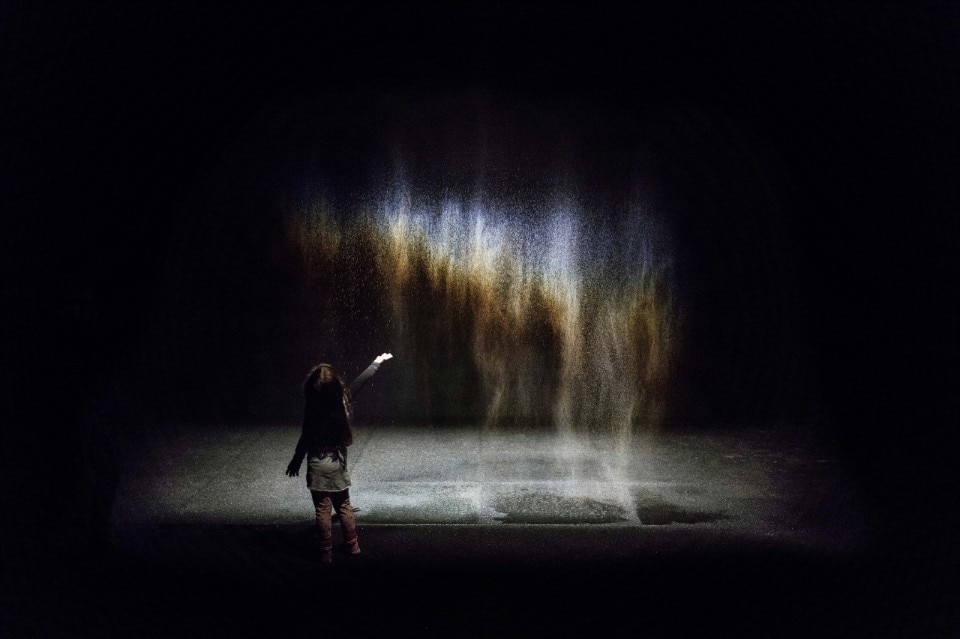 Many of the works link with Eliasson's concern with the environment.
In the run up to the show's opening, the Danish-Icelandic artist installed Ice Watch outside the gallery, a piece made up of 24 ice blocks collected from a melting ice sheet in Greenland and intended to highlight climate change. The Expanded Studio area of the exhibition explores how Eliasson brings these themes into connection with the world outside the gallery through projects such as Little Sun, which provides solar lights to communities without power, and through the Tate's Terrace Bar, which will be serving locally sourced vegetarian dishes for the duration of the show. 
Exhibition:

Olafur Eliasson: In real life

Location:

Tate Modern, London

Opening dates:

11 July 2019 – 5 January 2020

Curators:

Mark Godfrey, Emma Lewis