The ice blocks – and six further installed in the centre of the capital – snapped off a melting ice sheet in Greenland as a result of global warming. The Danish-Icelandic artist and his team fished the broken ice from the Nuup Kangerlua fjord and transported them to London for the installation, where they will melt into the River Thames. 
This is the third edition of Ice Watch, which has previously been installed in Copenhagen and Paris to coincide with major climate change events. 

This time it is the meeting of world leaders at the United Nations Climate Change Conference (COP24), which is taking place in Katowice Poland, until 14 December.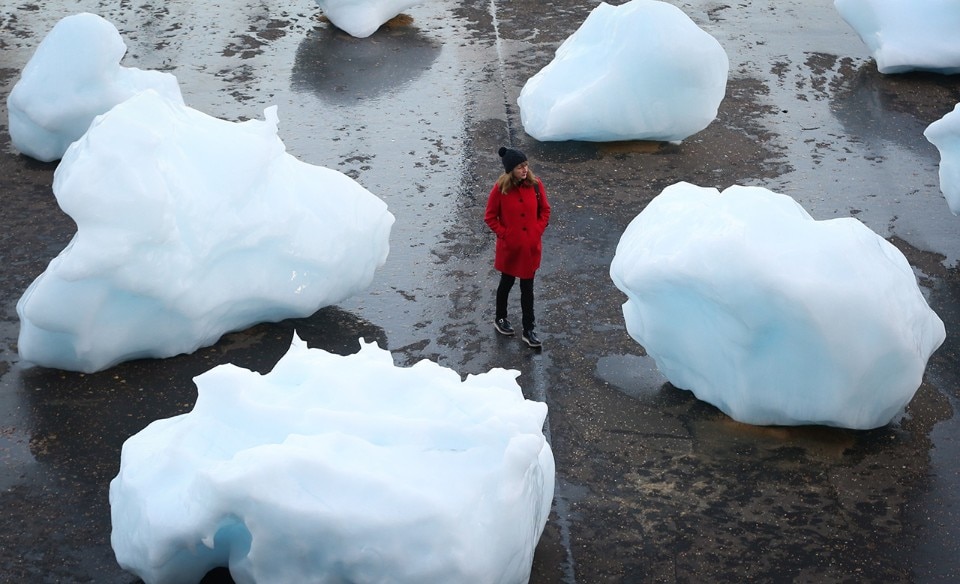 "It is clear that we have only a short period of time to limit the extreme effects of climate change," says Eliasson, who worked with Greenland geologist Minik Rosing on the installation. 

He hopes his installation will offer a tangible experience of climate change, motivating people to find out how their personal actions can contribute to wider action. 

Video by Frank Haugwitz and Jørgen Chemnitz
"Earth is changing at an ever-increasing speed. The foundation of human civilisation withers away while Greenland melts," says Rosing. 

"Everyone can observe it, most can understand it, and nobody can avoid it. Science and technology have made it possible for us to destabilise Earth's climate, but now that we understand the mechanisms behind these changes, we have the power to prevent them from growing."
Ice Watch is the forerunner to an exhibition of Eliasson's work – which often foccuses on climate change and sustainability – that will open at the Tate Modern in July 2019.