"Ceramics" represents a first chapter of a wider path dedicated to the use of ceramics as a contemporary artistic medium. ICA_Milano developed it through two separate exhibitions, one personal and one collective. The first, on the ground floor, in the enormous hall on the right, is "Equivalenze" (Equivalence), a more recent project by Julian Stair (Great Britain, 1955) which investigates the functionality of everyday objects in relation to the format of the site-specific installation, it reinterprets the traditional language of ceramics, celebrating its social and cultural aspects.
On the first floor, in another single room, the collective "Towards New Canons (Ceramics and Contemporary Art in Great Britain)" brings together the projects of six artists belonging to different generations: Sam Bakewell (Great Britain, 1983), Lubna Chowdhary (Tanzania, 1964), Tommaso Corvi-Mora (Italy, 1969), Bethan Lloyd Worthington (Great Britain, 1982), Matthew Raw (Great Britain, 1984) and Matthew Warner (Great Britain, 1989). The six artists delve into practices and structure manipulations of ceramics in a radically different way.
Bakewell experiments with Parian porcelain mixtures evoking utopian urban landscapes, while Corvi-Mora, as a curator and as an artist, reflects on delicate and current issues such as migration and racism. Chowdhary, on his side, creates hybrid objects that build narratives designed to reflect on possible architectures of an unknown future. The portals by Lloyd Worthington transport us to a spiritual dimension that transcends material physicality and Raw challenges the authority of English power architecture while Warner focuses his research on the artisan perfection of ceramics itself. In an interview with the curator-artist we deepen two English ceramic scenarios.
ICA Milan. Equivalences and new canons
Equivalence, new work by Julian Stair, ph. Dario Lasagni 
ICA Milan. Equivalences and new canons
Equivalence, new work by Julian Stair, ph. Dario Lasagni 
ICA Milan. Equivalences and new canons
Equivalence, new work by Julian Stair, ph. Dario Lasagni 
ICA Milan. Equivalences and new canons
Towards new canons, Installation views, ph. Dario Lasagni
ICA Milan. Equivalences and new canons
Towards new canons, Installation views, ph. Dario Lasagni
ICA Milan. Equivalences and new canons
Lubna Chowdhary, Certain times XVI
ICA Milan. Equivalences and new canons
ICA Milan. Equivalences and new canons
Tommaso Corvi-Mora, 18.4.2015
Starting at the very beginning, who is Julian Stair?
Tommaso Corvi-Mora: He is 64 years old, he is well known in his field, and he is a contemporary master of Edmund de Waal, with whom he have also shared the studio, for 10 years. He attended an art school, while at the beginning he develops abstract geometric sculptures, of the kind of Frank Stella, resized, very much integrates the practice of a ceramist who gave life to functional forms, in an artistic context. Stair considers himself an artist potter, so a potter who makes objects that have a wider resonance, could be used, but that go beyond their functions.
The proportions of this new series are literally like giants. He has always used ceramics, but since the nineties he has also begun to build this series of ground, of supports, display devices, which are now of waxed and marbled wood – even if at the beginning they were ceramic – on which he structure of compositions of vases, teapots and cups, of many different shapes. And his idea is to focus the viewer on objects that are of use, but with a very ancient history, like the clay that has biblical, ancestral resonances and that is fundamental in the culture of every people since always. It is a work linked to study pottery and to that specific tradition. From a formal point of view he formulates a language of his own, but always linked to the potential of everyday use.
What relationship defines the title of the staff?
"Equivalences" is the title that defines the relationship between the analogy that links a form to its reproduction in reality, according to, however, a different scale. He has created these enlarged versions of his typical forms, because a certain type of cup with a rounded handle, or a jug with certain facets, or a particular glass or a teacup represent his own alphabet. One of his inflections. He was interested in examining these silhouettes again in dialogue with this dimensional gap that leads them to become like abstract forms.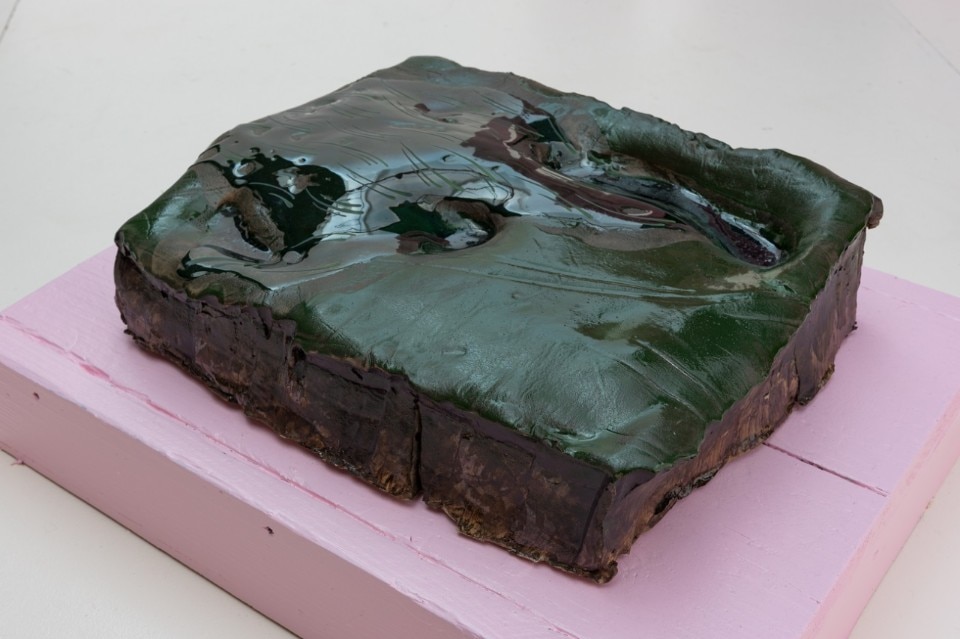 Which kind of project did he conceive for ICA_Milano?
For this exhibition it has designed new works, all made on the lathe, so they are moulded like their respective smaller models. And they are cooked in a giant oven, which can contain them one at a time. He works the base on a lathe as a single piece, using 10-12 kg of clay, and then finishes 'a colombino'. But it's incredible, because they have surfaces and edges, for example, perfect, linear, on which, however, you can still read the hand of man, through small areas sometimes slightly rippled.
Especially here, in this space, because with the grazing light the eye perceives first the imperfections, below the white enamel, of the ceramic. Technically these huge containers could be used, also because they are of stoneware and have been cooked twice, as usual. Moreover, they are so white, because he is more interested in the shape than in the decoration. His visual culture of reference is minimal and conceptual. He has done a lot of research on ancient clays, studying reds, browns, blacks, greys, but here he likes to focus on their purity.
Which codes and references could be revised through this project?
The leap in scale does not go through all his work, but a sort of conceptual return. For example, in the past he conceived a series, entitled Quietus, it was some funeral urns. Some were so large that they could have contained a body, placed vertically, giving life to an object of use that follows you forever. On that occasion he worked on a large format, but for the ICA exhibition he created a real translation between daily-life uses and abstract forms of use.
One of the main points of reference for those who practice study pottery was written by Bernard Leach, The Pottery's Book in 1940. For generations, it has been the Gospel of many people who have decided to pursue a different path than the academic one. Graduate students who moved to the English countryside and opened their lathe, their workshop. Producing bowls that they sold for a short time, a very hippie practice.
On the first floor, Bakewell's illuminated architecture as stylistic features, what new canons highlight?
He focuses his practice on two main concepts, from which he rarely departs. One is the one relating to waste and then there are these minimal forms. The starting points are these coloured volumes called Leavings. Portions that remain after processing a process. This series returns the idea of ​​a practice formed by many stations, by chains of methodologies to be applied. He starts from the use of a particular ceramic, called Parian, that Wedgewood had already invented and used a lot. The idea is that it has the clarity of Paros marble. It is very fascinating because the pigments of these miniatures are all mixed with metals and are not glazed.
So, technically ...
The grey pigment, for example, is titanium. Because the characteristic of Parian is the self-vitrification: the colour is contained in the mixture of the clay which, if left standing, is fixed and can no longer change its shape. It does not seem almost ceramic, also because the artist partakes of every surface. The resulting powders are, in turn, set aside and then vitrified, creating these tiny bases furrowed by some small piles, positioned above. Becoming a real sculpture in itself. In his approach there is the application studied to the volume of the void in space, in fact, at this moment he is in residence, and is working at the Victoria & Albert Museum, studying directly in the windows-furniture containing ancient ceramics.
Exhibition Titles:

Equivalences. New Work by Julian Stair | Towards new canons. Ceramics and Contemporary Art in Great Britain

Opening dates:

From June 21 to September 15, 2019

Curated by:

Tommaso Corvi-Mora

Venue:

ICA Milano

Address:

Via Orobia 26, 20139 Milan