James Lee Byars (Detroit, 1932–Cairo, 1997), one of the most mythic artistic figures of the last century, shaped his persona and career into a continuous performance. Antwerp's contemporary art museum, the M HKA, is celebrating the work of the American baroque minimalist with a representative exhibition of his oeuvre.
"The Perfect Kiss" represents a sort of long-distance connection to Greetings from the Eurasian, the Joseph Beuys retrospective opened at M HKA last year. As a matter of fact, "The Perfect Kiss" is also a tribute to Byars' identity as a European artist, a Belgian artist, even an Antwerp artist.
The Perfect Kiss, Installation view
James Lee Byars, Two in a Hat, Mask and Dress, 1969

The Perfect Kiss, Installation view
James Lee Byars, Two in a Hat, Mask and Dress, 1969
The Perfect Kiss, Installation view
James Lee Byars, Two in a Hat, Mask and Dress, 1969
The Perfect Kiss, Installation view
James Lee Byars, The Golden Tower with Changing Tops, 1982
The Perfect Kiss, Installation view
James Lee Byars, The Unicorn Horn in the White Circle, 1984

The Perfect Kiss, Installation view
James Lee Byars, The Tomb of James Lee Byars 1986, M HKA
The Perfect Kiss, Installation view
Jef Cornelis, James Lee Byars, The World Question Center, 1969
Byars has been travelling for ten years between New York and Kyoto before arriving in Europe in 1969, invited by Anny De Decker and Bernd Lohaus for an exhibition at the Wide White Space Gallery in Antwerp (April 18 - May 7 1969).
The artist has quickly became part of a group of artists and art lovers around this experimental gallery as: Joseph Beuys, Marcel Broodthaers, Jef Cornelis, Nicole and Herman Daled, Isi Fiszman, and many others, becoming a prominent figure in the European art scene with participations in five documenta's from 1972 until his death.
With more than a hundred works, "The Perfect Kiss" is the first retrospective exhibition in Belgium of James Lee Byars, following the formidable James Lee Byars: 1/2 an Autobiography (2014) organized by MoMA. Transfixed by the idea of perfection, Byars produced a remarkable body of works, including sculptures, fabric costumes, performable paper pieces, film, ink paintings, correspondence, ephemera, and live performances, that strove to give form to his search for beauty and truth.
Pursuing what he called "the first totally interrogative philosophy," he attempted to delineate the limits of our knowledge while enacting a desire for something more.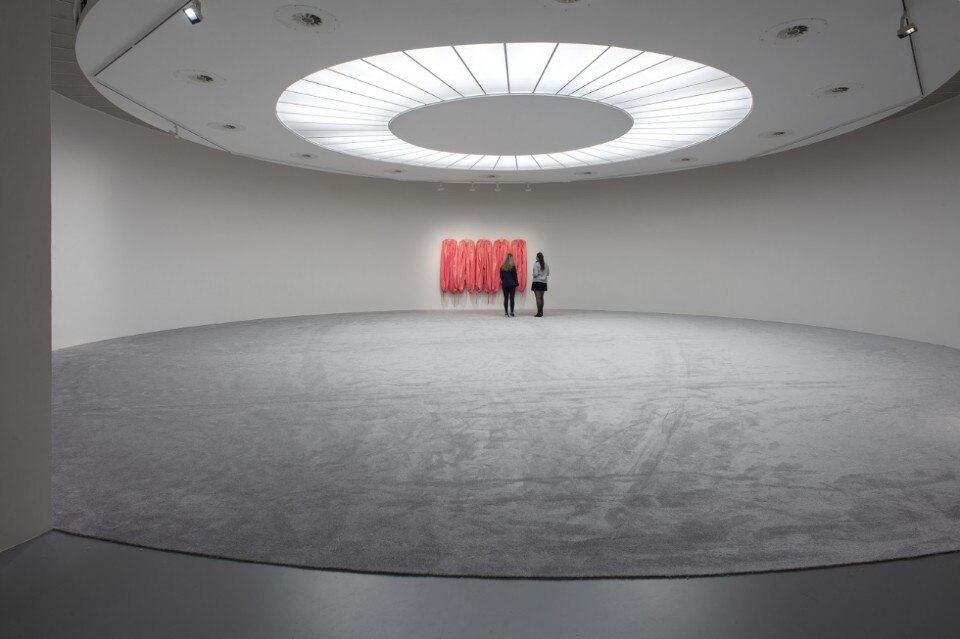 The nomadic performance and installation artist challenged the post-war art world with a poetic attitude animated by three separate motifs: the question, perfection and death.
His search for utter purity of intention and expression was bolstered by a desire to form a direct, and thus impersonal, understanding of the world, in this way transcending the Western romantic notions of self-expression and genius. His oeuvre is an idiosyncratic mix of the meditative, the theatrical, the participatory and the aesthetically perfect.
Since its entrance spaces, M HKA's ground floor exhibits the museum's collection including Byars' The Giant, while minimalist music by Eric Satie plays in the background. The work consists of a letter that Flor Bex, one of the people who tirelessly campaigned for a contemporary art museum in Antwerp, was supposed to read to those gathered at the end of a Byars exhibition in 1976. This was supposed to happen with Bex' back to the audience. 
"The Perfect Kiss" encompasses extensive, theatrical artworks such as The Golden Tower with Changing Tops (1982); condensed, conceptual proofs such as TH FI TO IN PH (1975) and performative, pleasing objects as The Pink Silk Airplane (1969).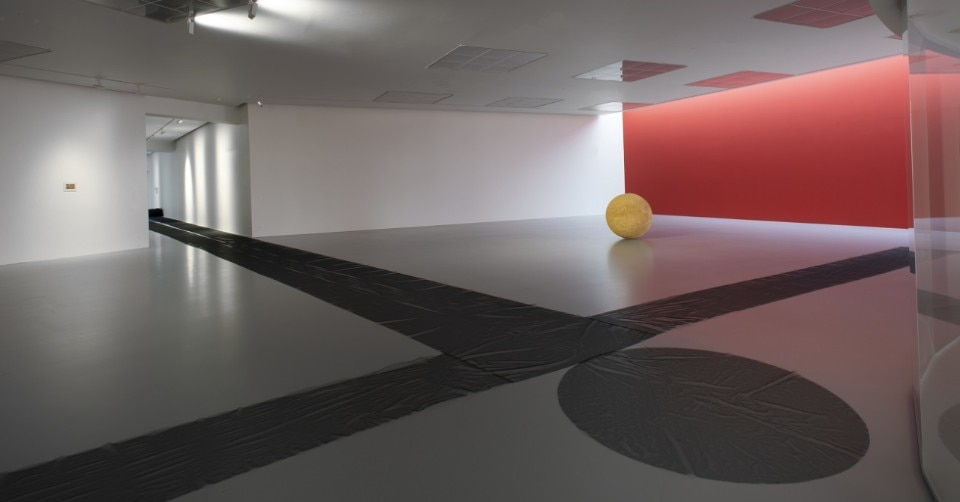 Painting, sculpture, installation, video, performance and text compose a focus on Byars' presence in Belgium from 1969 to 1994, with works such as Two in a Hat, Mask and Dress, 75 in a Hat and The World Question Center (all from 1969), The Black Book (1971) and The Perfect Love Letter (1974).
One of the most important Byars' corpus of works within "The Perfect Kiss" is a series of unedited letters from Byars to his friends in Belgium. The freedom of Byars in his usage of the language was kept intact in all his letters and quotes.
Byars's letters are today seen as a fundamental part of his artistic practice and oeuvre. Using gold leaf, black marking pen, gold-coloured pencil or other delicate materials, he wrote on and decorated hand-made, gilded black and pink tissue paper or dark red velvet paper. He subsequently folded these fantastical forms into small origami-like pieces and packed them into pretty envelopes.
For Byars those letters were not just fleeting vehicles for a message. To him they were a means of linking artists and like-minded people all over the world into a global network. Sometimes in just a few cryptic words, abbreviations and short sentences, but mostly in lengthy letters, he urged exhibition makers and friends to take care of his infinitive projects.
Exhibition Title:

James Lee Byars. The perfect kiss

Opening dates:

From October 5, 2018 to January 20, 2019

Curated by:

Lotte Beckwé

Venue:

M HKA

Address:

Leuvenstraat 322000 Anversa, Belgio