Only when visitors are up close do they start to absorb narratives that might allude to complex subjects, and, even then, his over-figuration flow could be hard to discern it as a whole.
Ceramics, bronze, cast iron, printmaking and tapestry, hypostatize an ironic and darkly humorous gaze on universal topics such as identity, gender, class, religion and sexuality.
The huge monographic survey on Grayson Perry's oeuvre encompasses overwrought settings enhancing different media: one medal specifically conceived, 55 artworks, an 8-meter-tapestry Comfort Blanket and 60 medals exhibited, from the collections of the Monnaie de Paris.

Together with the works of Grayson Perry and his iconographic sources, a selection of religious medals and collectors' objects linked to British history are also on view. But within Grayson Perry. Vanity, Identity, Sexuality's sections the luxuriant Neoclassical building emerges as the real scene's protagonist.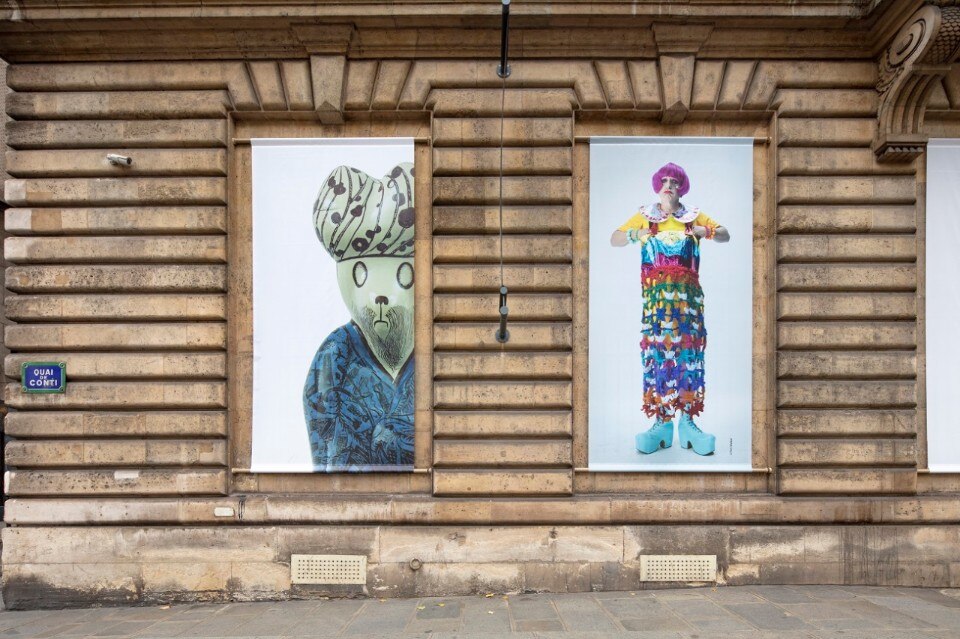 Monnaie de Paris External Facade view
Grayson Perry's portrait as Claire, his alter ego  
Grayson Perry. Vanity, Identity, Sexuality, Installation view
Grayson Perry Precious Boys, 2004 Glazed ceramic 53 x 33 cm 20 7/8 x 13 in © Grayson Perry
Grayson Perry. Vanity, Identity, Sexuality, Installation view
Grayson Perry. Vanity, Identity, Sexuality, Installation view

Grayson Perry Expulsion from Number 8 Eden Close, 2012 Wool, cotton, acrylic, polyester and silk tapestry 200 x 400 cm 78 3/4 x 157 1/2 in © Grayson Perry
Grayson Perry Battle of Britain, 2017 (detail) Tapestry 302.7 x 701 cm 119 1/8 x 276 in © Grayson Perry
Monnaie de Paris, Facade, External view
The building on the Quai de Conti, in Paris's 6th arrondissement, was realized under a Louis XV's decision. Jacques-Denis Antoine was the architect he entrusted with creating a palace on the banks of the river and a royal manufacture. Monnaie de Paris was officially established on the Quai de Conti on 20 December 1775. Monnaie de Paris is a superb example of Neoclassical architecture.
The main part of the complex (housing the administrative offices) is situated on the banks of the Seine and follows the Quai de Conti for 117 metres. It is flanked by two side wings facing Rue Guénégaud and Impasse Conti respectively and its imposing façade is both simple and classical. The complex is a listed building (Monument Historique) and boasts a magnificent entrance hall, the longest series of adjoining rooms in Paris with views over the Seine and an impressive grand staircase.
One thousand square meters dedicated to contemporary art with works of Tadashi Kawamata, David LaChapelle, Jean Prouvé, Marcel Broodthaers, Maurizio Cattelan and the exhibition Women House. Alongside, the Monnaie de Paris is welcoming the 2003 Turner Prize Winner Grayson Perry, an openly feminist artist and the theoretician of a new role and place for men in society, with her first solo major exhibition in France.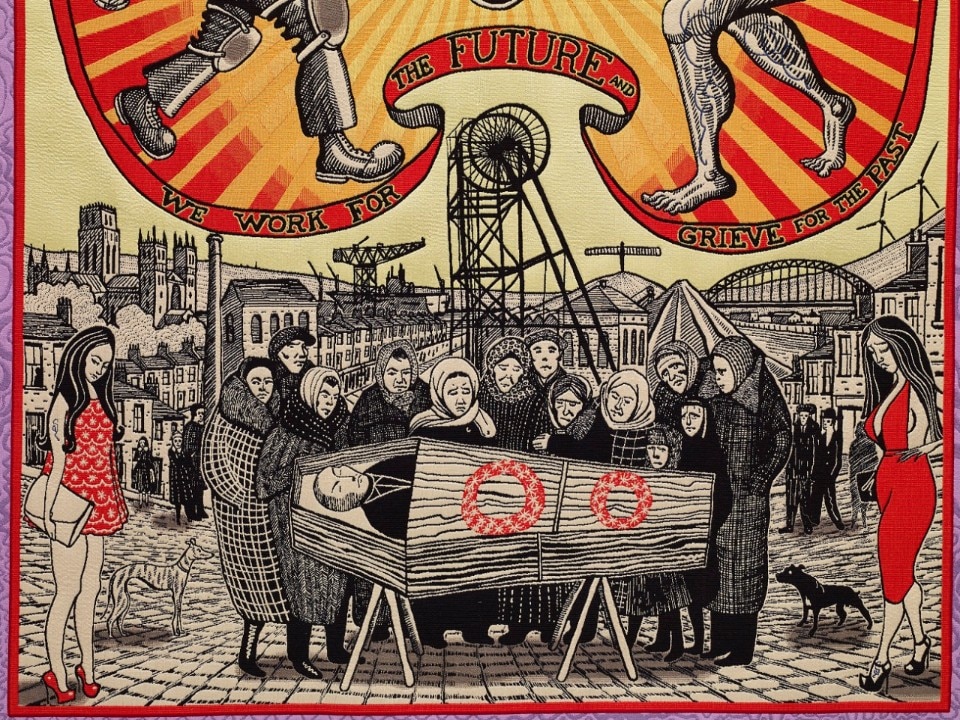 Till 3 February 2019, Grayson Perry. Vanity, Identity, Sexuality brings along several Perry's autobiographical references: to the artist's childhood, his family and his transvestite alter ego Claire. His highly adorned allegories and figurations could be read (literally at le Monnaie) from both sides of the coin: with questions about decor and decorum, class and taste, and the status of the artist versus that of the artisan. In several of his works he challenges traditional masculinity and demonstrates how its values and traits have been eroded.

"The biggest questions I think we can ask ourselves are 'Who am I?' and 'What do I want?"" says the English artist. "Seemingly simple queries but if we answer them seriously and in depth they are most moving and profound. […] I found the answers a revelation and ever since I have been asking the same questions of society."
In the wake of this sentence, the exhibition occupies two floors of the Monnaie de Paris and is divided into ten themed chapters, getting through Perry's reverie and imagery. From the first section devoted to Identity till the last ones dedicated to Divinity and Vanity the artist offers an assertive travelogue into a cross-cultural universe.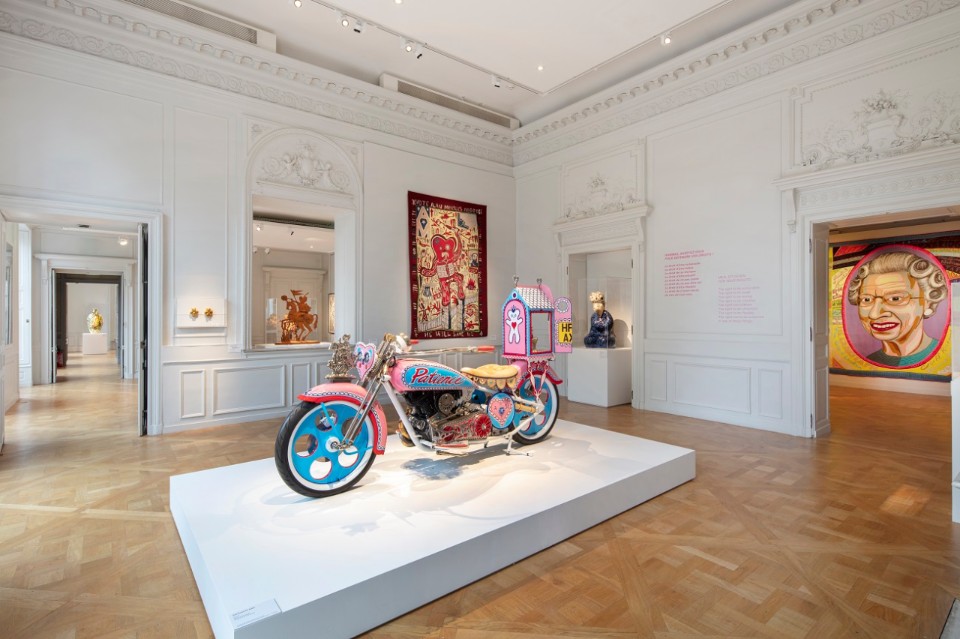 His poetic declarations include, among the others: outfits designed by Grayson Perry (2007); dresses designed by Angus Lai for Grayson Perry (2014); an Artist's Robe (2004); the Reclining Artist (2017); Transvestite Looking in Mirror (2009); Women of Ideas (1990); Precious Boys (2004); I Am a Man (2014) and Claire with X92 (1999). But the most surprising room is the one voted to host the impossible, the imponderable Kenilworth AM1 (2010).
In this section labelled as (New) Masculinity Perry surrealistically delves into the ways in which the male temperament is created, revealing the extent to which boys are socialised by their fathers/referring figures. In a sort of a contrived display case, a teddy bear is exhibited on the back of a customized popemobile motorcycle. The artist uses his teddy bear as an example of how to exchange the dominant model of masculinity for an alternative model that's "easy to park, with a big trunk, child seats and low fuel consumption."
Far from being a theatre of cruelty, Grayson Perry. Vanity, Identity, Sexuality is displaced as a theatre of pretence, but an expressive and sweetened pretence in which everything is overdone and is at the same time withheld. In Perry's multiplicity the most important focal point remains unnoticed, or nearly, a murder scene at the bottom of a tapestry collage, lost in the blueish assemblage (Battle of Britain, 2017) of the whole, an incongruous detail but invested with pictorial and symbolic power; an indication of depiction, that the viewer has been deceived, a detail that Perry has accentuated in his narrative, through an emphatic rhythm, denoting his greater participation as artist into the fictional landscape.
Exhibition Title:

Grayson Perry. Vanity, Identity, Sexuality

Opening dates:

From October 19, 2018 to February 3rd, 2019

Curated by:

Lucia Pesapane

Venue:

Monnaie de Paris

Address:

11 Quai de Conti - 75006 Paris