December 2017 witnessed the publication of the first issue of Archivio, the biannual review published by Promemoria that tells stories hand-picked from Italian and international archives. On the occasion of the project's presentation in Milan we spoke to director Alba Solaro and to editor Matteo Milaneschi.
What is an archive today?
AS: In the magazine we start off by writing, "The first and largest archive in history is where we begin to store things right from birth: our brain." There are many different kinds of archives, from the more institutional ones that are structured along scientific guidelines to warehouses full of accumulated material that belonged to people who might have been better or lesser known. Our investigation's priority is that the archives' headquarters be places to explore and visit.
MM: In Italy there are some 62,000 archives and the reason behind the fact that so much Italian cultural patrimony has remained intact is architectural; we owe it all to the Ancient Romans, who always constructed with brick and stone. During the First and Second World Wars, when the urban centres of our cities were bombed, documents remained intact whereas, in cities like London and Berlin, they burned because the buildings were made of wood.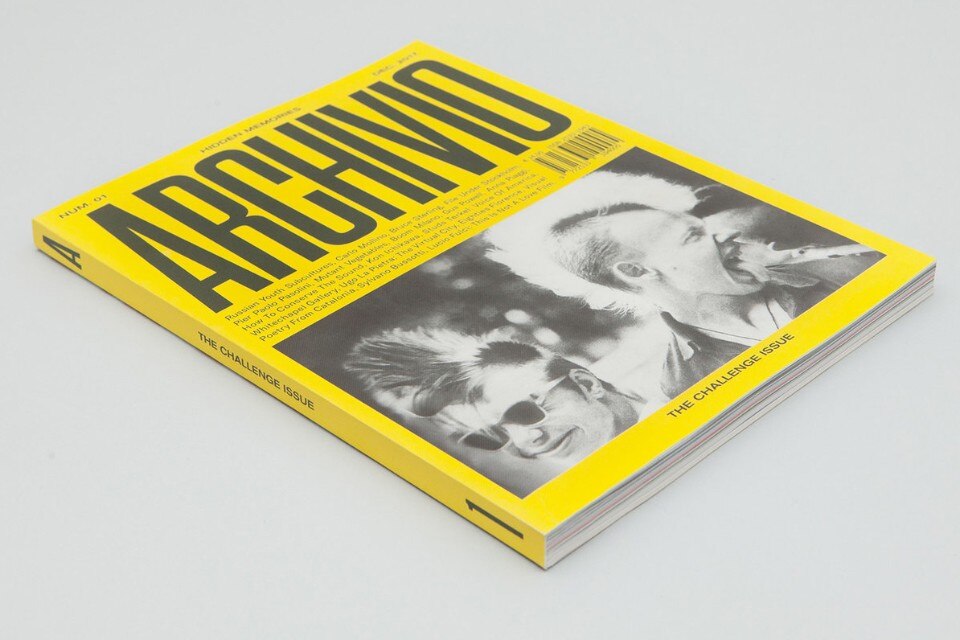 AS: One example of this is the marvellous headquarters of the Gabinetto Viesseux in Florence that has a remarkable archive with the papers of Savinio, Montale and Pasolini, with their memoires and book collections. Another stimulating one is the home of Bruno Casini. In the 1980s, Casini was an important promoter of the Florentine artistic scene. Together with Stefano Tonchi and Maria Luisa Frisa, the three of them produced a magazine called Westuff and they organised Pitti Trend that, for several years, was a regular offshoot of the Pitti fashion shows.
The Fuorisalone of Pitti fashion!
AS: Exactly. In those years Florence was a wild workshop where everything came together, from music, fashion, avant-garde theatre, to visual arts... The discotheques staged fashion shows. Casini saved everything from that period and his home is an extraordinary archive. Both your house or mine is also an archive right from when we preserve there memories or things gained by years and years of experience.
Are you finding in recent times a renewed passion towards archival research?
AS: In an interview with the curator of the Whitechapel Gallery archives in London, we read that "over the last 20 years, archives have been reconsidered by artists and curators as an active system of discourse (...) that undercuts the traditional conception of the archive as an inert depository". In the art world the trend is very strong now but, curiously enough, it is also found in all the fields that we have approached. There is certainly an aspect of nostalgia or "Retromania" is all this, as Simon Reynolds has said. Nostalgia is a complex sentiment and the funny thing is that nowadays it's the young people who are nostalgic. Via a rather unnatural mindset, there is a tendency to long for a time that hasn't been experienced. I think that this trend is also tied to the new obsession with archiving everything since, with digital technology, memory is very volatile and ephemeral.
Both your house or mine is also an archive right from when we preserve there memories or things gained by years and years of experience.
And when did you start to take an interest in this?
AS: I'm a journalist but I'm also the daughter of an archivist. My father was the head of the archive at L'Unità during the years in which the daily newspaper had to be rebuilt from zero. In fact I was involved in this adventure through them (Achille Filipponi and Matteo Milaneschi, ed.). Behind it all there is a very young publisher who covers whatever makes the most of archives belonging to private companies, cultural institutions and big international brands. He wanted a real magazine, not a company magazine; he was aiming to achieve a cultural project coherent with the mission of his business.
Can you tell us about your way of working?
AS: Matteo e Achille are the ones who usually make the trips inside the archives. During the research it is very hard to know what you will find. The first step is to go see and to discover if there is something of interest.
MM: We visit the archives on an average of 3 or 4 times and it isn't always easy to find a good story right away. The archive, by its very nature, is protective, fulfilling the need to preserve thought. The research is inside the archivist's head. Beyond the organisation, it is the person who knows how to find the ways to reach content. We are also interested in their lives. In every issue we want to include an interview with an archivist because we want to narrate and compare ways of working. The archivist's task is similar to that of a private detective because both start from existing material to reconstruct the story. 
I would also like to address the magazine as a physical object, to talk about its design.
AS: In its design there's a precise choice that follows the magazine's concept. We wanted to play on the concept of current events versus outdatedness and, doing a biannual publication, frees us from strictly current affairs and matters of everyday life. At the same time we wanted to make a publication that talked about contemporary times because our aim was to avoid nostalgia and talking about the past. Above all this magazine serves to decodify the present.
MM: Rather than just follow contemporary trends, thereby risking the loss of our identity and becoming unrecognisable, we were inspired by Casabella of the 1960s, by L'Europeo, and Epoca in their heyday. On a semiotic level the design recalls that type of international publishing that set the standard.
AS: I'm in love with the physical object. It reminds me of the English magazine Gentlewoman, a paper that was able to be simultaneously soft and solid. We experimented a lot with the cover and we finally settled on a gummed material. I'm very pleased that the publisher decided to make a periodical printed on paper because it's in keeping with our consultation of physical materials in real archives. 
Publisher:

Promemoria

Curated by:

Nationhood

Editors:

Matteo Milaneschi, Achille Filipponi

Editor in chief:

Alba Solaro

Art director:

Giandomenico Carpentieri

Copy Editor:

Silvia Vecchini

Assistant editor:

Francesco Rossa

Foreign archive research:

Maria Abdulhamid

Project assistant:

Stefania Sirelli