"Peter Zumthor is an architect of extreme slowness as a consequence of incredible exactitude." (Dietmar Steiner, Domus 798). Born in Basel, Switzerland, in 1943, he has studied at the Pratt Institute in New York and has taught in prestigious institutions such as the Harvard Graduate School of Design and the Architecture Academy in Mendrisio. He has completed about ten projects, considered milestones in contemporary architecture. His buildings explore the tactile and sensorial qualities of space and materials.
Published several times since 1989, Domus has illustrated many of his works that have resulted into a Pritzker Prize in 2007 and a Praemium Imperiale by the Imperial family of Japan in 2008.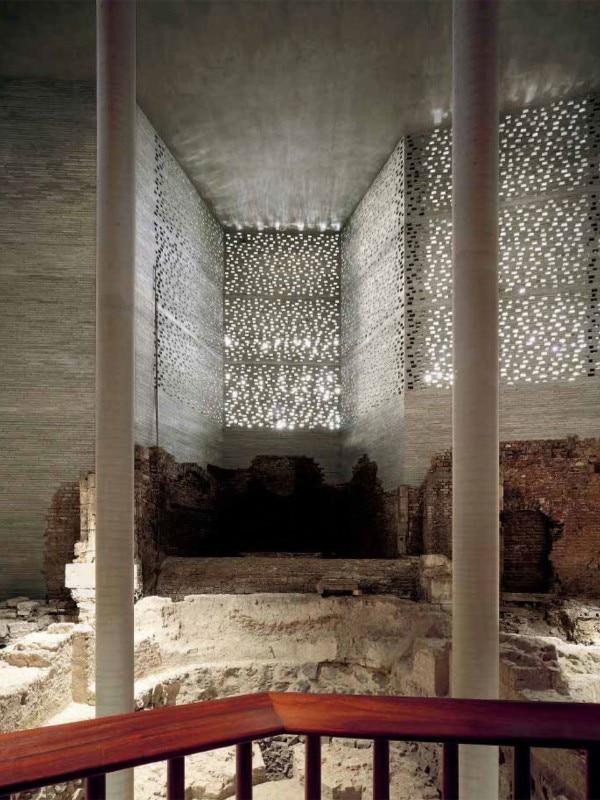 Thermal bath, Vals, Switzerland, 1996
"A monument of European architectural history." Zumthor likes the idea that "the new structure conveys the feeling that it is older than its existing neighbors, that it has always been here in this landscape. The new thermal bath stands alone, half sunk into the earth. A monolithic stone structure, which arouses the impression that the rooms and uses have broken out in labyrinthine fashion." "It seemed to us more fundamental in connection with the task in hand: namely, to place the new thermal bath in a particular relationship with the primal strength and geological substance of the mountain scenery and the impressive relief of the topography." (Domus 798, November 1997. Excerpts from Dietmar Steiner's text, photos Margherita Spiluttini).
Light in the castle. Kolumba Museum, Cologne, 2007
On an archaeological site in Cologne, Peter Zumthor draws on stone lacework to illuminate one of his most complex works. On the ground floor of the museum, the large exhibition space winds with silent intensity around the archaeological remains, brought to light between 1973 and 1976. The stratifications include Roman ruins, the first-century city walls, plus Gallic, Romanesque and late-gothic remains. The stone used for this project was studied for years, and frequently tested with 1:1 scale models. Supplied by a Danish quarry, it was partly worked by hand in a process that was so particular that it came to be identified within the museum and is now actually called Kolumba-Stein. (Domus 909, December 2007. Excerpts form Rita Capezzuto's text, photos Pietro Savorelli).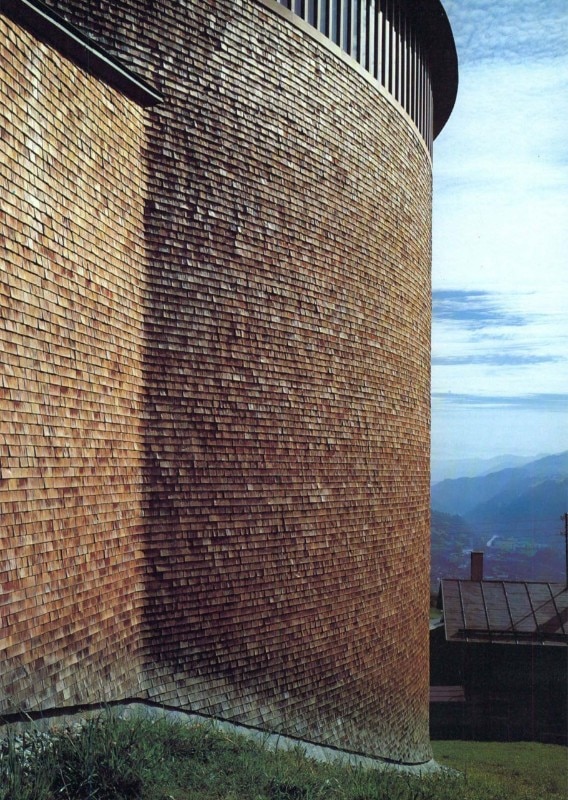 Chapel in Sogn Benedetg, Switzerland, 1988
"Recently, in the monastery church of Disentis, I discovered in a ceiling painting a Jacob's ladder and a small wooden bellcote on a farmhouse. These images reminded me of the bellcote planned for Sogn Benedetg, a ladder-like structure of wooden poles, which, as one walks along the path and gets closer to it, frees itself from the background and begins to tower up to heaven. For me all design is based on recollections of this kind, in which images of architectural forms already experienced mesh with new ideas." (Domus 710, November 1989. Photos Heinrich Helfenstein)
There is no truth to the legend of him living the life of a sylite on top of a Swiss peak as he emits sensual oracles of stone and cement that define the condition of architecture. (Stefano Casciani, Domus 906)
Art Museum, Bregenz, Austria, 1997
In the sober, conservative climate of a provincial European city, an art gallery has been built, which as an architectural object is itself art once again. Zumthor's shining cube on the shores of Lake Constance is a focus on the town. The extremely demanding architecture of this building is a challenge to the works of art that alternate within it. The masterpiece Kunshaus assumes from the outside an unmistakably striking position in town-planning terms, and on the inside, seeks to be understood as a stack of noble, neutral rooms. (Domus 798, November 1997. Text by Friedrich Achleinter, photos by Arch Photo/Eduard Hueber)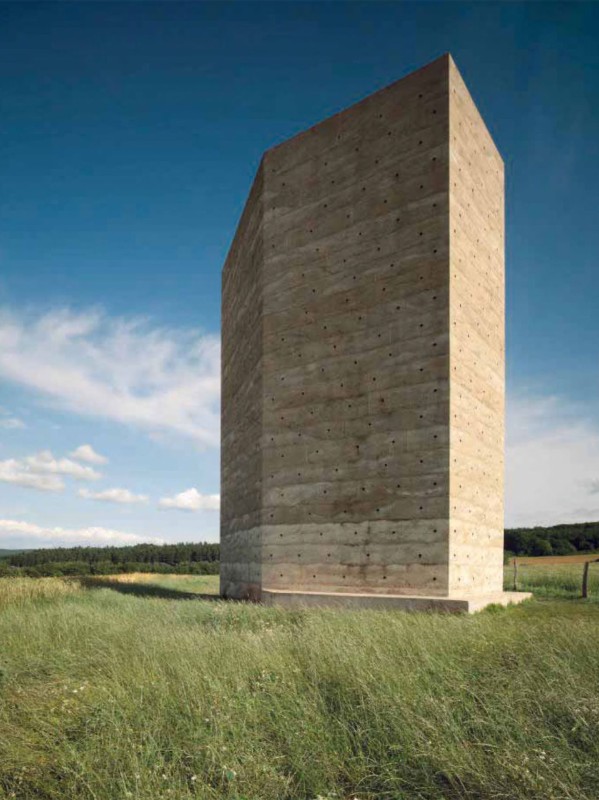 A Saint and an Architect. Votive chapel dedicated to Saint Niklaus von Flūe, 2007
Two Swiss (a saint called Bruder Klaus and the architect Peter Zumthor) and a German farmer (the project's commissioner) converge in the construction of a universal piece of architecture for meditation. "After we built the Chapel, a few Swiss people came to me and said, 'Of course this dark emptiness with only a few strips of light comes from the fact that Bruder Klaus's life ended in a cell dug into the rock!" And I said, 'No, that's not the reason.' And they said, 'Oh, well then it's like a tower in reference to Bruder Klaus's career as a soldier!' And I said, 'No, that's not why, I wasn't thinking of that.' Rather I was thinking taht it would be important for the Chapel to rise up vertically in order to stand out from afar against the open, level fields with their few undulations. It needed to mark out its territory", Zumthor smiles. (Domus 906, November 2007. Text Stefano Casciani, photos Pietro Savorelli)
Issues:

Domus 710; Domus 760; Domus 798; Domus 828; Domus 906; Domus 909