Saturday, September 27th marked the end of a decades-long Saturday morning American tradition where television networks, eager to capture the attention of young, budding consumers, broadcast cartoons for six-hour stretches to cereal-munching children in pajamas.
And just days later, almost as if to memorialize this passing, a group exhibition examining the uncanny logic of cartoons, Puddle, pothole, portal opened at the newly renovated SculptureCenter in Long Island City, New York. The exhibition, curated by Ruba Katrib with artist Camille Henrot brings together over 20 artists to inaugurate the new building renovation by Andrew Berman Architect.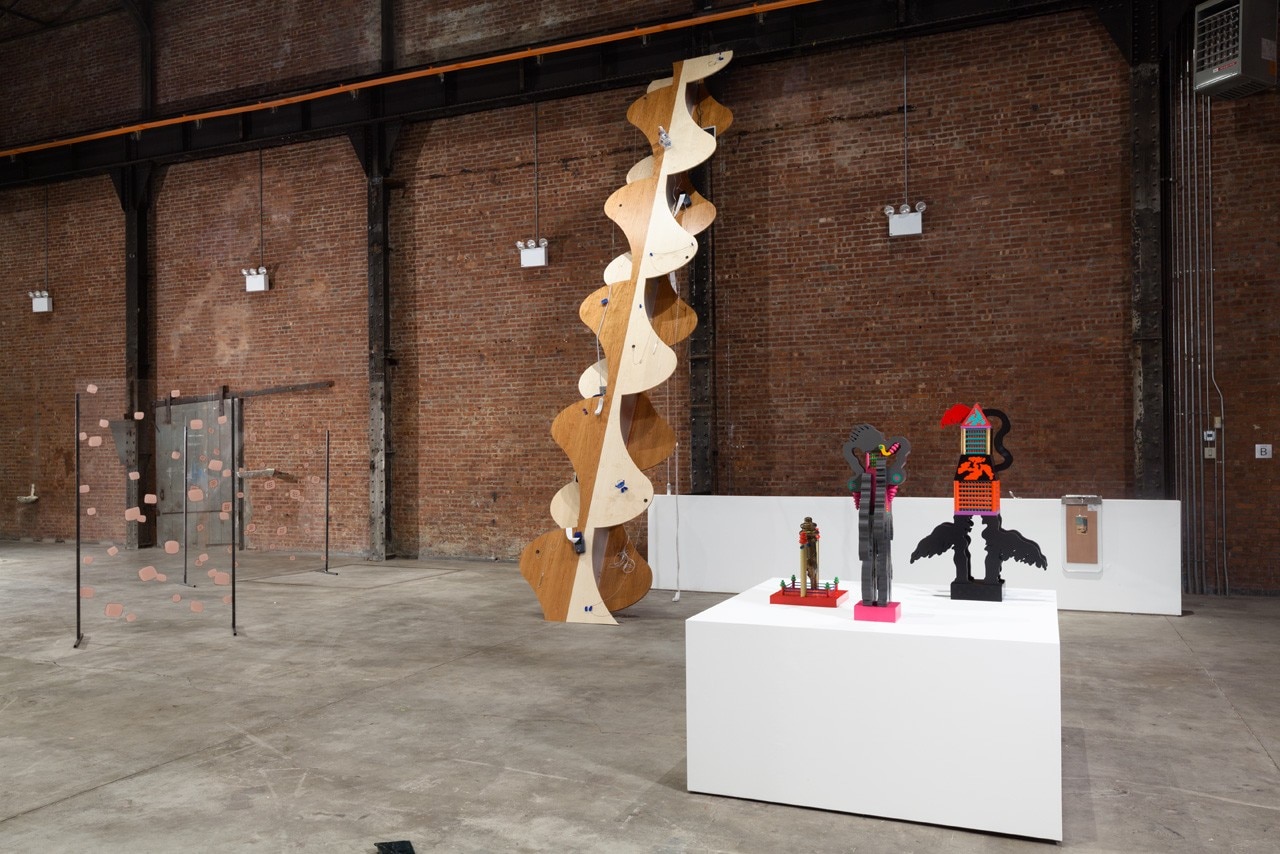 The exhibition's title, Puddle, pothole, portal, asserts a particular spatial frame of reference. Cartoons often subvert spatial logic to evoke humor and empathetic response, making real world concepts more digestible by parodying them in a skewed landscape of imagination. Characters in these narratives sometimes discover passage into another world where this imaginative stage is set – a device common in a variety of children's literature even before the advent of animation like the rabbit hole in Lewis Carroll's 1865 Alice's Adventures in Wonderland or in the later novel by C.S. Lewis, The Lion, The Witch, and the Wardrobe from 1950 where the protagonists pass through their wardrobe into another dimension. In 1938, Warner Brothers released a now classic short cartoon directed by Robert Clampett called Porky in Wackyland. In this story, Porky Pig chases the illusive Do-Do Bird in Wackyland where the welcome sign proclaims "It Can Happen Here," and the rare bird draws doors and windows in empty space to elude his captor.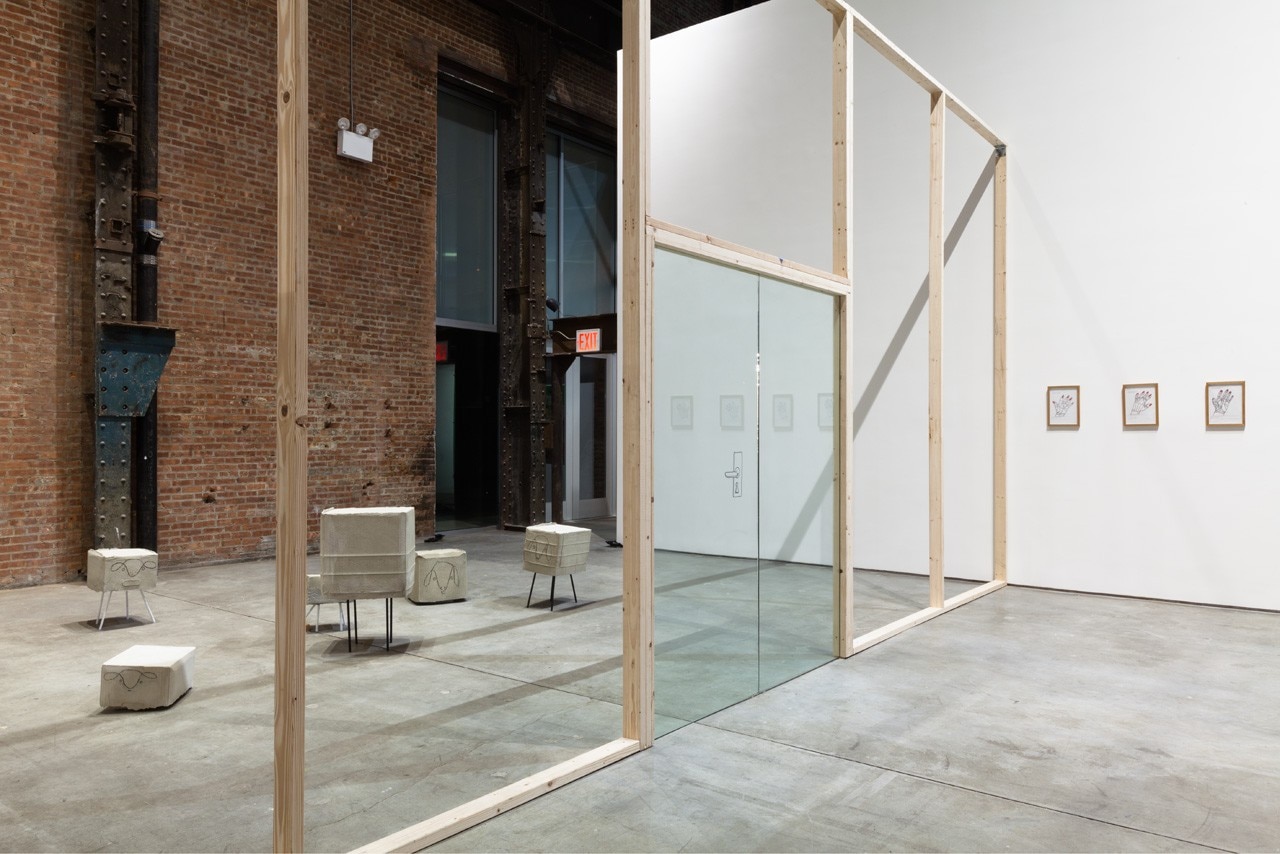 Puddle, pothole, portal examines this sense of open possibility, but more so the phenomenological impulse or cues to transport oneself there. The curators find a touchstone in Saul Steinberg whose five works on paper and one sculpture fill a corner room on the first floor. These works demonstrate how the artist played with conflicted scenographic devices to create destabilized landscapes that challenge notions of depth and surface, in effect, imbuing them with multi-dimensional qualities.  
Outside of the more traditionally installed Steinberg room, the curators intelligently marry the event of the museum's renovation and reopening with the conceit of spatial or cultural dislocation evoked by the works from the participating artists. In a heuristic program of sorts, new and former visitors to the space rely on the works as signposts for reorientation due partly to their installation in hidden corners or in confrontational arrangements one may even trip over.
The 86-year-old SculptureCenter moved to this former trolley repair shop in the Queens borough of New York City in 2001. Andrew Berman's renovation adds another 700 square-feet to the space along with a more direct processional entrance and elegant reception area.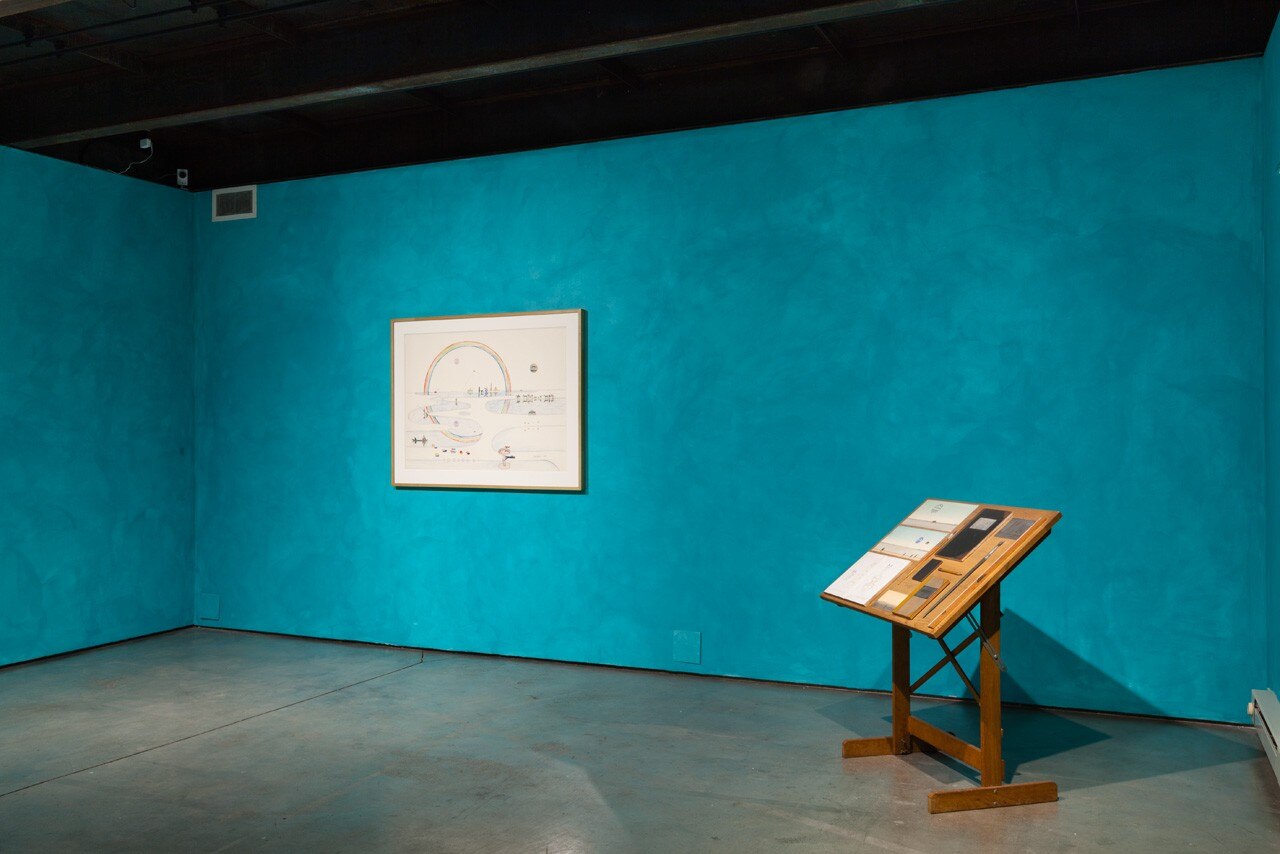 On the first floor, the works of Win McCarthy forge the most empathetic bond between viewers and the building. Two rough-hewn molded wire and Plasticine trough-like sculptures protrude from the soaring brick walls. The viewer feels compelled to peer into these mysterious bowls, and, when one does, observes reflective, transparent molded "pools" inside. McCarthy's sculptures feel like accretions of the wall's mortar, and in one instance, the trough is installed just underneath a whisper of some bygone stain that sneaks up the wall, bringing to mind some secret function that it could possess. Judith Hopf's more direct semiotic gag nearby includes an un-passable full-scale transparent Plexiglas "door" with a knob drawn on. Viewers must traverse the unfinished wall infrastructure instead, producing cartoon-sized yuks, but not much else. Teresa Burga's intricate and mesmerizing drawings quietly examine an inner territory of one's own body as both familiar and foreign under the guise of a patriarchal dictatorship. Jordan Wolfson's world possesses bit more candor. His image collages conflate a sordid Peter Pan-like character with brash verbiage worthy of bumper stickers alongside computer renderings of red blood cells, provoking a toxic feeling of hysterical danger.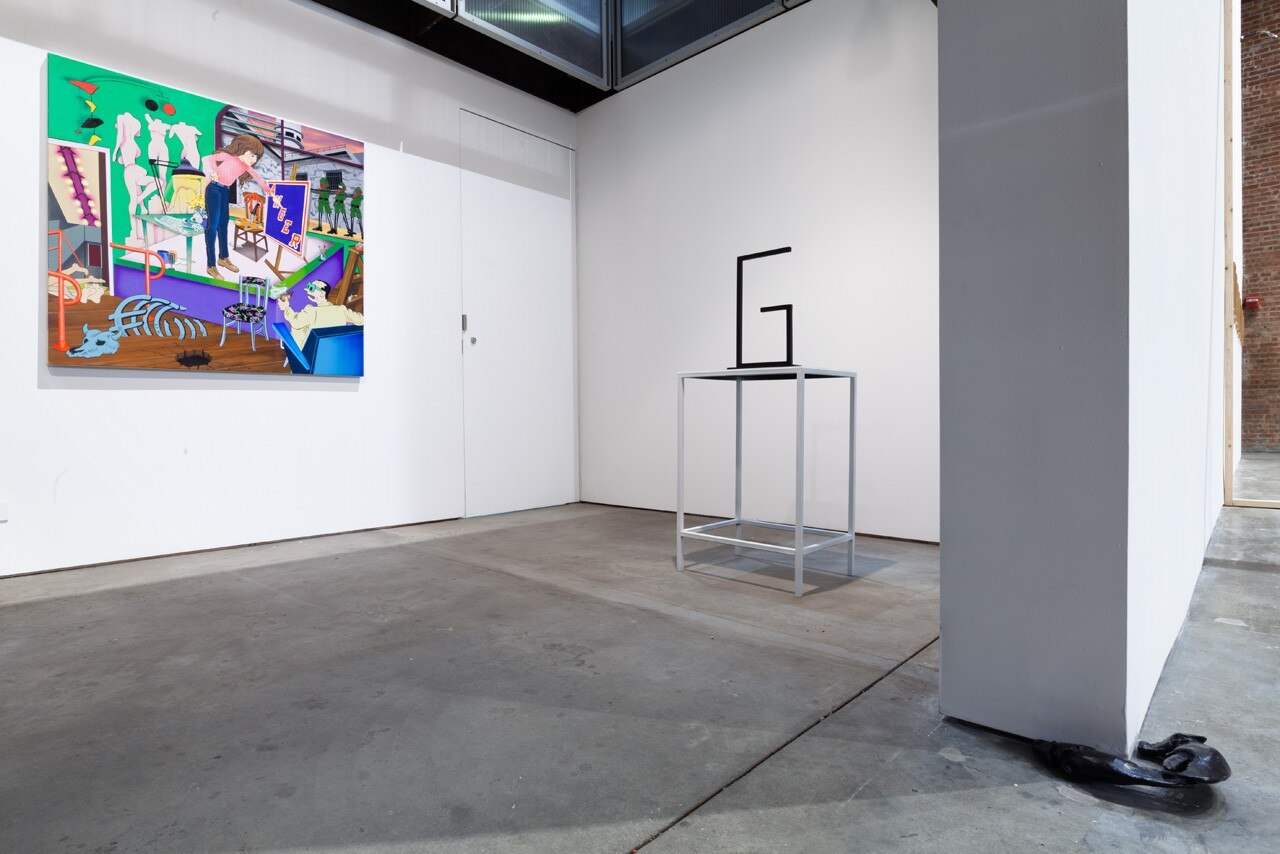 The SculptureCenter's expanded, raw, cavern-like basement features low barrel-vaulted ceilings with a cellular-like room structure, exposed pumps and utilities, and alcoves, where you can find once-functional ceramic electricity conductors protruding from the walls. Ambling around this labyrinthine part of the museum feels in keeping with the ethos of discovery and transposition articulated by the show, although at times, it can feel crowded. Abigail DeVille's Gone Forever, Ever Present installation seems right at home, comprised of a noisily rotating robotic rack of ghostly debris and prop skulls seemingly plucked from the nearest Halloween store illuminated by a rotating disco light. If one feels a bit of shock at first, it quickly turns to laugher. Therein lies the power of the cartoon.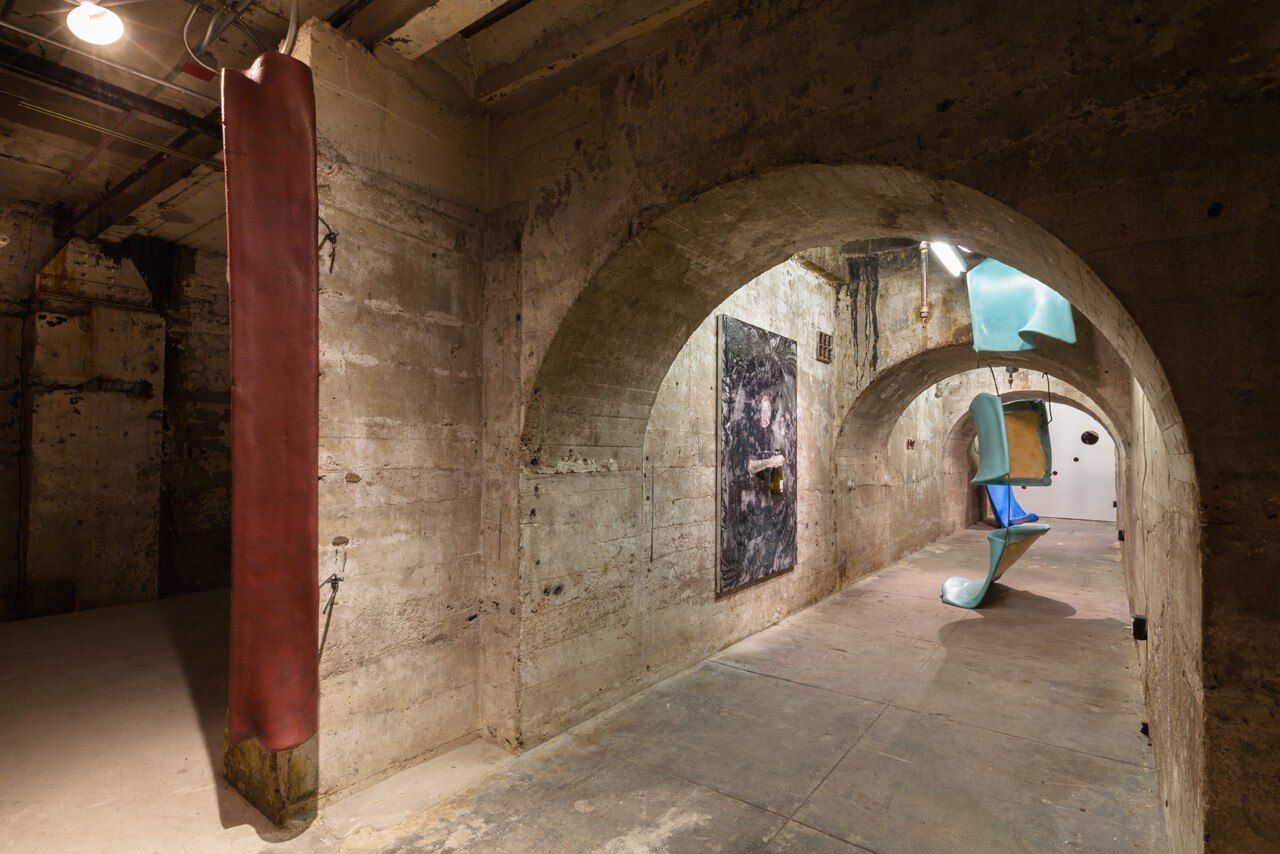 Puddle, pothole, portal not only feels relevant as the SculptureCenter's inaugural re-opening show, but also because it challenges the highly deterministic lifestyle and mindset in which many New Yorkers, at least, live both in their daily lives and in their electronic devices. Little is left for chance these days, and if Saturday morning cartoons can't remind us of that, a visit to the SculptureCenter may help.

until 25 January 2015
Puddle, pothole, portal
curated by: Ruba Katrib, Camille Henrot
SculptureCenter
44-19 Purves Street
Long Island City, NY