In her work, Tower, Monika Sosnowka subverts the essentialist strains of Mies van der Rohe's work to challenge the parameters of architecture and sculpture.
Sosnowska fabricates, to 1:1 scale, the neat matrices of Mies van der Rohe's steel curtain walls. Under her hand, the slick black steel panels warp, buckle, and fold into an elongated 110-foot horizontal carcass welded together and featuring original details such as window handles.
The work can be divided in two sections: one where a single curtain wall bends in an unfurling cylindrical tunnel, which is joined in a perpendicular relationship to three additional curtain walls overlapping each other in a much more soaring cylindrical form through which you can view the interior of the sculpture at its end.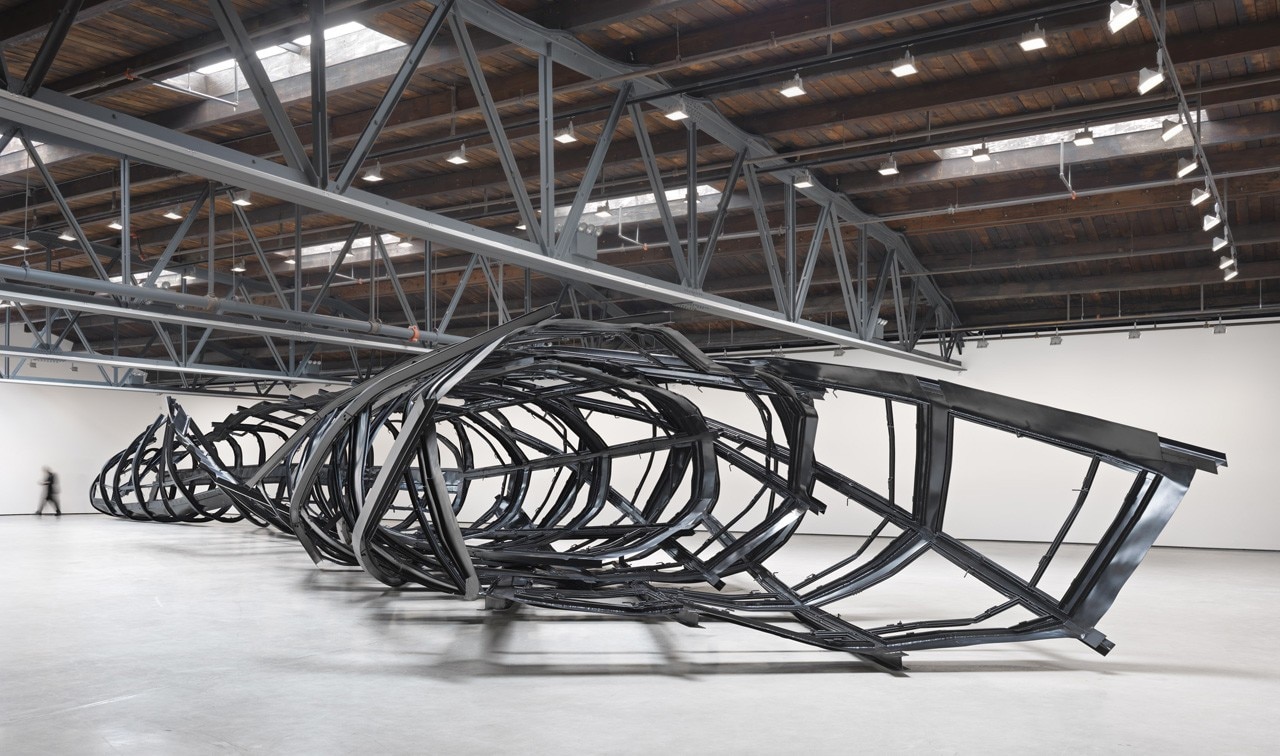 Mies van der Rohe designed the Lakeshore Apartments as buildings that could rise quickly with fabricated curtain wall segments comprised of bays of four horizontally situated windows. This construction method was a marvel during its time and contributed to the novelty of the rational design concept.
Due to fire regulations, the buildings' exterior required a layer of fireproof concrete, which prevented Mies van der Rohe from exposing the building's structural skeleton. To articulate what lie beneath the cladding, the architect affixed non-loadbearing I-beams to the exterior of the building in between each of the windows. These mullions run the entire height of the structure as a sort of a non-functional exoskeleton, a signature of the building, which emphasizes its verticality. The architect is known for invoking Schroedinger to claim that the conceptual program for his buildings is "generality" – the fact that they could be located anywhere, and that its components are in no way unique.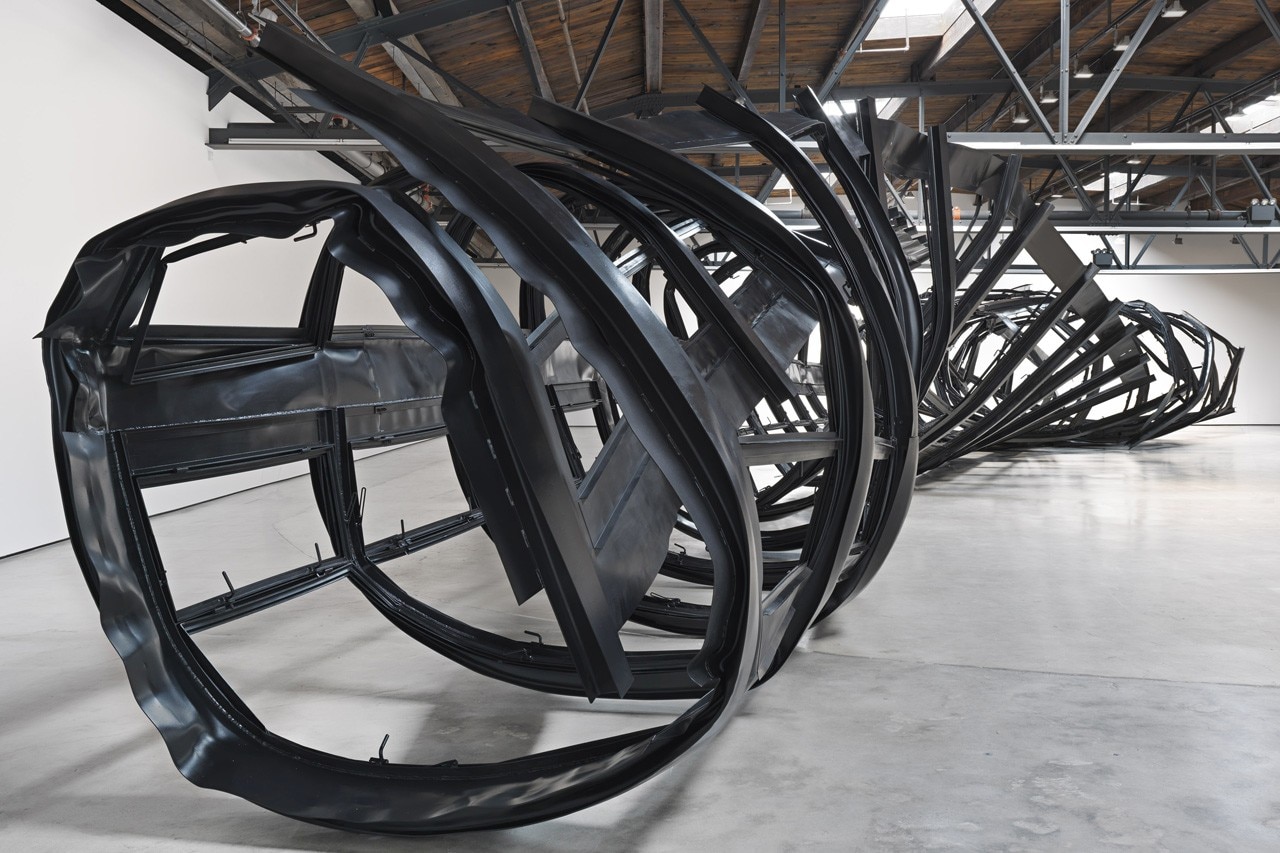 If one views Tower simply as a mutilation of the buildings' curtain wall elements to critique the International Style, one misses its more seductive qualities. This gesture would express nothing more than the usual criticism waged against the style over the past 50 years: that its patriarchal promise of utopia was a chimera, and that as architectural styles go, the International Style is one in the long lineage of styles.
But despite his essentialist mandates, Mies van der Rohe struggled with resolving dialectical ideas of freedom and order, and, nature and form in his works. Sosnowska illuminates this struggle by generating a spatial investigation that allows viewers to draw their own balance by illuminating architectural principles through sculpture.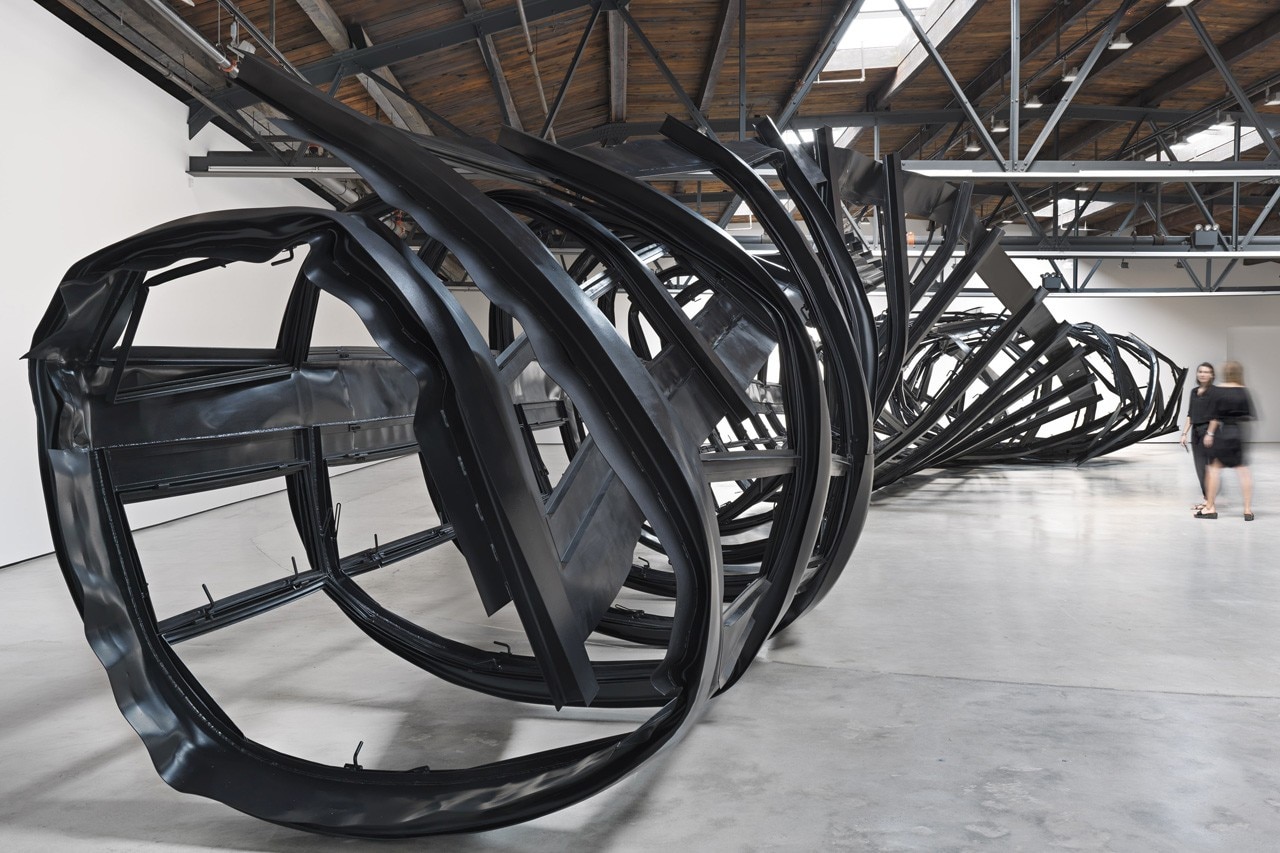 Sosnowska uses Mies van der Rohe's generalist curtain wall as a sculptural medium to play on the conceit that architecture without a functional program is considered subversive. Not to say that Sosnowska's work is architecture, but her use of these elements in a habitable scale allows one to analogize slightly, and, at best, explore.
Tower initially beguiles viewers because of its scale and familiar underlying rhythm of geometric regularity and architectural signs such as windows. Circulating around the work's apertures and ribcage openings, viewers find unique ways to inhabit and observe the piece. This orientation and reorientation allows one to form their own relationships between formal tangents, trajectories, and sightlines to approximate the experience of generating one's own set of spatial preferences and principles.
This allowance offers an empathetic freedom that architecture rarely offers and turns what, at first glance, could be considered a superficially somber piece into one of celebration. Perhaps one would even be motivated to step inside, that is, if it existed outside the rigid program of the gallery.

until October 25, 2014
Monika Sosnowska
Tower
Hauser & Wirth
511 West 18th Street
New York