Cory Arcangel describes his work as "humorous software mutilation". Cory Arcangel: Pro Tools, the one-man exhibition at the Whitney Museum, explores the marketing strategies employed to launch new tech products. Arcangel grabs onto the "demo" and advertising system and then manipulates and flips it to compel us to reflect on the role played by technological products in contemporary culture. He warns us of the "scintillating adhesive" effect of technology, the absurdity of product lifecycles and the tension between readymades and the creative process. The works on show are computer-generated, bronze sculptures, kinetic sculptures, prints, plotter drawings and manipulated videos and videogames.

Opposite the lifts at the entrance is a monumental installation called Various Self Playing Bowling Games (aka Beat the Champ), (2011), comprising 14 bowling videogames made between 1970 and 2000. The installation is a riveting non-interactive audiovisual collage that spans from the static Atari 2600, with rudimentary 8-bit imagery, to the more realistic 3D simulation of the Playstation with humanoid avatars. Programmed to lose every time, the virtual bowling players are in a loop of constantly repeated frustration. The size of the work is considerable, amplifying the player's sense of impotence and increasing the paradox between its presentation and the pointless end result. Referring also to our addiction to and expectations of technology, the artist says that he sees the repeated failure of the 3-D figure playing bowling as "…a great metaphor for all the different ways that life is spun around technology".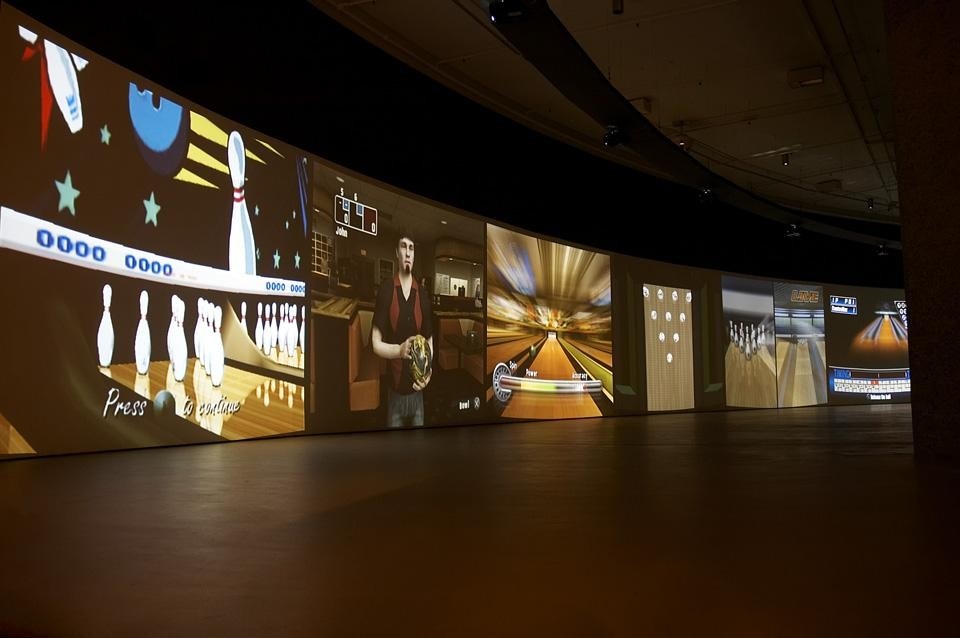 In the same room, Research in Motion (Kinetic Sculpture #4), (2011), is a group of kinetic sculptures, constructed with standard office shelving, that appear to be dancing. The structural design is that of the 1980s, which reminds people in the United States of electronics stores such as Radio Shack and Sharper Image, which today survives only online. This work is a rereading of Sol Lewitt's "structures", in which the cube is clearly adopted as the generating form of an undulating model. Artistic practice based on Dada guidelines and the conceptual art of the 1960s and 1970s, in which an artwork is created by setting a process in motion, are important precedents for contemporary art in general and Arcangel's artistic practice, in particular. Research in Motion (Kinetic Sculpture #4) refers to two core features of advertising and marketing strategies for new products—the presentation of something new and nostalgia. What is new arouses interest, excites people and creates a desire, whereas nostalgia runs deeper and is aimed at our core memories and those moments we have chosen not to forget.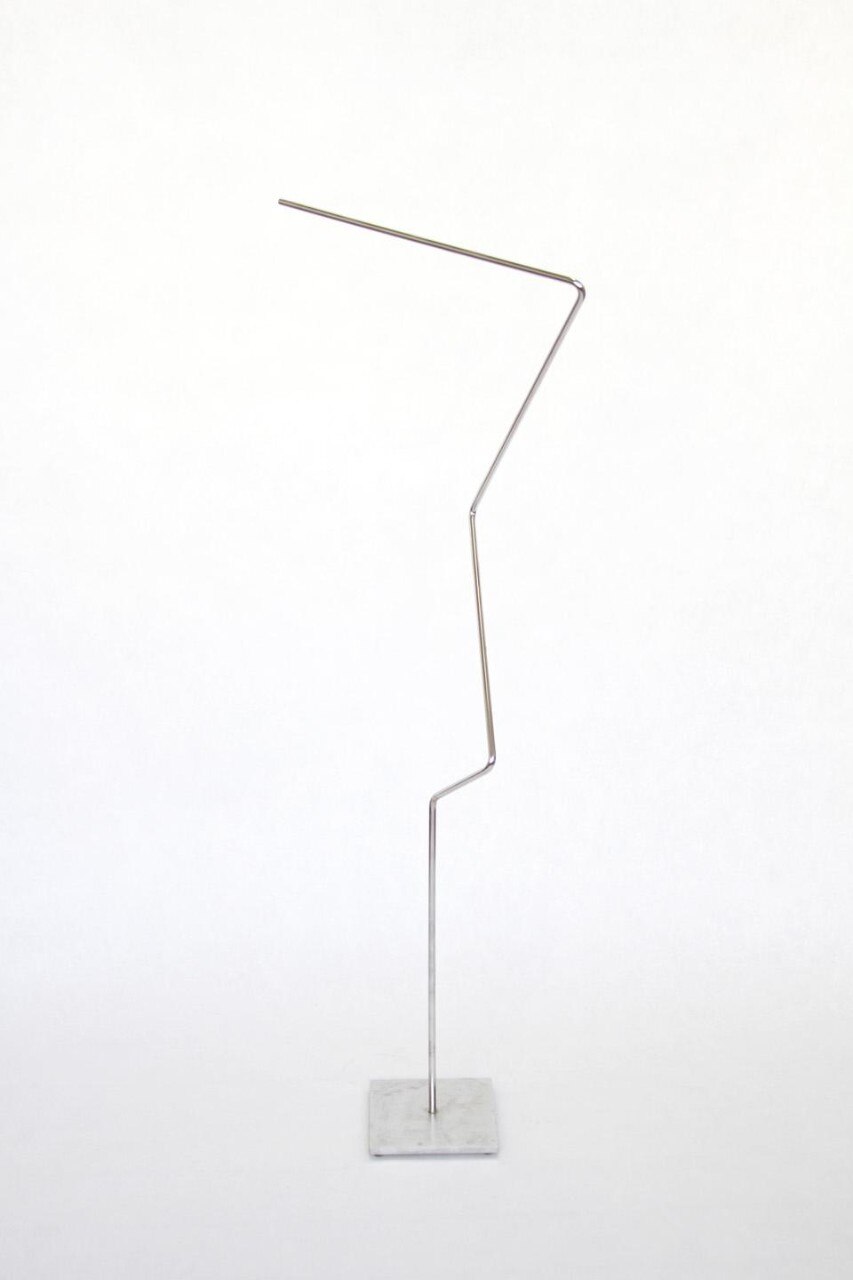 Arcangel is not immune to the allure of technology—quite the reverse and he becomes emotionally attached to what are, in effect, his work tools. In Palms (2011), he uses a computer to connect a digital drawing board to an antiquated ink-jet plotter in order to translate sketches of a palm tree into digital bits with today's technology. This work harks back to all the 1960s' research into computer-generated "algorithmic" design. The series consists in pictures of palm trees in which the distinction between the automated line produced by the plotter and that drawn by the artist's hand is blurred. Arcangel produced the drawings in the Palms (2011) series with a Hewlett Packard 7475° and Mutoh XP-300. Dating from the 1980s and 1990s when this equipment was expensive but common, today it is hard to find in the United States, even on eBay.
He sees the repeated failure of the 3-D figure playing bowling as "…a great metaphor for all the different ways that life is spun around technology".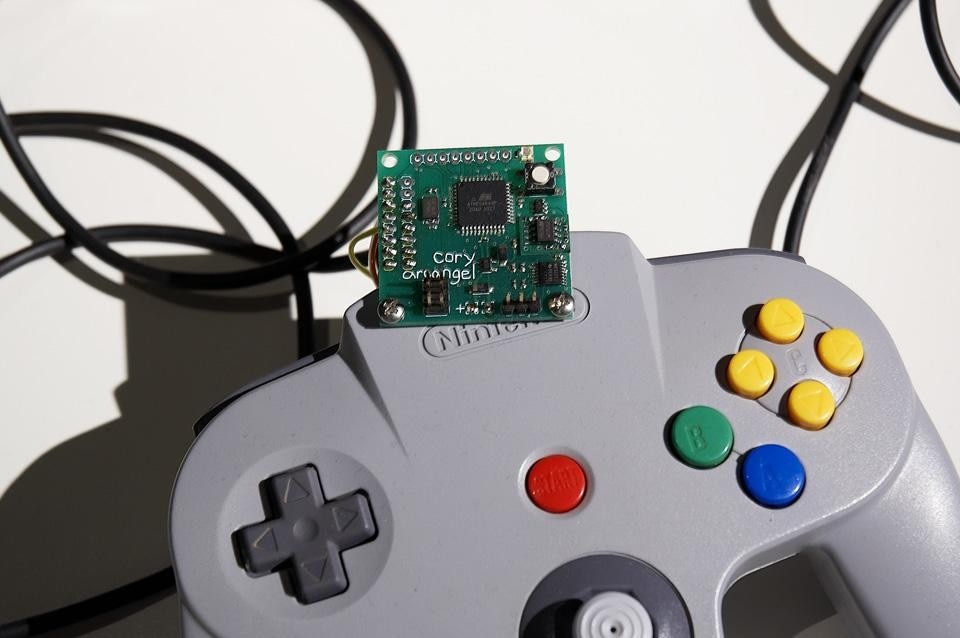 In an interview with Andrea K. Scott (New Yorker, May 2011), Arcangel stated that his fascination with the unlikely machines from which he draws inspiration can be linked to a Pauline Oliveros composition class he attended at the Oberlin Conservatory. The Paganini Caprile No.5 video (2011) is fruit of that method of finding inspiration in unlikely situations but also contemporary society's cut-and-remix obsession. Cory Arcangel's project retrieved every single note of this composition for violin from 100 videos of people playing heavy-metal guitar downloaded from YouTube. He then reassembled them in a single video that combines classical and heavy-metal bravura. As the artist himself says, "It's like playing ping-pong with popular and fine art cultures." This work is generated using the software Gould Pro, written by Arcangel himself for his previous video—not on show—Drei Klavierstu¨cke op. 11, 1909 (2009), in which the artist revisits Schoenberg via video clips of cats jumping on pianos.
Another two notable works are There is one at every party (2010) a montage of scenes from the Seinfeld TV series and ten photographs from the Photoshop-Gradient series, exhibited at the New Museum in 2008.

Cory Arcangel was born in Buffalo and, although very American, the influences and references in his work are varied and span from American composer Steve Reich to the American comedy Weekend at Bernie's (1989). The sense of fun in his work has that American lightness that arouses admiration and tenderness but also a little anguish, like jokes that are funny straight away but turn sour after a while. Cory Arcangel's work is also nostalgic but, equally perhaps, shares the optimism of certain transhumanists who believe the human condition and people's intellectual, physical and psychological capacities can be improved via the development and extended sharing of technology. Paradoxically, the artist says he is not ironical, "Irony doesn't produce anything. It takes the air out of the world and I can't imagine taking any pleasure in that. I am trying to find something hopeful, some kind of truth."
Laura Bardier

Cory Arcangel: Pro Tools
Whitney Museum of American Art, New York
Through September 11, 2011
Curated by Christiane Paul, Adjunct Curator of New Media Arts