This article was originally published on Domus 1084, November 2023.
Could you tell us about your recent work with temporary structures in Ukraine? How have you developed your ideas regarding privacy and the personal experience of refugees? As an architect, you have to understand the relationship of enclosure and privacy to humanity.
When the war started last year on 24 February, I saw Ukrainian refugees on the news entering Poland and the conditions in the places where they stayed. After crossing the border, they had to stay for a few days in a big space like a gymnasium or an empty supermarket before moving on to their next destination. Although the Polish government, cities and people were very kind and welcoming, I saw that the refugees were still without any privacy in these big spaces. Because of my experience working after disasters in Japan, I knew that this was a serious issue. I believe that privacy is one of the most basic human rights. Japan didn't have a history of providing private spaces for families in shelters before I started creating partitions from cardboard tubes and fabric curtains. I began working on them after the Kobe Earthquake in 1995. After the next disaster in 2004, I started working with my students to make more, but the officials who run these facilities didn't authorise us to build them. They said there were no previous examples and that it's much easier to keep track of people without partitions. When the Great Tōhoku Earthquake happened in 2011, I tried again.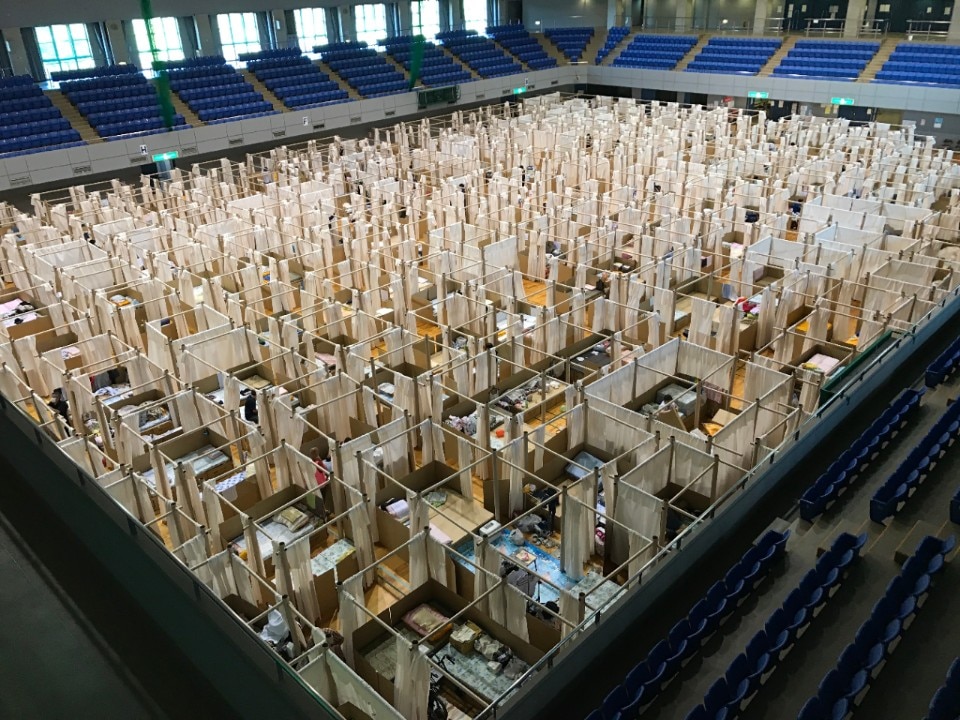 We were rejected by the first 30 facilities we went to. The first place where our proposal was accepted was in the town of Ōtsuchi, in Iwate Prefecture, where the mayor and most of the local officials had tragically been killed by the tsunami, so the high-school physics teacher was organising the shelter. That was the first time we managed wto build 500 family units. Little by little, people started listening to us because the victims really appreciated having privacy. But even after that first success, and with typhoons and flooding almost every year, I still had to unofficially make these partitions everywhere in Japan. Finally, after 15 years, Kumamoto Prefecture had a big flood and I went and demonstrated my system. This was after the pandemic so the doctor in charge really appreciated having private spaces to help stop the spread of Covid. That was my great chance; the government finally accepted my partition system as the official system in Japan. Going back to Ukraine, I saw the same situation and needs for refugees, so I immediately contacted my friend, an architect in Poland, Hubert Trammer. That first week of March, a week after the war started, we began making the partition system in Poland and Slovakia. We couldn't go into Ukraine at the time, so we produced it all with local students in Poland and sent it over to Ukrainian architects and students who built them. We even built some for refugees in Paris in two big gymnasiums that had become shelters. 
How many did you build in total? Was it the same design that everyone was replicating, or did you see it evolve?
I don't know. They started making them by themselves without any input from me. Even the local paper tube company started to donate paper tubes free of charge. Some of the student leaders went to different facilities to show others how to build them. The system is the same everywhere; the beams and frames are made of paper tubes, and the fabric curtains are donated, too. Many of them have a different design on the fabric walls. Even without my involvement, this system has spread everywhere. That's why I don't know how many were built. A partition system has to be easily made by anyone. It has to be modular too, because depending on the number of families, they need different sizes of spaces. And the government has to check that the people are okay every day, so it cannot be a closed space; it has to be very flexible. It shouldn't be too translucent, and it shouldn't be too closed.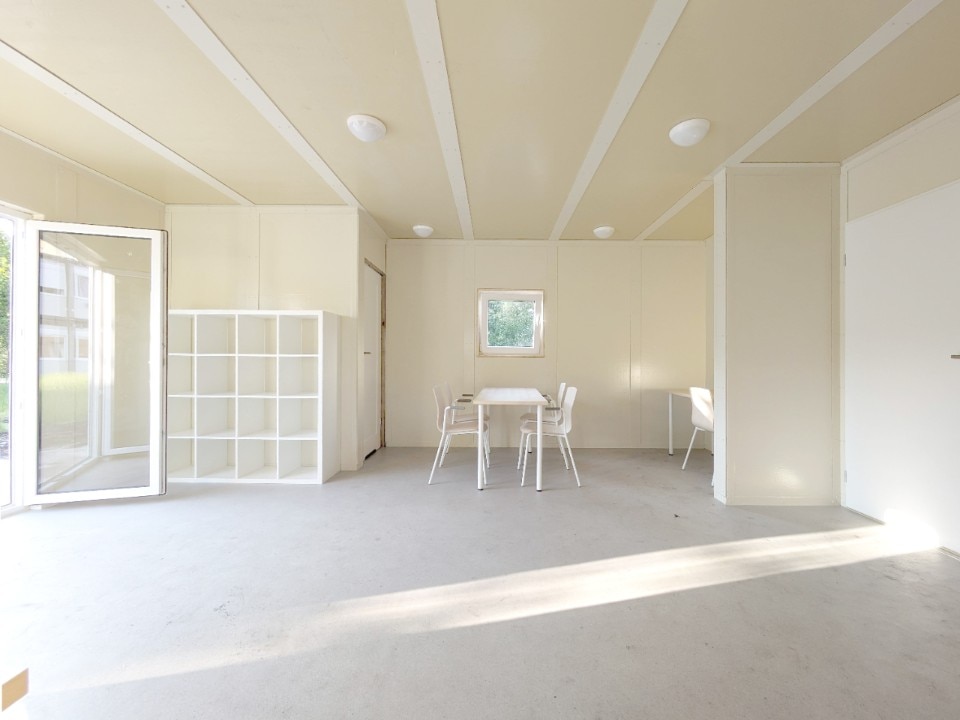 Are there any other projects you are working on in Ukraine?
In September 2022, I went to Lviv because I was starting to prepare an affordable housing system. After a war, even after a natural disaster, contractors become very busy and construction materials become very expensive. Because of this, it's always useful to make affordable housing without depending on a contractor or normal building materials. I started to develop this system after the Tōhoku Earthquake in 2011. It's called the Styrofoam Housing System (SHS). The main structure is Styrofoam and we can control the thickness depending on the climate. We paint glass-fibre-reinforced plastic to waterproof and reinforce it. The Styrofoam works as the compression material and the reinforced plastic works as the tension material. It's modular and can be built without any machines. This is nothing new; it's a traditional technology used to make boats. In June 2023, I went to Lviv again to build the first house from this system with Ukrainian students and architects. Also, because Russia targeted and destroyed power stations, for the winter season I sent 190 wood fire stoves to Ukraine. I found an inexpensive but very efficient stove in Hokkaido, Japan. It's very lightweight and they can even use it to cook. I brought the first 20 stoves myself in an aeroplane; that was the maximum we could carry. That was too slow of course, so I got in contact with a Polish NGO and we sent them over to Warsaw and they helped us deliver them to people in Ukraine.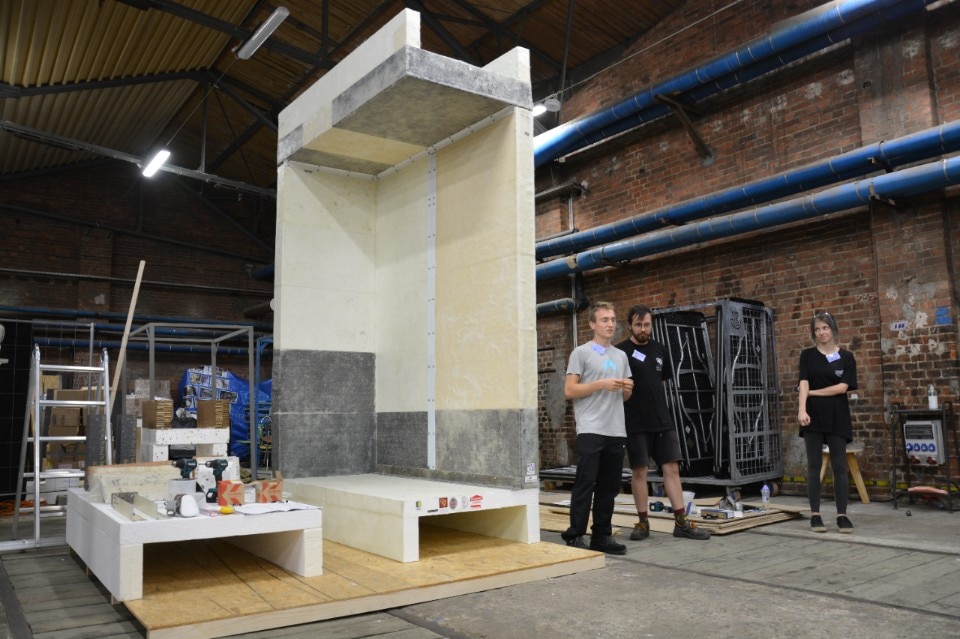 How are people dealing with the conflict? How do you go about managing these projects in unsafe conditions?
Unfortunately, people get used to it. As soon as you check into the hotel they show you the basement shelter, just in case you need to use it. Even Lviv is not safe. Because it's on the west side of the country, there are many internally displaced and injured people coming there. I met the mayor last year and he asked me to design a hospital of about 25,000 square metres in cross-laminated timber (CLT) there. Ukraine has the biggest CLT factory in Eastern Europe. They used to export to Canada and the US, but now they're looking for an opportunity to consume internally. We're working with a local architecture firm for the design development phase of this hospital. This is a really interesting challenge from the mayor. In Ukraine, building regulations are just like in Japan: they don't accept the method of "oversizing wood" as the fire protection. But according to European regulations, it is possible to have timber exposed without covering by plasterboards. Because Ukraine wants to be part of the EU, the mayor asked me to use the European regulations. So, this will be the first timber building in Ukraine under the EU regulations. My job isn't only designing; I also have to do fundraising. I'm approaching Japan's Ministry of Foreign Affairs for support because the Japanese government cannot send weapons, but they promised to spend money for reconstruction. But the hospital is necessary before the war is finished.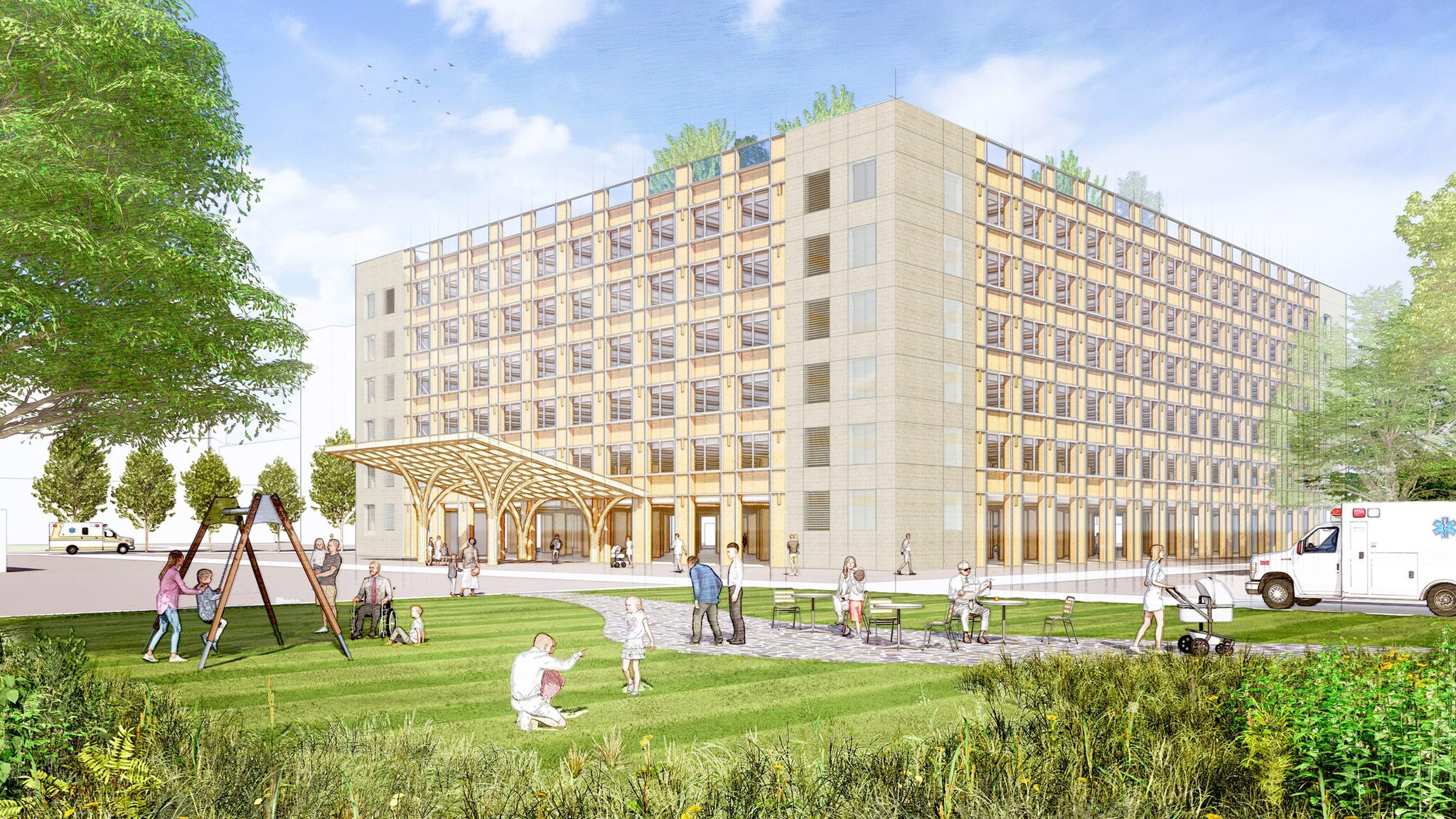 Surgical center addition. Lviv Hospital. Ukraine.
Image courtesy Shigeru Ban Architects.
Surgical center addition. Lviv Hospital. Ukraine.
Image courtesy Shigeru Ban Architects.
Surgical center addition. Lviv Hospital. Ukraine.
Image courtesy Shigeru Ban Architects.
Surgical center addition. Lviv Hospital. Ukraine.
Image courtesy Shigeru Ban Architects.
The government is so strict that they're not ready to pay before the war ends. So I'm really having a hard time. I'm trying to find opportunities to make this project more public to convince the government to support it. In Japan, there is the Official Development Assistance (ODA) that the government could use to fund this kind of project. They require a Japanese company to do it, but Japanese contractors cannot go into Ukraine. However, I found a contractor called Ando Hazama and they have many foreign branches, including in Turkey. They can manage the project from Turkey and it can be built by people in Ukraine. It's one of the ways to use the Japanese ODA money for this project. But I am also trying to use funds from private companies. It has to be built immediately.