If working with existing buildings always implies a profound responsibility on the part of the architect - regardless of the context and personal sensibility - the challenge of dealing with a work by Frank Lloyd Wright would make any designer worthy of the name shiver.
This is the case with Thread Collective's renovation and extension of Olfelt Residence, the house Wright designed in 1959 for Paul and Helen Olfelt just outside Minneapolis. The building, one of the Master's last works, was conceived in full Usonian style: an affordable accomodation for  the American middle class thanks to the use of standardised technologies and simple materials, without renouncing the quality of living and the relationship with nature. Like many middle-class houses designed by Wright, Olfelt Residence is a complex surrounded by greenery and characterised by a clear and functional layout - two wings pivoting on a central node, one for the living area and the other for the sleeping area - with markedly horizontal volumes and generous roof overhangs; durable and low-cost materials - exposed brick, wood and concrete - give the building a rough but warm and welcoming aura.
Recently acquired by new owners who felt the need to expand the sleeping area and improve internal accessibility, the intervention involved the restoration of the existing building and the insertion of a new wing.
The historic building, adapted to today's energy and structural standards, underwent meticulous renovation - from the structures, to the cladding, to the lighting, to the customised furnishings - aimed at preserving the dwelling's timeless charm.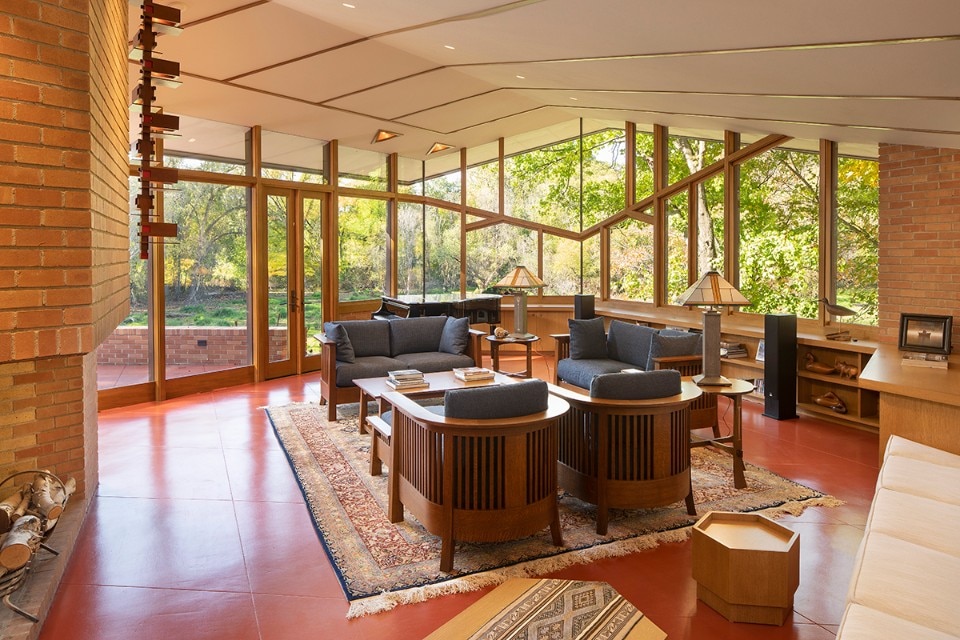 Wright had envisaged the possibility of building a third wing to the north-east, close to the entrance and adhering to the wing housing the sleeping area: however, due to the urban planning restrictions in force and the topography of the land, the current extension is shifted to the south-east with respect to the prefigured position, but coherently with the original design logic.
The new building has the same geometric, material and chromatic characteristics as the historic body: a simple volume of exposed brickwork and pitched roofing, which includes a master suite and an underground garage, is connected to the historic body via the emerging block housing the lift. Thanks to the wooded hillside, the extension remains shielded from view, assuming a position of deference to the main building whose iconic configuration is maintained intact.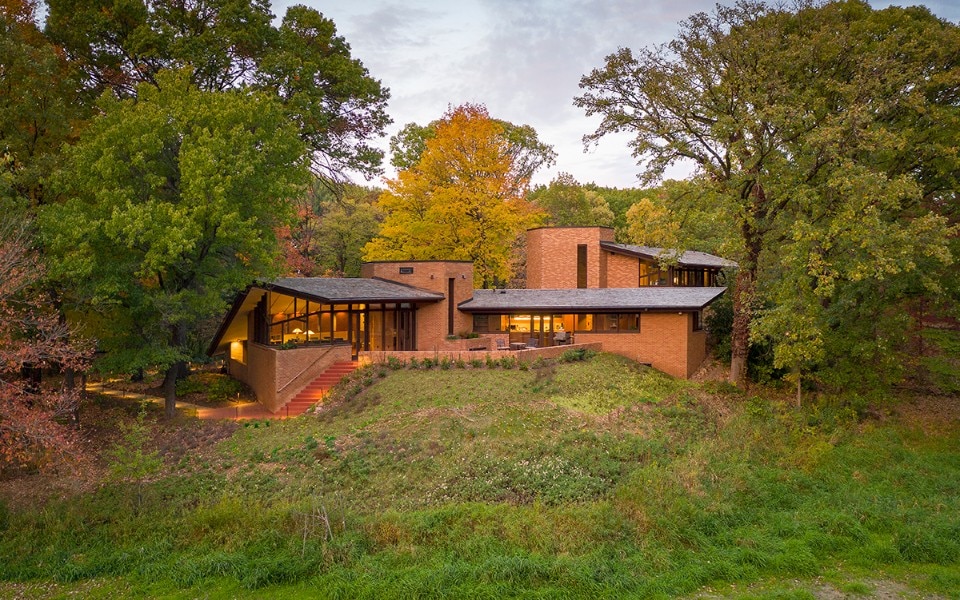 Project:

Olfelt Residence

Architecture, landscape design, interior design:

Thread collective (Mark Mancuso, Gita Nandan, Elliott Maltby)

General contractor:

Brady Construction

Location:

Saint Louis Park, Minneapolis, USA

Completion:

2020