A few kilometres from Brasilia, in an arid landscape dotted with the robust native vegetation of the Bioma Cerrado – the biologically richest tropical savannah in the world – Equipe Lamas has designed the buen retiro of a couple seeking tranquillity and contact with nature.
The 375 square metre house is characterised by a simple and functional layout: four single-storey "box-like" volumes, set on a mesh of square modules, are arranged around a central courtyard which acts as a distribution hub for the complex, evoking the shape of a pinwheel moved by a whirlwind of air. The functional programme is clearly stated: the first block houses the garage and service spaces; the second the TV room, office and master suite; the third two bedrooms, services and workshop; the fourth the living/dining room and kitchen. The building, made of durable, low-cost materials, is characterised by a mixed structure of metal beams and concrete pillars and by walls painted in a light earth colour that recalls the tones of the context; large, full-height glass walls frame the landscape in each volume according to different perspectives.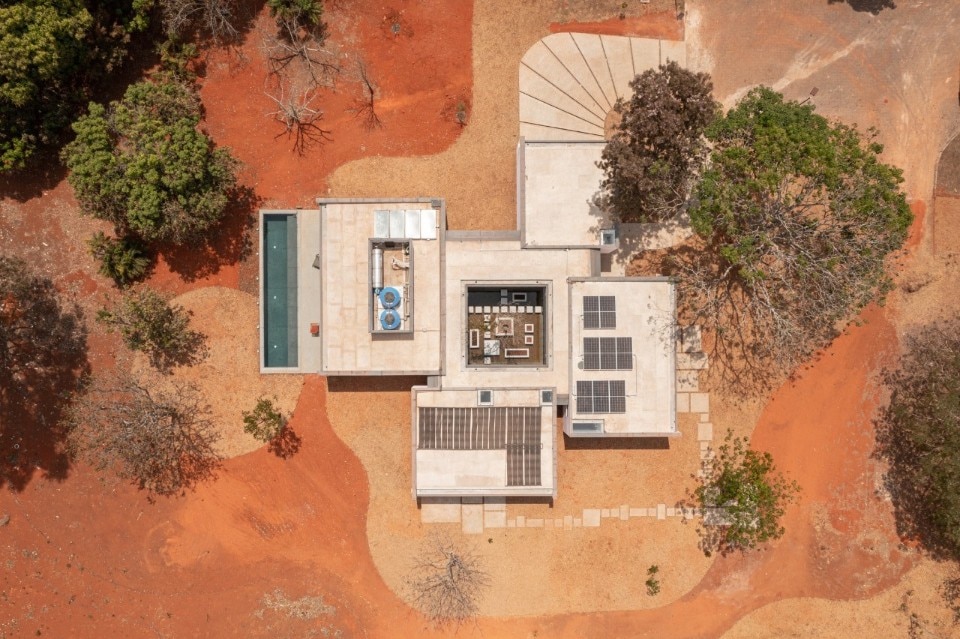 The bright, neutral-coloured interiors with concrete floors, wood panelling and immaculate walls, enhance the works of art and furnishings including pieces designed by architect Samuel Lamas and masters of international design.
In homage to the spirit of the place, a native tree present on the site – the ipê – has been replanted in the centre of the courtyard as the fulcrum around which the house "revolves": as if to remind us that Nature has a fixed centre of gravity around which everything moves.
Project:

Pinwheel House

Architectural project:

Equipe Lamas

Project leader:

Samuel Lamas

Project team:

Samuel Lamas, Casulo arquitetura

Interiors:

Samuel Lamas, Casulo arquitetura

Engineering and execution:

Gustavo Stival

Landscape design:

Mariana Siqueira

Furniture:

Lamas design

Artworks:

Galeria Karla Osório

Location:

Brasilia, Brazil