Lying on a terrain with accentuated slopes and sinuous morphology, and overlooking a valley with a small urban area and cultivated fields, Casa PS exploits the variable orography of the site as a design tool to clearly delineate the functional areas of the dwelling and to emphasise the perceptual and fruitive relationship with the landscape.
The complex - designed by Inception Architects Studio - is oriented in a north/north-west direction and is composed of three bodies arranged at different heights that house distinct functions: the upper level, accessible from the street, includes the garages and services; the intermediate level houses the common areas and a panoramic terrace with swimming pool; the lower level houses the bedrooms. The dominant compositional principle is the articulation of terraces - with green areas and practicable flat roofs - which, at each level, expand the living space, creating a visual and functional continuity between interior and exterior.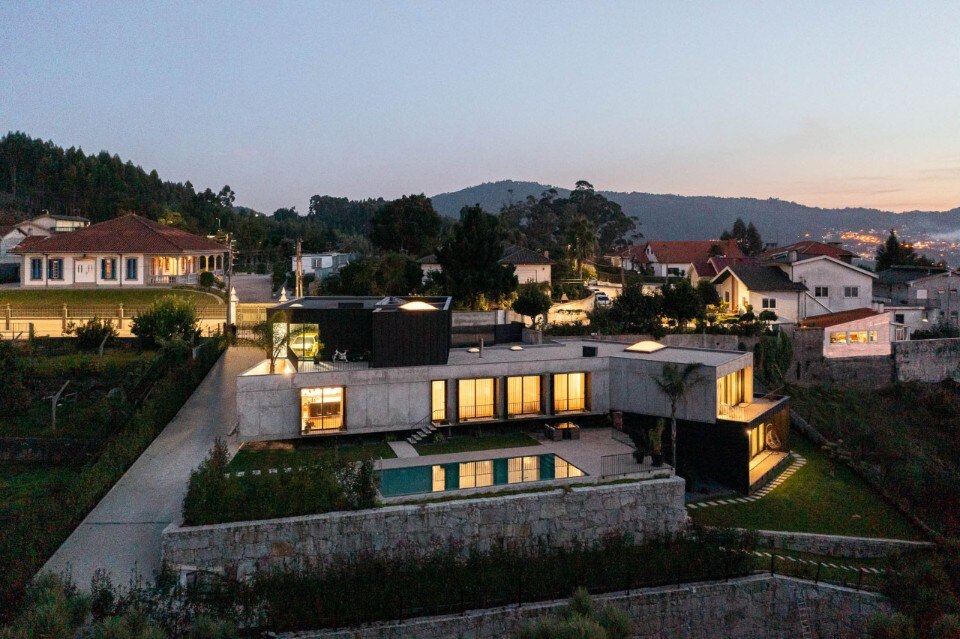 The different uses of the buildings are also declared by the choice of materials: the upper body, accessible from the outside, is an impermeable and rigorous volume clad in dark sheet metal; the buildings below, with simple and angular geometries, are characterised by rough surfaces in exposed concrete of Brutalist inspiration and are interrupted by large windows framed by jutting frames in dark sheet metal.
The interiors are embellished by sculptural elements such as the two stairwells at the ends of the intermediate level that seem to float in the void and by natural, precious materials such as the wood of the floors and the stone of the cladding. The white plastered surfaces of the walls help to diffuse light into the rooms and create a lively contrast with the warm, earthy tones of the furnishings.
Project:

Casa PS

Architectural project:

Inception Architects Studio

Location:

Esporões, Braga, Portugal

Completion:

2021

Construction:

Manuel Antunez Construções

Engineering:

Inception Architects Studio

Interiors:

Vilaça Interiores