This article was originally published on Domus 1067, April 2022.

Architensions threw a typical single family home on Long Island for a loop with an uncommon additional storey. A courageous client gave carte blanche to the studio of Alessandro Orsini and Nick Roseboro to design an architecture openly "critical" of the American way of life and market standards, translating it into a home."We wanted to hack the typology of the American suburban single-family home," says Orsini, by decontextualising its traditional elements.
Outside, a sculptural solid overlaps the existing volume (a simple pavilion with a balloon frame), caricaturing its pitched roof and expanding towards the bottom while grafting tiled surfaces on the facade in vinyl siding. With its rounded facade, a portion of the patio above faces onto the road, contradicting a basic principle of middle-class privacy. The spiral staircase, highlighted in yellow paint, acts as a "Trojan Horse" that cuts through the levels and disrupts the layout of adjacent boxed rooms.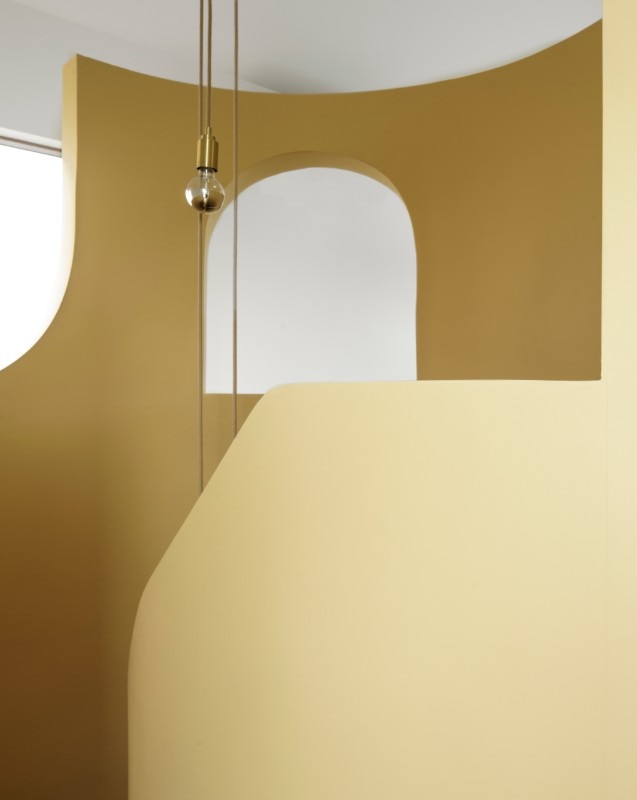 The spaces are therefore permeable, places of mutual curiosity rather than individual privacy. Reconfiguring the thresholds also emphasises openness towards the city, a built and human landscape to interact with and no longer the absolute otherness of the domestic interior.
House on House is an exercise in ideas and styles, applied to the heart of sleepy suburbia, the disturbing bridgehead of contemporary architecture culture in a land yet to be conquered.