Located in Brooklyn's Bedford-Stuyvesant neighborhood, on a narrow, irregular lot about 4 meters wide, studio Only If's project represents a reflection on the potential of architecture in small urban spaces. The New York City neighborhood where Narrow House is located is rapidly expanding but has several vacant lots – in 2017, for the Shenzhen Biennial exhibition, 3,600 of these spaces were identified by the studio. 
The project's lot, purchased in 2015 by the architects themselves, transcends the classic designer-client relationship and commissioning theme, exploring and producing an experimental form of residential architecture.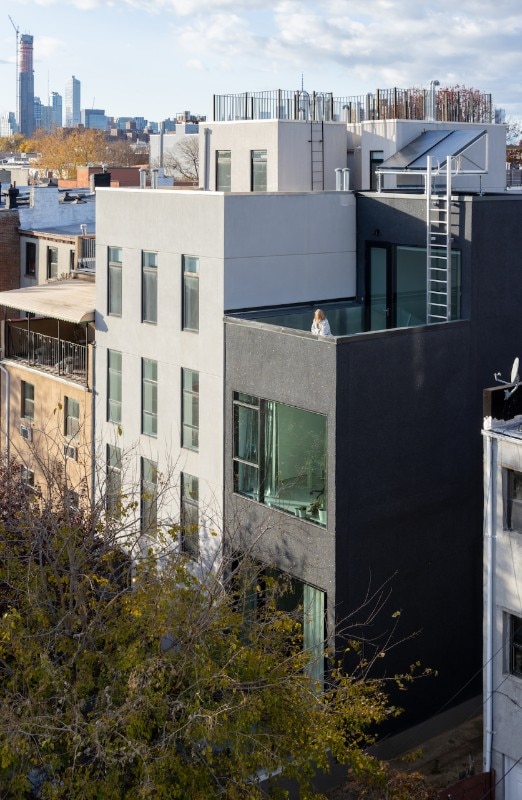 The design took into account the main problems of a tall, narrow structure: lighting and circulation. Therefore, large openings were included on the front and back facades, where there is a courtyard accessible by a pivoting glazed door.
Inside, the spaces are open and have no walls or partitions: they are distributed around a vertical void that houses the metal staircase and divides the light to the different levels. The ground floor, slightly raised, hosts the living, dining and kitchen areas – a black volume in metal, wood and terrace. On the upper floor two rooms with a wooden block that separates from the common areas and contains a bathroom and closet, are located together with a study.
The building, clad in black plaster, is characterized laterally by reinforced concrete blocks and enhanced in the facade with exposed metal diagonal planks. 
Project:

Narrow House

Location:

Bedford Stuyvesant, Brooklyn, NY

Program:

Residenza unifamiliare

Architects:

Only If

Team:

Karolina Czeczek, Matthew Davis, Adam Frampton, Jedy Lau, Francesca Pagliaro, Jon Siani, Yue Zhang

MEP Engineer:

Plus Group Consulting Engineering PLLC

Structural engineer:

Reuther+Bowen, PC

Lighting consultant:

Dot Dash

Gross area:

262 sqm

Zoning floor area:

189 sqm

Completion:

2021