That public infrastructure should be strictly functional without the need for identity and effective integration into the context is an assumption largely disregarded by this rainwater harvesting and treatment facility in Toronto, designed by gh3*.
In a rapidly changing area between rail yards to the north, the high-traffic arterial roads of Lake Shore Boulevard and Gardiner Expressway to the south and the port's industrial lands to the Keating Channel, this brutalist monolith of cast concrete, which looks like an alien-derived crystal landed in the mud, intentionally catalyzes attention to an expanding city section and its supporting infrastructure.
The project includes three main elements: a 20-meter-diameter well covered by a steel grid that acts as an inverted siphon to receive untreated water from the West Don Lands and Quayside neighborhoods; the asphalt and concrete deck with outflow channels connecting the well with the treatment plant; the building that houses the tanks and pumps for water purification.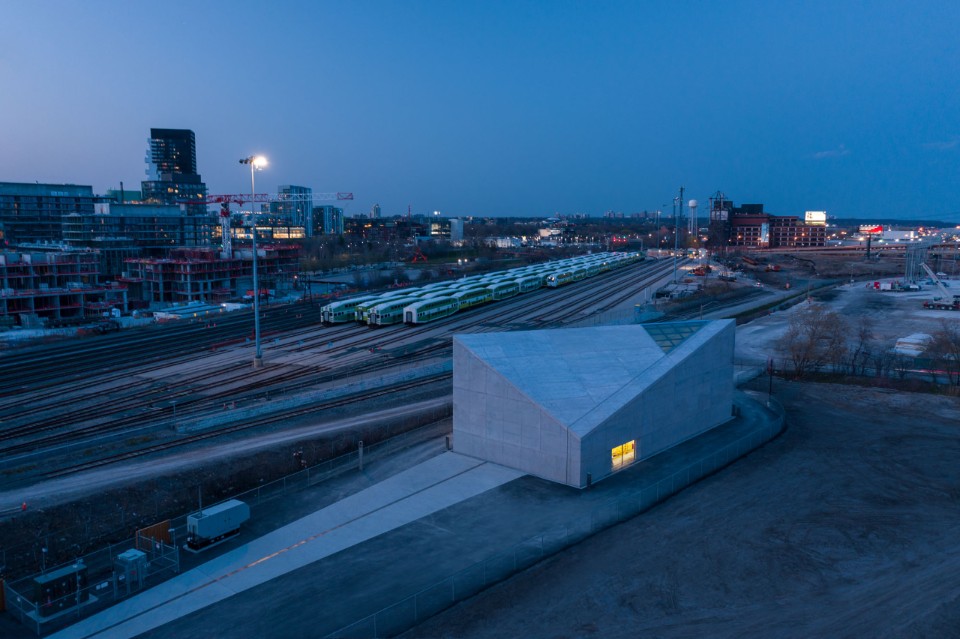 In the building, a single opening provides a visual passage through the mighty concrete curtain wall, allowing a glimpse of the internal workings of the plants, while the skylight in the southern slope of the roof reveals a beam of light that, at night, evokes a lit lantern, arousing the curiosity of those who pass at high speed along the adjacent flowing axes.
The form of the architecture is all about a narrative related to the theme of water. The volume refers to an overturned stone well that emerges from the ground with its sculptural geometry; the rough "skin" of the outer shell is scratched by incisions that run through the building and act as water channels, from the roof to the vertical walls to the horizontal channels up to the well, to decode in a clear and simple way the wider system of urban hydrology in which the building is inserted.
The substantial structure in exposed concrete ensures thermal inertia and longevity to the work while highly insulating walls and passive cooling allow the reduction of energy expenditure.
An intervention that is a manifesto on the one hand of design culture and on the other of civic responsibility, for a cleaner and more accessible water ecology.
Project:

StormWater facility

Location:

Toronto, Ontario

Architectural project and landscape:

gh3*

Structural, Mechanical, Electrical, Civil Engineering:

RV Anderson

Prime consultant:

RV Anderson

Client:

Waterfront Toronto and Toronto Water

Contractor:

Graham Construction