Alfonso Cuarón, choosing the upper middle class neighbourhood of Roma in Mexico City as the setting for his film of the same name, interprets its essence as a bivalent place where wealth and social subordination coexist: today, after the glories of its past as a wealthy area and the decline due to the whims of the real estate market, Colonia Roma is still one of the most attractive places in the capital thanks to the process of rebirth it is undergoing.
Here, BRAG Arquitectos has created a residential project which is a manifesto of sustainability and an innovative housing model.
The complex, located on an irregular lot on Ave. Coyoacán, Tehuantepec and Bajío, is made up of two new volumes housing 82 flats and a building from the 1920s protected by the National Institute of Fine Arts, which serves as the main entrance: from here, there are paths leading to the outdoor recreational areas and the main distribution over which the residential buildings face. The flats – among which those on the ground floor and top floor are double-height with a private terrace – range in size from 98 to 154 square metres and are distributed over seven levels. The restored historic building houses the common activities: lobby, library, cafeteria, bathrooms and changing rooms on the ground floor; gym, meeting room, business centre on the first floor; roof garden with swimming pool and lounge bar on the roof.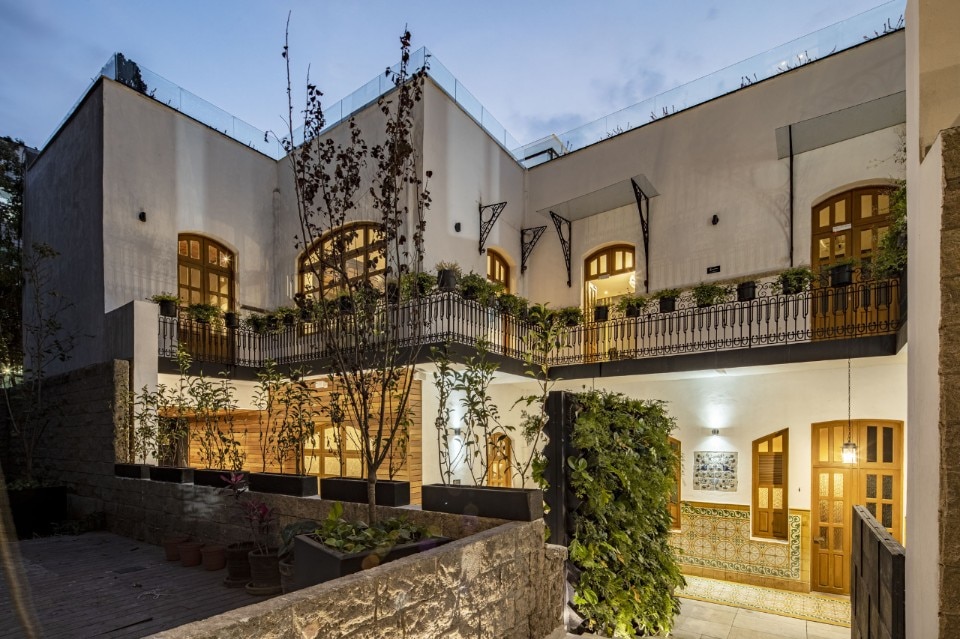 The main objective of the study was to reduce the environmental impact by creating a balanced microclimate with low energy consumption in the middle of the congested metropolis.
The complex contains a higher percentage of green areas than the regulatory quota (60% instead of 20%), hanging gardens and 9,200 square metres of green walls – with species such as aralia and xanadu – designed to capture natural light and ventilation; in total, 65,000 plants have been incorporated, all existing trees have been preserved and 50 new ones planted. A rainwater harvesting system with filtering systems and programmed irrigation was set up to maintain the greenery.
The adoption of an intelligent lighting system with sensors in the common areas, LED lighting, and the east-west orientation of the buildings so as to maximise solar gain without increasing internal heat, allow a significant reduction in energy consumption.

Enhancing the past and reducing the ecological footprint: a self-sustainable living model that launches a new challenge to transform the neighbourhood – once just a showcase of opulence – into a place of authentic urban quality.
Project:

Bajío 307

Architectural project:

BRAG Arquitectos

Developer:

GDC Desarrollos

Project leaders:

Santiago Morales Broc, Cristian Aguilar Gutiérrez

Collaborators:

Hugo Sánchez, Alejandro Rodríguez, Nayeli Ramos

Landscaping:

Kees Van Rooij / KVR Arquitectura de Paisaje

Interiors:

PIÙ design

Restoration:

sackbé

Location:

Colonia Roma, Mexico City

Completion:

2021