Located in a nature reserve teeming with marine and intertidal life, the Khor Kalba Turtle and Wildlife Sanctuary is a landmark for the care, monitoring and promotion of local wildlife, from turtles to thousands of species of migratory birds including the Arabian Collared Kingfisher.
Hopkins Architects' project consists of seven interconnected pavilions reminiscent of sea urchins' exoskeletons and reminding the "capsules" of the Buhaise Geological Park, designed by the same studio, with which the "sanctuary" is conceptually and figuratively related. 

The buildings consist of prefabricated concrete structures suspended from the ground to reduce impact on the land and to protect it from the tides; from the buildings, a natural path leads visitors to explore the nature reserve, which includes the coastline, mud flats and mangrove forests.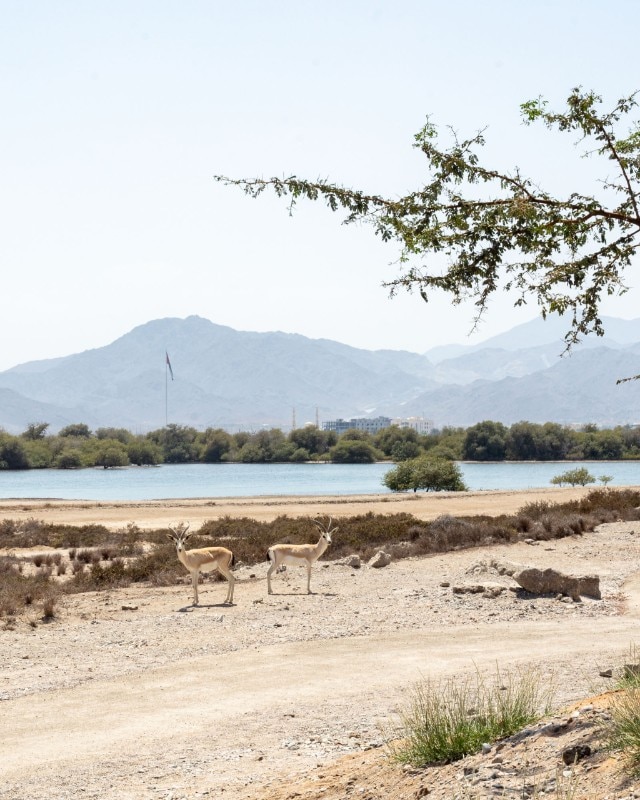 The external envelope, punctuated by the rhythm of the structural steel ribs, is clad in white precast concrete panels with subtle variations in pigmentation and texture, reminiscent of the delicate material of the shells on the neighbouring beaches.
Inside, the structures house aquariums, exhibition spaces, training rooms, offices, veterinary facilities, a gift shop and a café. The route through the pavilions is enlivened by effective visual glimpses that frame the surrounding landscape through the targeted openings and by vibrant plays of light that spread from the rooflight.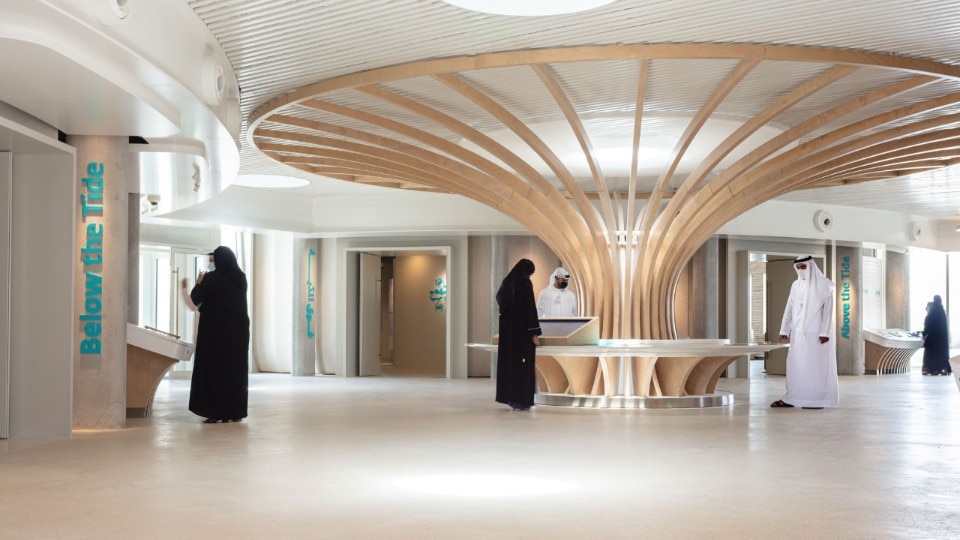 To ensure microclimatic comfort and reduce energy consumption in an area with extreme environmental characteristics, the studio adopted passive cooling technologies: the prefabricated cement shells, ribs and foundation levels form a compact, sealed mass that guarantees thermal inertia, while the waterproof membrane and layer of insulation arranged inside the cavity of the cladding help control dispersion.
It goes without saying that we are the guests here, tiptoeing to alter as little as possible a fragile and extraordinary ecosystem.
Project:

Khor Kalba Turtle and Wildlife Sanctuary

Architectural project:

Hopkins Architects

Project team:

Hopkins Architects: Simon Fraser, Principal and Lead-Designer; Andrew Ardill, Director; Tim Sheridan, Project Director; Angus McDougall, Project Architect

Client:

Sharjah Environment and Protected Areas Authority (EPAA)

Client team:

H.E. Hana Saif Al Suwaidi, Chairperson of Environment and Protected Areas Authority, Sharjah; Peter Jackson FRIBA, Architect Advisor to HH The Ruler's Office, Sharjah.

Hopkins Architects collaborators:

Stefan Hache, Joanne Yu, Larry Buraga, Sara Madbouli

Structural engineer:

e.Construct, Dubai

MEP engineer:

Godwin Austen Johnson, Dubai

Lighting project:

Lux Populi

Acoustics:

Gillieron Scott Acoustics Design

Landscape:

Spencer, Dubai

Exhibition Designers:

Mojo Ink, Dubai, managed by: Sophy Cave Design, Dubai; Aquaria & Life Support Systems; Panaque, Italy

Main contractor:

Hardco Building Contracting

Pre-cast Concrete Specialist Subcontractor:

Dubai Precast

MEP Subcontractor:

Al Muhanad Electro-Mechanical Contracting