The new Buhais Geology Park by Hopkins Architects seems to have been part of the desert since ancient times. Located 50 km from Sharjah in the United Arab Emirates, the project area contains marine fossils over 65 million years old and burial sites dating back to the Stone, Bronze and Iron Ages. Hopkins Architect landed what resembles a spacecraft, consisting of five interconnected capsules whose shape is inspired by the fossilized urchins found at the site. 
In order to minimise the impact on the environment, the building has been raised from the ground, on which it rests in only a few points. The prefabricated concrete structure is covered with steel panels, which have been coloured in the same shades as the desert landscape of the Emirates.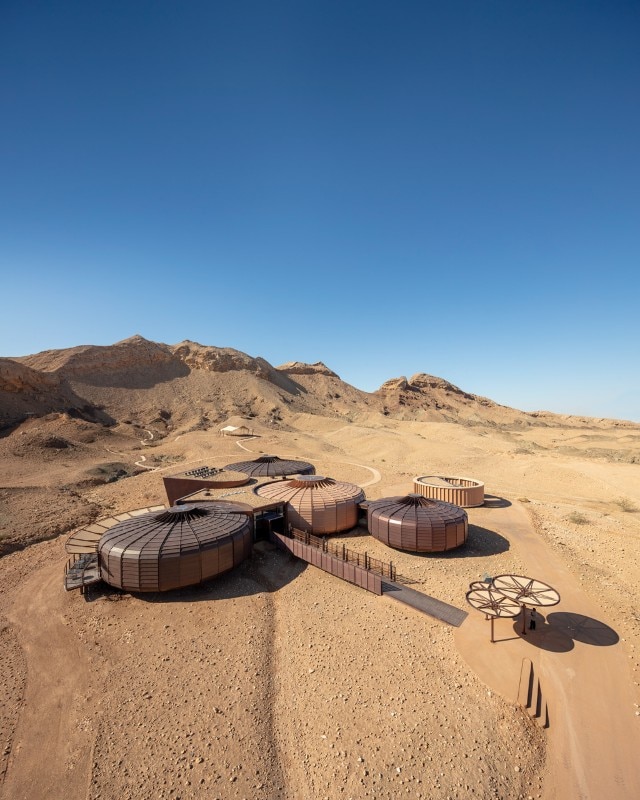 Buhais Geology Park houses exhibition spaces, a café, an immersive theatre, a gift shop and other service areas. The five concatenated volumes are connected by a system of open spaces that includes several walkways, observation points and shaded areas. A sixth "spaceship" detached from the others is used instead as a utility building.
"Our 'light touch' approach references the site's marine fossils by delivering a series of 'urchin' pods that sit cleanly on the ground and seek to become a part of the local environment," said Simon Fraser, principal and lead designer at Hopkins Architects. "We are confident that this exciting new facility will encourage many people from all over the world to understand the way in which landscapes are formed by tectonic activities and how the Earth has changed over time."
Project:

Buhais Geology Park

Location:

Sharjah, UAE

Architect:

Hopkins Architects

Structural engineering:

e.Construct

M&E Engineering:

GAJ

Acoustics:

Gillieron Scott

Lighting:

Lux Populi

Landscape:

Spencer

Contractor:

Hardco Building Contracting

Completion:

2020