During the war, of the 140,000 Jewish people living in the Netherlands, 102,000 did not survive the systematic death programme orchestrated by the Nazi regime. Now, more than 80 years later, in the heart of Amsterdam - in Weesperstraat, where the Jewish community has long been deeply rooted - a memorial to the 102,000 unburied victims brings back their names and thus their memories, restoring an identity obscured by the darkest page of history.
Designed by Studio Libeskind, in collaboration with the Dutch studio Rijnboutt, which handled coordination, executive design and landscaping, the project is conceived as a park open to the city and interconnected with the neighbouring public spaces and green areas.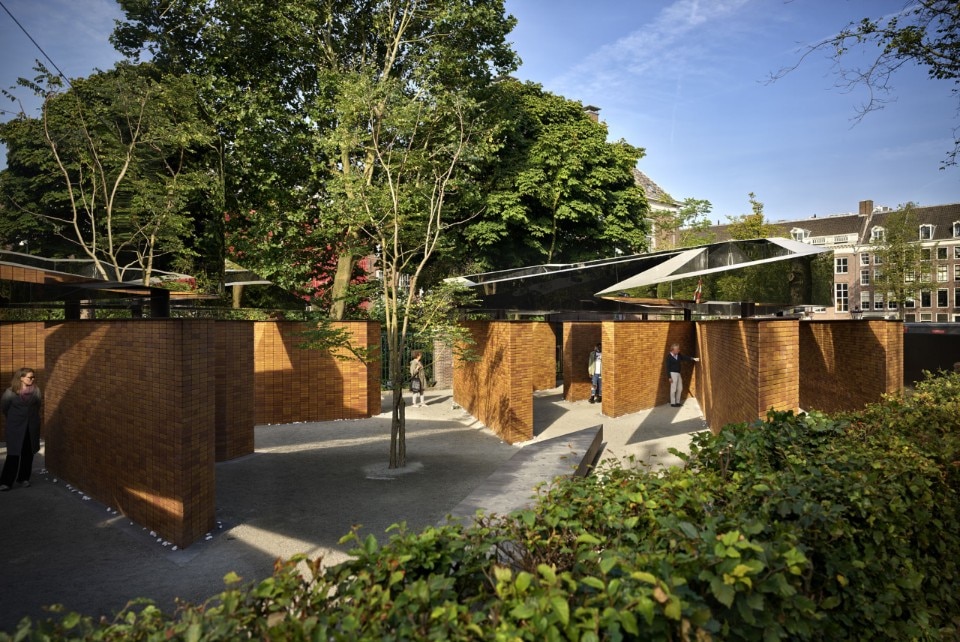 The memorial is characterised by a labyrinth of passages paved with crushed natural stone and bordered on both sides by brick walls, a material widely used in the Netherlands, each of which is engraved with the name and date of birth of the missing persons in a form of memory that is both individual and collective.
The wall structures support four suspended volumes made of mirror-finished stainless steel, which bear the four letters of the Hebrew alphabet to form the word "In Memory of".
The mirrored surfaces create striking visual effects. On the lower sides, the letters reverberate as if to multiply to infinity the need for memory as an indispensable form of consciousness and civilisation. The side and top surfaces reflect the surrounding urban landscape, with its vital dynamism, and the sky; as if to evoke - with respect and renewed confidence in the future - the words of Anne Frank who, hiding in an Amsterdam attic, wrote in her Diary: "try it yourself, once you feel lonely or unhappy or sad, to look out of the attic when the weather is so fine. Not the houses or the roofs, but the sky. As long as you can look at the sky without fear, you will be sure that you are pure inside and you will be happy again".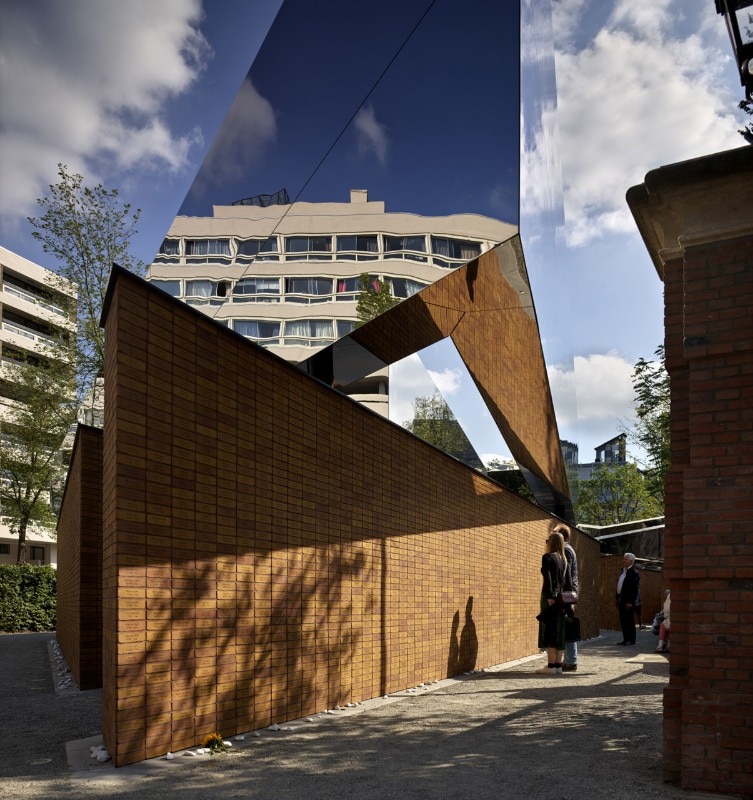 Project:

Dutch Holocaust Memorial of Names

Design:

Studio Libeskind

Team Studio Libeskind:

Daniel Libeskind, Stefan Blach, Johan van Lierop, Alex Tahinos, Amanda de Beaufort

Coordination and executive project:

Rijnboutt

Team Rijnboutt:

Bart van der Vossen, Richard Koek, David Philipsen, Jan Oudeman, Jordy van der Veen, Marcel Bakker, Margret van den Broek, Marian Enders, Max Both, Patrick Kolanczyk, Paul Beijeman, Petrouschka Thumann, Rob Korlaar

Client:

Dutch Auschwitz Committee (project manager Paul Rohlfs)

Lighting project:

Ulrike Brandi Licht

Chronology:

project start (2016), construction 2019-2021

Contractor:

Koninklijke Woudenberg

Project management:

Aumento bv

Construction:

IMd Raadgevend Ingenieurs

Suppliers:

bricks: Rodruza; masonry: Metselwerk Adviesbureau Vekemans; stainless steel: AIP partners, ABT;engravings: Reijnders Engraving and Laser Engineering; installations: Swart installatietechniek ; pavements: ecoDynamic; trees: Ebben Tree Nursery; hedges: Quick Hedge