On 23 September the "Arboretum, l'arbre comme architecture" exhibition opened at the Arc en rêve architecture centre in Bordeaux. In the wake of the philosophical and ecological debate that is helping the plant world reclaim its central role, the exhibition aims to rethink the relationship between architecture and trees, not as passive elements or sources of building materials but as living creatures with which we need to negotiate in a logic of symbiosis and cohabitation. "22 stories of trees" make up a historical and geographical journey in which design, architecture, landscape and urban planning projects become virtuous metaphors for a more inclusive society in which human beings do not just take up space but share it with nature. 
We interviewed Fabrizio Gallanti, co-curator of the exhibition and director of arc en rêve. 
How did the idea for the Arboretum exhibition come about?
The exhibition, which is a collective project curated by Wenwen Cai, Eric Dordan, Leonardo Lella and myself, came about as a reaction to what we feel is the generalised attention to vegetation, conceived, sometimes in a rather simplistic way, as the answers to all the world's problems. Whereas ten years ago, ministers and mayors cut the ribbons of museums or libraries, today they want to be photographed with a shovel in their hand and a small tree. Just a few days ago, Prince Charles and Queen Elizabeth were photographed during the Queen's Platinum Jubilee warmly wrapped up beside a tiny tree that they had just planted. From an architectural point of view, lately this interest in trees has manifested itself in all the plant-related operations on buildings.
But you did not stop at this type of project.
We wondered if it was possible to show more complex and ancient relationships between architecture and trees closer to the notion of symbiosis, relationships in which we could easily make a distinction between architecture and nature, and at the same time underline some more nuanced, perhaps less obvious connections. We wanted to show how trees have been important to many designers, beyond a certain pragmatism that reduces them to the role of mechanisms that capture CO2 or fine dust. We wanted to show that trees have been considered as full-fledged elements of architecture, not least because they are beautiful creatures, creating cool air or generating particularly rich sensory effects, such as the shadows and reflections on the facades of IIT's Chicago architecture school, Crown Hall, designed by Ludwig Mies van der Rohe. In that case, the landscape design imagined by Alfred Caldwell is closely bound to Mies' modernist architecture, and at the same time it is impossible to mistake one for the other.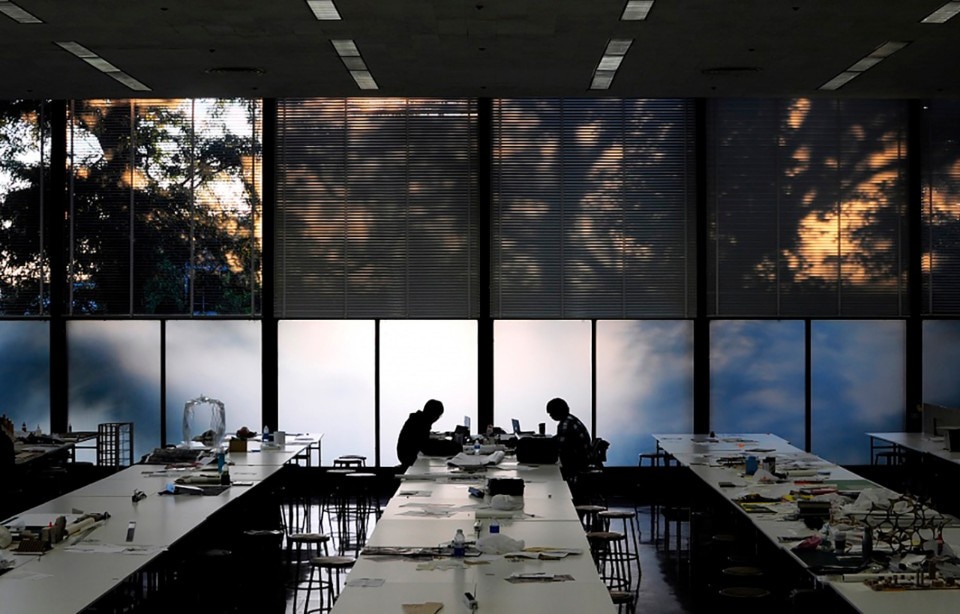 It is not just a matter of relating architecture to one of its main materials, wood, but rather of explaining the relationship between human construction and the tree, as a living being that is part of the eco-system, wild in the forests and domesticated in the gardens.
In the exhibition, the theme of wood as a building material is deliberately absent, as the issue had already been developed through a 1:1 prototype by Flavien Menu and Frederique Barchelard in the previous exhibition "Proto-habitat". "Arboretum", on the other hand, deals with living trees with only one exception: a piece of the trunk of a "tree of liberty", some types of trees that had been planted throughout France at the time of the Revolution, and then cut down during the many phases of the restoration of the monarchy in the 19th century. By chance, we found one of them in the archives of Bordeaux, while we were looking for something else entirely - ancient engravings and cartographies.
In July, during a conversation preceding the exhibition, architect Philippe Rahm and philosopher Emanuele Coccia explained how biology has shifted from paradigms based on animals, where the Darwinian idea of competition was prevalent, to concepts derived from the new knowledge of the plant world, where the focus is mainly on collaboration and symbiosis. It seems to us that the relationship between architecture, and therefore construction, the plant world, and consequently the animal world, are fascinating areas to explore. We then realised, discussing with some experts such as Philippe Richard, who directs the botanical garden of Bordeaux, that "wild and uncontaminated nature" no longer exists because we have been facing the effects of human activity for several millennia.
Philippe Rahm has been working for years on writing a natural history of architecture. Is the exhibition in line with this perspective or is it an attempt to pave the way for an architectural history of nature?
Why not? We have tried to present cases where trees have the same status as columns, pillars, walls or windows, where they are used paying attention to questions of composition, proposition and rhythm, which are exquisitely architectural. In the sketches Álvaro Siza has given us, the line does not make any distinction between buildings and plants: we are deeply fascinated by that. Perhaps the only doubt that needs to be addressed is that architecture tends to forget that trees are living creatures, and therefore unpredictable and uncontrollable.
What where the criteria that guided the choice of the 22 "tree stories" that make up the exhibition?
The conception of the exhibition was quick and not based on extensive research work, since we started in January 2021. We started from a continuous and intuitive exchange of personal memories, associations of ideas, mainly formal and visual references. The exhibition, in fact, acts as a large notebook, explicitly partial and not exhaustive. We only had a few rules. The first is that the examples should not be individual houses or villas, but situations in which trees are shared by many people. Then the examples had to be heterogeneous in scale, age and location. And the formats had to be varied: drawings, sketches, photographs, models and videos. In short, it is yet another reinterpretation of the principle behind Jorge Luis Borges' list of animals in Other Inquisitions from 1952.
However, some elements serve as "magnets": the Best supermarket by James Wines / SITE in Virginia; Joseph Beuys who in 1982, on the occasion of the documenta planted 7000 oaks in Kassel; the book The Architecture of Trees by Cesare Leonardi and Franca Stagi and the gigantic ficus that grew next to a hotel by Oscar Niemeyer in Brasilia. A further wish was to collaborate with some "friends": from the Drawing Matter collection of architectural drawings in Somerset, England, to the Spazio bookshop in Milan, where the owner Mariana Siracusa has an amazing collection of books. Finally, we commissioned two works: a photographic exploration of Bordeaux by Ludmilla Cerveny and a film on Crown Hall in Chicago by Ron Henderson. The Wines project for us is a bit of a keystone of the exhibition: a building that deforms and adapts to protect some existing trees on the site, with a lot of engineering work to protect their roots, which remains invisible. Nature is really at the heart of the project.
The exhibition is designed as a forest...
Yes, a forest in which to get lost. The gallery space, which consists of two rooms covering a total of 150 sqm, is occupied by a forest of wooden poles, which on the one hand increase the exhibition area and on the other avoid linear visit sequences. The public is forced to get lost, often having to retrace their steps to see everything. We wanted visitors to actively seek out the content, even at the cost of irritating them. There is no hierarchy between the 'stories' presented, although we have sometimes brought objects closer together to create contrasts or similarities.
Arboretum is your first exhibition as director of the arc en rêve architecture centre. Is it a manifesto?
Indeed, this is the first exhibition I directed. More than a manifesto, it is an attempt to present a curatorial methodology: to imagine that the public is made up of intelligent and curious subjects, to whom we provide content that can then stimulate interest towards the themes we propose. We provide leads and information - we are proud of the accompanying texts, which we have tried to make extremely clear - but then everyone can put together their own sequence and interpretation. Since in an exhibition, unlike a film or a book, it is impossible to dictate a linear narrative, we want to allow an infinite number of exhibitions to coexist, as many as there are visitors.
Exhibition:

Arboretum, l'arbre comme architecture

Where:

arc en rêve, Bordeaux, France

Curators:

Wenwen Cai, Eric Dordan, Fabrizio Gallani, Leonardo Lella

When:

From 23.9.2021 to 23.1.2022